When we think of paddling clothing, most of us picture drysuits, pogies, and other cold weather gear. 
But, what you wear on the water when the sun is shining and the temperatures are warm is just as important as what you layer up in when the mercury drops.
In fact, getting the right warm weather paddling apparel is essential if you want to ensure that your time on the water goes off without a hitch. Nevertheless, warm weather paddling gear is one of those things that tends to fly below the radar in the grand scheme of boating and paddleboarding equipment.
The good news, however, is that we're here to help. If you've ever wondered what you should wear while paddling on a pleasant summer's day, we have the information you need.
Up next, we'll discuss the ins and outs of dressing for warm weather paddling. We'll go over the basics of layering when the temperatures are warm and we'll also offer up some suggestions for what you ought to wear on the water.
Let's get to it!
Warm Weather Paddling Apparel: The Basics
To kick-start our discussion on warm weather paddling apparel, let's talk a bit about what warm weather paddling really means and some of the principles of layering for summertime adventures.
What Is Warm Weather Paddling?
Okay, we know what you're thinking: Is this question for real? Warm weather paddling is just paddling in warm weather… right?
Well, kind of. Yes, paddling in warm weather does technically refer to anytime you go out on your kayak or paddleboard when the temperatures are relatively high. But, the question really is about when we can consider the weather to actually be "warm."
It turns out that warm weather paddling is more about the temperature of the water than the temperature of the air. While us paddlers might look at our smartphone weather apps before heading outside and see 72ºF (22ºC) as a sign that warm weather is afoot, these air temperatures don't tell the whole story.
That's because dressing for paddling is all about dressing for the water temperature, not only the air temperature.
 🥶 If you're more used to cold weather paddling, be sure to check out our other recent article, The Ultimate Guide To Cold Weather Paddling Apparel!  
Sure your body might spend more time exposed to the air than the water while you paddle, but prolonged exposure to cold water can be life-threatening. As a result, we need to look at the water temperature before we decide whether warm water paddling apparel is truly appropriate for our adventures.
As a general rule, the American Canoe Association states that water temperatures below 60ºF (15.6ºC) mean that you ought to be wearing a wetsuit or a dry suit. That's because capsizing in these conditions could quickly lead to hypothermia, especially if you're injured and can't get out of the water.
So, when deciding what to wear for your paddling trip, check the local water temperature first. 
You can get a rough idea of what the water temperature is in your paddling location by consulting apps like Windy and toggling the layer for water temperature. Or, if you want more specific data for the oceans and Great Lakes, the National Data Buoy Center is the place to go.
Principles of Warm Weather Paddling
Since we're now on the same page about what warm weather paddling entails, let's talk about some of the overarching principles of dressing for warm days on the water.
While cold weather paddling is all about layering up so that you can stay warm in frigid water, warm weather paddling is an entirely different beast. In particular, your primary goals when dressing for warm conditions on the water include:
Sun Protection. Even if it's not particularly sunny outside, protecting yourself from the sun's harmful rays is always a priority on the water. In fact, being on the water in a kayak or paddleboard can actually increase your likelihood of getting a sunburn. That's because the water reflects the sun's rays, making it so that harmful UV light is hitting you from all sides. So, much of what you wear while paddling in warm weather is designed to protect you from sunburn while you're outside.
Chafing & Abrasion Protection. While it might seem a bit counter-intuitive, spending a lot of time in the water can lead to chafing, rashes, and abrasion. Why? Well, natural bodies of water aren't pure water—they contain salts, sediments, and the like, all of which cause rashes and chafing after extended periods of time. This is particularly true if you're doing repetitive motions, like paddling, which also increases your chances of painful chafing. So, pieces of gear, like rash guards, are specifically designed to protect you from rashes and abrasions.
Quick-Drying & Moisture-Wicking Properties. It can get very hot out on the water, especially if you're spending a lot of time in the sun. Therefore, getting clothing that dries quickly and wicks away moisture is ideal if you're going to paddle in the warmer months of the year. Thankfully, most pieces of gear that you'd wear on the water are both quick-drying and moisture-wicking, though it's worth noting that you should avoid cotton at all costs. That's because cotton dries quite slowly and it can actually make you colder when wet.
So, as you plan out your warm weather paddling attire, keep these three concepts in mind to ensure you're always protected from the elements while on the water.
Essential Warm Weather Paddling Apparel
At this point, you have a pretty solid understanding of when you'd wear warm weather paddling apparel and what you should expect from your gear. Now, let's turn our attention to the different types of gear you might want to wear on the water.
Hats
Starting off with your noggin, it's imperative that you have a quality hat on hand to protect your head as you paddle.
In warm weather conditions, the sun and its harmful UV rays are your biggest enemy, so getting a wide brim hat is a solid choice. Models, like the Sunday Afternoons Ultra Adventure, which also have a cape to protect your neck are a nice option. However, if you'd like a slightly more classic look, the quick-drying REI Co-op Paddler's Hat is a great selection.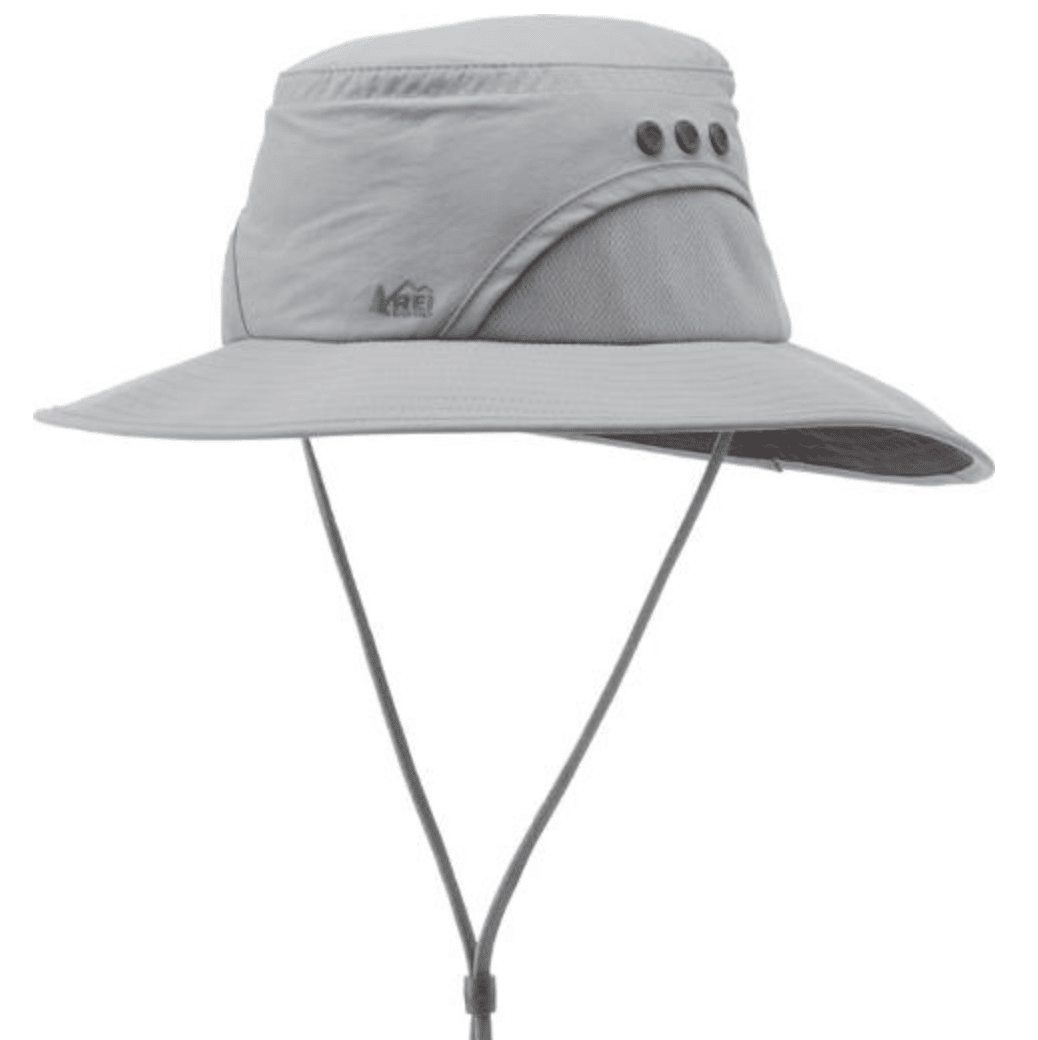 As we've mentioned, the idea with warm weather paddling hats is that they should provide as much sun protection as possible. That being said, your hat isn't going to do much for you if it flies off your head in a gust of wind, so consider getting a model with a chin strap. Doing so makes it easier to secure your hat to your head so you can focus on the paddling.
Sunglasses
For many of us, our eyes are our conduit to the world. They provide us with a chance to see our surroundings and take in stunning views, all while alerting us to possible hazards that lay ahead.
However, so many folks head outside without adequate protection for their eyes. While your eyes might not sunburn as easily as your skin (note: you can get a "sunburn" on your eyes—it's called photokeratitis), it is possible to do lasting damage to your eyes by not wearing sunglasses.
In fact, an international 2014 study found that not wearing sunglasses greatly increases your risk for conditions such as cataracts, which can cause vision impairment—yikes! Time magazine also cites a number of studies that show that UV damage to your eyes from sunlight could increase your risk for age-related blindness (double yikes!). 
Plus, these risks increase when you're on a highly reflective surface, like the water.
Moral of the story? Wear your sunglasses, folks, and make sure they're dark enough to protect your eyes from the sun's harmful rays.
There are a whole lot of different sunglasses out there, but we particularly like the Julbo Paddle, because they use category 3 polycarbonate lenses that block 87% of visible light transmission. They are also polarized so it helps with reflections and you can see all the amazing colors in the water.
No products found.
Nevertheless, you should generally also use a set of sunglass retainers while you're on the water. No one likes to lose glasses during a paddle, so a set of floating glasses retainers like the Chums Glassfloat is a sure bet.
Buff
Whether you're a hiker, climber, skier, or paddler, at some point, you've probably worn a Buff, and for good reason; Buffs, like the über-classic Buff Original, are quick-drying, moisture-wicking, UV-protective pieces of bandana-like gear that offer a host of benefits for you while you're outside.
Even if you don't want to wear a Buff at all times, having one on hand can be very helpful in particularly sunny conditions. That's because you can use them to cover up your neck and face, which are often highly exposed to the sun as you paddle.
For more nifty ideas on how to use a Buff, check out this fun video from the fine folks at Buff:
Rash Guard
While you can technically wear just any old synthetic or merino wool (remember: no cotton!) t-shirt while paddling in warm weather, we'd highly recommend a rash guard.
Rash guards are specially-designed pieces of clothing that feature a blend of polyester or nylon and spandex. These shirts are crafted to be stretchy, quick-drying, and UV-blocking, so they're an ideal choice for long periods of time on the water.
Furthermore, most rash guards are designed to have flat seams, so they're less likely to bunch up or chafe while you paddle. The fabric in a rash guard is also engineered to minimize any rashes, chafing, or abrasions that you experience on the water.
So, a purpose-built rash guard, like the NRS H2Core Rash Guard, is a great option for most warm weather paddling adventures. In particular, we like that the H2Core has UPF 50+ sun protection and a paddler-specific cut with integrated friction-free zones to help reduce chafing as you paddle.
Shorts
Just like when it comes to your upper body layers, your lower body layers could also easily be a set of synthetic shorts. However, we'd also highly encourage you to consider using a set of paddling shorts, instead.
Most paddling shorts are made from either quick-dry fabrics, like the NRS Benny Board Shorts, or warmer and more water-resistant like neoprene Shorts.
Quick-dry board short-style shorts are a solid choice for most paddlers because they're super comfy and highly breathable. A lot of modern board shorts are also designed to look a lot like other shorts you might wear while outside, so they're a multi-functional piece of gear that you can tote on all your warm weather adventures.
Alternatively, you could opt for a pair of neoprene shorts. While neoprene (the fabric found in wetsuits) is often thought of as a cold weather piece of gear as it can be quite warm in the sun, but keep in mind that it also insulates.
In fact, neoprene can provide a decent amount of insulation, which is nice if the water temperature is just slightly above 60ºF (15.6ºC). It's also generally much more durable than the spandex yoga pants that many folks like to wear, which makes it a better option for sitting down in a kayak all day.
Shoes
Last but not least, you'll need shoes. Of course, in very warm conditions, you might find that you're happy to paddle without shoes. But, if you plan on walking around on the beach, it's important to have shoes on hand to protect you from any debris that might be on the ground.
Warm weather paddling shoes come in a host of different shapes and styles, depending on your personal preferences. 
For very warm conditions when sandals could be appropriate, the Chaco Z/1 Sandals might be a nice choice. Chaco actually originally designed their sandals for rafting guides, so they have super sticky outsoles that are engineered to perform well on slippery rocks.
Alternatively, if you'd prefer more of a water shoe, the Tropicfeel Monsoon is a nice choice for kayakers and paddle boarders, alike. These shoes are fantastically lightweight and they have built-in drainage holes, so they quickly dry out if you end up going for a swim. Make sure to read our article on water shoes here!
The Verdict
If you're planning a warm weather paddling adventure, you have a slew of different clothing options to choose from. The key, however, is to wear clothing that will protect you from the sun, dry quickly when wet, and reduce your chances of painful chafing.
Ultimately, with the right layering system, your warm weather paddles are sure to be a magical experience. We hope that our guide helped you better understand what to wear when you head out on your next adventure and we look forward to seeing you out on the water!
Last update on 2023-09-12 / Affiliate links / Images from Amazon Product Advertising API
Summary
Article Name
The Ultimate Guide To Warm Weather Paddling Apparel
Description
Even when it gets warm, you still need to dress carefully for a day on the water. See our recommendations for best warm weather paddling gear!
Publisher Name
Publisher Logo