A good fishfinder can make the difference between a so-so day on the water and one that makes the record books. 

However, there is often the misconception that fishing with a fishfinder is incompatible with fishing from a kayak. 

Sure, you may be fishing in shallow waters where it's easier to see the bottom. However, fishing with a fishfinder can lend you several serious advantages. 

If you haven't already installed a fishfinder on your kayak, it might be time you did. 

Using a fish finder on a kayak isn't like using a fish finder for other fishing styles (like ice fishing). 

In fact, there are certain products that are useful for ice fishing in particular.

In this article, I will tell you all about the benefits of using a fishfinder while kayak fishing, and I'll also give you some suggestions as to my favorite products. 

Here's what you need to know.
Why You Need a Fishfinder For Your Kayak
1) Helps You See What's On the Bottom
From feeding fish to structure to channels or holes, a fishfinder is crucial if you want to be able to see what's on the bottom. 
Knowing what lies beneath will help you have a better understanding of how deep your lures should be, how quickly you should be paddling, and whether it's even worth your time to fish in a certain area.
2) Lets You Find Bait
If you are a skilled angler, you don't just go after the fish – you go after what the fish are going after. When you know what your prey is looking for, it will be easier for you to find your target fish. 

Find the bait, and you'll find the fish – isn't the how the old adage goes?

A fishfinder helps you rule out fishing spots where there is no bait, allowing you to look elsewhere for active fish. 
If you find large schools of bait with your fishfinder, there's a good chance that fish are waiting nearby.
3) Allows You To Navigate and Mark Your Spot
One of the handiest features of modern fishfinders is their ability to mark spots and plot a course. 

You can even save a spot to come back to later, as the GPS will track your course and leave a trail programmed into the device. 

Sure, you can always use your cell phone. But wouldn't it be easier to have a device that does this automatically for you? 

Plus, unlike your cell phone, a fishfinder is waterproof. No more worrying about dropping your expensive iPhone to the deepest depths of the lake! Fishfinders also have a lot better battery life than cell phones.
4) Shows You Habitat
One of the most helpful features of a good fishfinder is its ability to show you underwater structure. 

As you likely already know, underwater structure – particularly structure of size – will hold fish at just about any time of the year. 

When you find good habitat, you've essentially found the perfect spot to fish in. An underwater fishfinder will show you where the habitat is. 

Since most fishfinders come with mapping technology, you can often mark these for further research when you get home, too. 

Whether it's a fallen log, an old shipwreck, or simply a rock outcropping, knowing where habitat might be is one of the most helpful features of a fishfinder on a kayak.
5) Displays Temperature
Sure, you could just look up the temperature on your smartphone. 

But what if you don't have cell phone service or if your weather app is simply unreliable? Plus, your smartphone is not going to be able to show you the temperature of the water. 

If you invest in a fishfinder for your kayak, you will not only be able to detect natural features like spring-fed creeks and underwater currents, but you'll also get a better idea of how the water temperature impacts the movement of fish.
5 Fishfinders to Consider Using For Kayak Fishing
While budget and personal preferences will primarily influence which fishfinders you select for kayak fishing, there are several top fishfinders that stand out among the competition. 

Here are some for you to consider. 
The first fishfinder on our list is the Garmin Striker. Garmin is the name to know when it comes to GPS technologies, and this kayak fishfinder is no exception. 

It is loaded with all the features you need for a successful day out on the water. It's easy to transport and highly portable, allowing you to mount it quickly to your kayak. 

It has a 3.5-inch full-color display, offering crisp and clear viewing at all times. 

It also has keypad-style controls that are intuitive and easy to use, allowing you to navigate easily between screens. 

With a built-in GPS and a CHIRP-enabled transducer, what more could you possibly want?

Pros:
Has a built-in flasher for vertical jigging
Comes with trolling motor and transom mounting hardware
Has an intuitive keypad that's easy to use
Cons:
Saving routes can be done, but it's tricky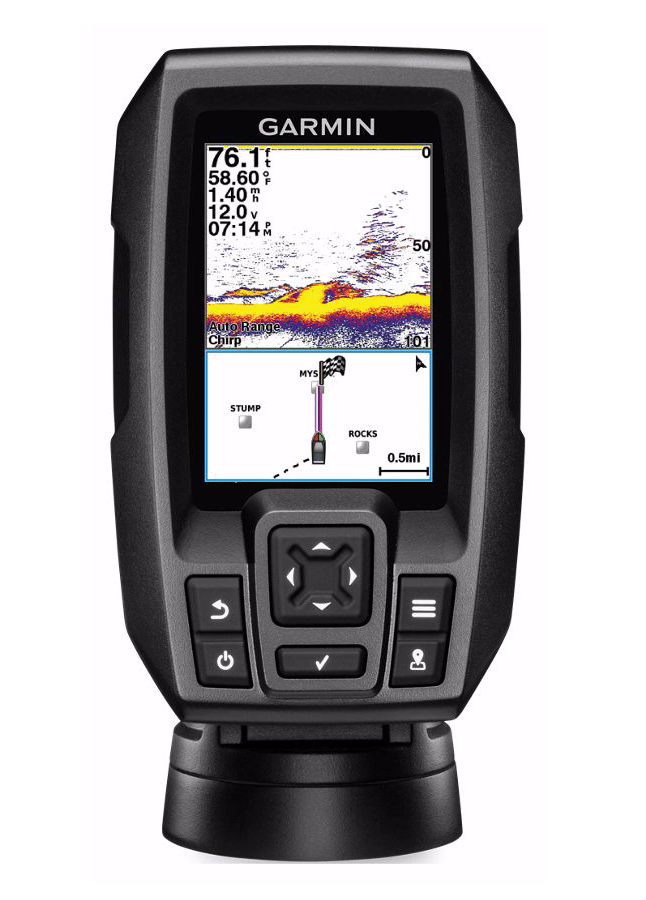 Garmin Striker 4 With Transducer, 3.5″ GPS Fishfinder with CHIRP
Mark and return to your hot spots, boat ramps and docks, and share your favorite waypoints and routes with other STRIKER and echoMAP combos.
Check for sale prices at Bass Pro Shops!
A super portable fishfinder, the HawkEye Fishtrax works well in jigging or trolling settings. It comes in three different versions. 

Two of these versions show black-and-white displays, but the third offers color viewing in high definition. 

This latter model is more expensive, but you'll likely find that it's worth the extra expense. 

With a dedicated flasher feature and the ability to either mount or troll with this fishfinder, it's one of the most versatile. 

It is a dual-frequency product that gives you super detailed images of what lies beneath you. 

Pros:
Comes with a zoom function
Has bottom depth and fish alarms
Can be towed or mounted
Cons: 
Some users find the screen too small for easy viewing
The LUCKY Portable Handheld fishfinder is a popular option for those looking for a budget fishfinder.

Despite its more affordable price, you don't have to compromise on quality.  

This fishfinder detects fish up to 328 ft deep. When used on a kayak, it offers a 45 degree beam with 200 kHz in detection.

Like its more expensive competitors, the LUCKY fishfinder detects and displays underwater contour, water depth, water temperature, fish size, and fish depth.

It includes a neck lanyard so you can keep the display around your neck for easy access — no drilling, rigging, or running cable through your kayak to set it up. It also makes it easy to use if you switch from kayak to kayak.  

Pros:
Affordable
Multiple ways to use — kayak, ice fishing, shore, and sea
Easy to use right out of the box
Cons:
Another high-powered kayak fishfinder for you to consider is the Lowrance Hook 4x. 

This high-quality fishfinder offers a four-inch display with vibrant color, making it easy to see what's going on in all weather conditions and at all angles. 

It offers exceptionally detailed images of fish, powered by DownScan and CHIRP imaging technologies. 

The display houses a menu system that is easy to use and has eight pre-loaded display viewing options. 

You can switch between zoom, split-screen, and traditional views with ease – or you can monitor up to three different sets of data at once! 

Since this fishfinder is easy to use, you'll spend less time playing around with your technology and more time fishing. 

Pros: 
Has noise suppression technology for clearer images
Comes with advanced signal processing to adjust the performance
High-quality screen is easy to see
Cons:
Hard to see DownScan in the bright sunlight
Humminbird Fishin Buddy Max Fishfinder
Humminbird is one of the top names to know when it comes to fishfinders and other GPS technologies, and this fishfinder is no exception. 

It offers all the top features for which Hummingbird is famous – but it's all bundled into a kayak-friendly package. 

This fishfinder has a portable clamp that can hold the display unit at one end and a transducer at the other. 

The pole is telescoping, ranging from 24 to 40 inches so that it can adapt to just about any setting. 

As a result, mounting this fishfinder is quick and easy. There are no wire connections required. All you need to do is clamp this fishfinder to your boat and start fishing. 

It's easy to look at with a nice 3.5-inch color screen. With exceptional sonar technology, this fishfinder incorporates both down-imaging scanning sonar as well as dual-beam sonar, helping you see down to 600 feet. 

Pros:
Displays temperature data
Portable Unit powered by 8 AA batteries
Easy to follow interface
Cons:
Does not work as well in shallow bodies of water
How To Use a Fishfinder on a Kayak 
When it comes to kayak fishing, though, you need to get more creative. Most fishfinders are designed to be connected to a 12-volt marine battery that is enclosed in a waterproof box. 

When you're kayaking, this kind of space is simply not available. Therefore, it's important that you select a portable battery-powered fishfinder that will transmit data back to your fishfinder. 

You also need to consider how you will mount the transducer. Most fishfinders come with instructions on how to do this, but you'll have a variety of options. 

The easiest way to attach a fishfinder to a kayak is to pass the transducer through the hull via the scupper holes. 

If you have an older model of kayak, this might not be an option – therefore, you will want to find a fishfinder that works with the layout of your existing kayak.

No matter what, make sure you consider your fishing style and personal preferences in order to find the best fishfinder. 

But remember that no matter what you choose, you really can't go wrong when using a fishfinder for kayak fishing.
Last update on 2023-09-12 / Affiliate links / Images from Amazon Product Advertising API
Summary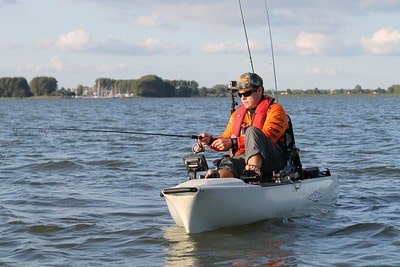 Article Name
5 Reasons You Need a Fishfinder While Kayak Fishing (Plus 5 of the Best)
Description
Take your kayak fishing to the next level! A fishfinder can help you discover where those sneaky fish are hiding. See our recommendations for the best ones.
Publisher Name
Publisher Logo