Anyone who frequents Cabela's or Bass Pro Shops has probably seen their signature Ascend line of kayaks. Whether you were shopping in-store or online, after seeing all their kayaks with many similar looking letter-number combos, you might have come away more confused than when you started looking.
Ascend produces some of the best kayaks, highly regarded as the top of their class. Popularity aside, however, we found that it can be next to impossible to decide which of these apex models is best for your needs. 
With confusing names like the H10, 10T, 128T, D10, FS10, and 12T, it can be difficult to make the best choice for your desires. No longer! By the end of this article, the fog will have cleared, and you will be an Ascend kayak master! 
What do the letters mean?
T Models
The 'T' represents the tunnel hull on these sit-on-top kayaks, also called pontoon hulls. This means you can stably run across almost any body of water with the inverted bottom. These Ascend vessels were created with fishing in mind. 
Whether you want to sit or stand, these crafts offer a standing platform and top-of-the-line stability for casting. T's are created to accept all aftermarket rail-mount accessories.
There is ample storage on these kayaks and they're the best to reel in your favorite water swimming delicacy. You'll be happy you have the extra space for your tackle box and biggest catch! 
D Models
D paddling models are sit-in vessels created with recreational use in mind. The kayaks are exceptionally made for the price and have features found on vessels with higher price tags. D's are perfect for new users learning to paddle and pros in need of an accessible, easy to use toy.
H Models
The 'H' in these models stands for hybrid. These sit-in vessels are designed with a hybrid, rotomolded tunnel hull, which means more primary and secondary stability, maneuverability, and durability. This makes H models fantastic for all-species fishing as well as duck hunting.
Hybrid Ascends have huge, open cockpits, making them perfect for tall paddlers or kayakers with claustrophobia. Not to mention the brilliant amount of storage space scattered throughout the vessel! 
FS Models
FS means free-standing, and that's exactly what this watercraft does! FS Ascends were designed through customer feedback so kayakers of all skill levels can enjoy this vessel in a variety of settings. Owners will appreciate the comfort, maneuverability, and tracking of these models. 
Quick Specs
Length: 10 feet
Width: 31 inches
Weight Capacity: 400 pounds
Weight: 55 pounds 
The Ascend H10 Hybrid Kayak is first and foremost a hybrid. This means you get a high level of primary and secondary stability, maneuverability, and resilience. The sit-on-top vessel has a tunnel hull that offers enough steadiness to stand up and cast or to line up the perfect shot. 
The open deck design allows fishing or duck hunting from a 360-degree view, and easy in and out when you hit land. Long trips are no longer uncomfortable for taller anglers in a too-small cockpit. Not to mention the adjustable foot braces for water lovers of all sizes. 
If you're planning an overnight adventure, this kayak has got you covered. There's enough storage space in the bow and stern for all of your equipment. Whether you want to ride the surf or take a calmer approach on your favorite lake, the Ascend H10's steeped keel can handle it.
Accessory rails let you attach any matter of aftermarket gear for your rods and guns, and soft port and starboard saddlebags that allow easy access to important items. Not catching fish or hunting game? This is still a great kayak for beginners due to enhanced stability and easy bailing. 
Pros
Available in 2 colors: Titanium and Desert Storm
Rubber handles for a more comfortable carrying experience
Threaded, sealed drain plug that won't leak but allows for easy water letting
Removable seat
Highest weight capacity of all the Ascend models
Cons
Minor trouble tracking in crosscurrents
Body exposed to sunburn in the open cockpit
Single back buckle for seat leads to sliding
No dry storage
Quick Specs
Length: 10 feet
Width: 30 inches
Weight Capacity: 325 pounds
Weight: 67 pounds 
The first sit-on-top kayak on the list is the Ascend 10T. This vessel features an open bow and almost magical stability. If your four-legged friend wants to come along on an adventure, there is plenty of space for their own titanic moment. No more tipping over with Cujo on board!  
For more stability, you can add weight to the storage area on the bow. There's also a high weight capacity that enables the storage to be put to good use with gear. Not to mention this kayak's flat casting deck can be used as a paddleboard if you want to stand up and stretch your legs. 
An additional benefit of the ability to stand on top of your watercraft is 360-degree casting. The manufacturers planned for this and added a non-skid foam mat. This feature is also great for a standing shot, or even a quick yoga session on your double-duty kayak.
Ascend enhanced its seating system, and the 10T was updated. They added multiple bungee hold downs to prevent sliding and ergonomic foam for comfort. There are also 6 scupper drains with plugs for targeted water drainage and adjustable foot braces for relief at any height.
Pros
Tracks well, even in low to moderately windy weather
Weathertight, dry storage and molded drink holder with storage
Professional maneuverability
4 bow and 4 aft D-rings for securing gear, 
Accessory mounting rails on port, starboard, and centerline
Cons
Outer material feels cheap 
Won't stay dry in a moving river or surf
Seat will rust without anti-rust protection application by owner
Ascend 128X Sit-On-Top Kayak
Quick Specs
Length: 12 feet 8 inches
Width: 33 inches
Weight Capacity: 350 pounds
Weight: 96 pounds 
The Ascend 128X Yak Power is a sit-on craft that can be used in versatile environments. Lakes, rivers, creeks, bays, marshes, bayous, and surf up to 2 feet are all on the table for this powerful vessel.
What drives the muscle? A 12-Volt Yak-Power electronic control system. The electronics are 12-Volt and feature 3 power plugs placed for your convenience.
Also convenient is the storage. There is a waterproof storage system located midshaft and aft, as well as open-storage areas on the bow and stern with included flush mounted bungees for security. 
The standing view from the flat non-skid foam deck makes for fantastic sight casting. Also, the stability of the tunnel hull coupled with the width of the flared bow makes this kayak second to none for fly fishing. The large deck space and pull-up assist strap make standing a breeze.
There are 4 mounted rod holders, 2 accessory rails, wiring harness, and storage with threaded insert for maximum angler accessorizing. Also worth mentioning is the suspended 3-position seating system. It's removable, so it can be used for comfortable deck sitting.     
Pros
Rod-tip protector storage (can also be used for paddles) is removable 
Eight scupper drains with plugs for pointed water letting
Bow and stern handles make it easy for two people to carry this kayak to and from water 
Available in 2 colors: Titanium and Desert Storm
Maneuvers, paddles, and tracks well 
Cons
Large size and weight can make it hard for a single person to handle
Rod holder layout is inconvenient to some anglers
Deck and hull tend to warp over time if stored out in the elements
Leaks from the hatches into the hold, but can be fixed by owner
Quick Specs
Length: 9 feet 10 inches
Width: 29 inches
Weight Capacity: 300 pounds
Weight: 50 pounds 
The Ascend D10 is a durable sit-in kayak perfect for lightweight weekend touring. This watercraft can be used to sneak into places other boats can't. Think bayous, streams, bays, rivers, and inlets. It's also extremely easy to manage onshore with a shorter length and lighter weight.
Tracking, speed, and stability are the stars of this vessel. Even in very shallow waters, your D10 can still float above rough bottoms. This kayak is best used on calm waters, such as lakes, slow-flowing rivers, and streams. 
Like other Ascend sit-in models, the cockpit is open to minimize feelings of claustrophobia. The low-chair style seat is comfortable and can be removed for off-kayak use. However, a major con of this kayak is the lack of dry storage, but dry bags can remedy this. 
Perfect for beginners learning the ropes, intermediate or advanced paddlers will want to look elsewhere on this list.  
Pros
Available in 2 colors: Red and Purple
Durable enough to withstand hitting rocks, branches, and boulders
Cup holder and 2 trays for easy access to important items
Hold down system allows you to safely attach a 36-qt. cooler
Built-in paddle holders to keep your hands free for activities
Single drain plug for excess water drainage
Cons
Seat cannot move forward or backward 
Cockpit feels cramped due to lack of storage space (only behind seat)
Full-length keel catches easily on rocks and branches
Wet float in all but calm, slow-moving water
Cannot attach a spray skirt
Ascend FS10 Sit-In Angler Kayak
Quick Specs
Length: 10 feet
Width: 30 inches
Weight Capacity: 325 pounds
Weight: 57 pounds 
Another lightweight, easy to carry kayak is the Ascend FS10 Angler. As stable as any other kayak on this list, this sit-in vessel is perfect for setting limb and trot lines, as well as angling from the open cockpit. 
The stability is on point due to the V-style hull and extended keel design. It doesn't hurt that aggressive strakes and a performance rocker were included to enhance maneuverability and tracking. Combined, these factors make for an easy to paddle kayak. 
Did we mention there are multiple luxuries built-in for angling performance? There are two, 4-inch cleats that allow you to attach anything from a live bait pail to a stringer and anchor system. Also added is an expanded tankwell in the stern to hold big and small cargo and keep an even payload. Bungees over the top of the tankwell allows anglers to secure fishing gear.
Of course, the basics like accessory rails, dual-sized cup holders, molded dash, rubber carry handles, single rod holder, and adjustable foot braces are included. As are bungeed paddle holders to increase hands-off activities. The FS10 is best for kayakers between 5'2" and 6'2". 
Pros
Weathertight storage under dash for keys, wallet, phone, and other small items
Available in 2 colors: Titanium and Desert Storm
Removeable, deluxe seating system for comfort on and off the kayak
Open cockpit makes entry and exit easy
Threaded and sealed single drain plug
Cons
Seats will rust without anti-rust protection applied by owner
Sits lower to the waterline than comparable kayaks
Poorly placed rod holder for some anglers
Narrower legroom than older model
Ascend Kayak Takeaways 
No matter your preferences, there is an Ascend for you on our list. With the slight differences between the models and the kayaks, it's important to focus on details. To help, we've put together a list of 7 takeaways to ensure you meet your needs: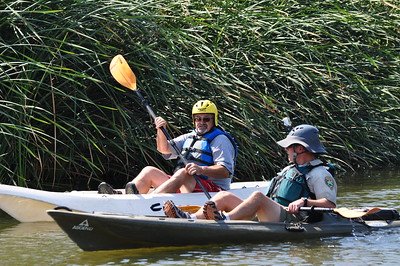 Do the math! Weight capacity becomes important if you want to bring along a pet, fishing and/or hunting gear, camping equipment, or attach accessories. Remember to add your own weight at the end! 
How will you get your kayak to your car and from your car to the water? This is where it is important to think about a few additional factors:
There are multiple reasons why you might want to choose an Ascend that offers that kind of stability such as the 10T, 128T, and 12T:

Casting off the deck
  Fly fishing
  Shooting duck
  Stand up paddleboarding
  Stretching your legs
  Yoga

Do you want a kayak already equipped for fishing from day one? If so, your best options are the 128T, FS10, and 12T.
Decide on your hull. This will depend upon whether you are looking for greater stability, maneuverability, and tracking.
Sit-on-top or sit-inside kayak? Both have their benefits and drawbacks. The featured sit-on kayaks are the 10T, 128T, and 12T. The sit-inside kayaks are the H10, D10, and FS10.
Storage. The first thing to think about is storage space. Do you like to do overnight trips? How many amenities do you want to bring onboard? How much dry storage do you need? Is there enough included for your needs? Do you have/need dry bags?
Upgrade your kayak game to Ascend, and you'll be ready to set sail on your water of choice. We hope our article helped you choose your dream vessel, and you feel assured about buying the best Ascend for your paddling goals!
Paddle On!
Summary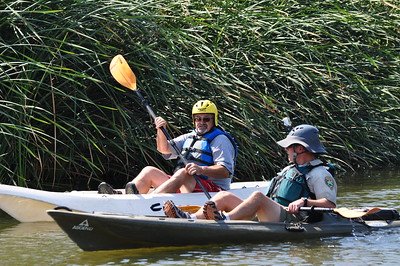 Article Name
Confused By the Different Ascend Kayak Models? Get clarity here
Description
Ascend kayaks are very popular, but their model numbers can be confusing. We clear it all up so you can buy with confidence.
Author
Publisher Name
Publisher Logo