Whether you're hitting the beach for a few hours or plan on taking a long beach vacation, a well-insulated cooler is just as important as sunblock, blankets, and your swimwear. Finding the best beach cooler is essential for maximum enjoyment at the beach when the sun is hot and refreshments sparse.
In recent decades, cooler innovation and construction has advanced significantly. The times of removing mushy food and floating beers from the ice that you prepared ahead of your trip are long forgotten.
Beach coolers are now available in a variety of pricing points and features, with some luxury coolers claiming to keep goods cold for longer durations.
Carrying your cooler and any additional contents safely and comfortably becomes crucial while making the trip from your coastal resort or needing to manage a sandy beach entry.
There are a wealth of choices to pick from as you start planning your next vacation. From soft-sided coolers to ones on wheels, there's a cooler for every need.

Keep reading for our picks for the best beach coolers for a fun day at the seaside, picnic at the park, or hiking to a remote destination.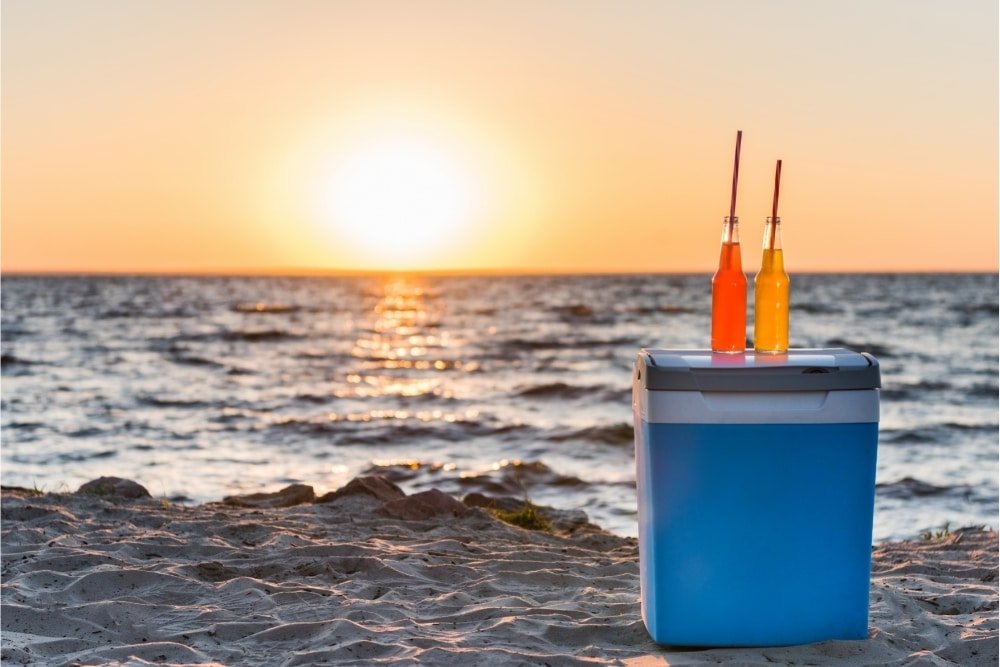 The Arctic Zone Titan Cooler is a hardbody cooler wrapped in a soft body exterior. This gives you the convenience of all the little pouches and storage nooks most soft body coolers offer but the superior insulation of a hardbody cooler.

This huge hardbody cooler is a great option if you intend on traveling or camping in the woods, as it has a higher-quality build than other versions. It has an FDA-approved HardBody liner with a detachable SmartShelf. The SmartShelf sits on top of the ice and your beverages. This makes it so you can pack deli foods and other goods without them getting soggy from the ice.
The Deep Freeze variant with 30 cans is a popular size. There's also a 48-can type, which is the largest (and also the most difficult to carry). The lesser models are better used as picnic coolers. This model's ice retention is 3 days, which really is excellent for a compact portable cooler.
The Deep Freeze 30 boasts a lot of handy features for such a compact cooler.
The cooler has two front-zippered pockets. The larger one isn't as deep as the little one, but it's still big enough for a tube of sunscreen. There is also a hook for attaching a can opener or fastening your wallet and keys.
The secondary zip pocket is ideal for storing essentials like purses and phones. The top bungee strap is useful for carrying other seaside or picnic-related things, like flip flops. There's also a nifty bottle opener affixed to the outside of the cooler, which is handy in case you forget yours at home.
There are net compartments on the sides of the cooler for minor goods, but these are not as convenient as one would think. Many people complained that these just fill up with sand and mud and items get dirty.
Pros:
Long lasting insulation – This cooler can keep its contents cool for up to three whole days, allowing you to take longer trips with less stress.
Easy open lid – The flip open lid is patented by the brand and makes trips easier as it quickens access to food. 
Easy clean – Features a super safe leak proof lining and also has a wipe-clean hard exterior to make cleanup a breeze. 
Comfortable to use – Thanks to the backsaver adjustable strap, this cooler is easy to carry, even when on grass and sand. 
Cons:
Pre-chill necessary – Any food or beverages placed in this cooler must be pre-chilled beforehand to ensure that it stays cool for 3 whole days. 
If portability and storability are high on your priority list, then the Lifewit Collapsible Cooler Bag is the cooler for you.
This cooler bag is super lightweight, weighing in at less than 2lbs. Other coolers can weigh 10 lbs or more. When you add ice and beverages to it, it can be super heavy. The Lifewit solves that problem.

What's more, it's totally foldable, making it simple to store once you've finished your day out. When it's collapsed, it can fit conveniently in a cupboard or slotted in next to a washing machine or other small crevice so it's not taking up precious storage area.
The inside lining is leakproof, so you can be assured that any ice you place in the container will not leak all over the place.
Foods and beverages will stay cool in this container for up to 12 hours, according to Lifewit. Although the ice will probably melt within 6 hours, as is common with a thin-sided plush cooler.
When emptied, this weighs just over 10 oz, and when loaded, it'll never be overly heavy and bulky. The Lifewit 32 has a retractable and changeable cushioned shoulder strap to make life simpler. The carrying handles offer some cushioning as well.
Netted pockets on the back of the cooler allows you to sling it over a luggage handle, which is excellent if you need a cooler on a quick trip.
Pros:
High quality cooler – For longevity and simple washing, the cooler bag's outside is made of high thickness water-resistant, dirt-proof Oxford fabric.
Large capacity – The cooler bag is large enough to contain all of a family's picnic necessities while remaining lightweight.
Multiple pockets – The bag has a large hole that makes lifting and moving a breeze. Beverages, bottles, and even umbrellas can be stored in two side netting pockets.
Super portable – With a cushioned handle and a retractable shoulder strap, it can be carried in a variety of ways and is easy to transport.
Cons:
Can get saggy – If this cooler is used often or overfilled with heavy items, some reviewers reported that it can begin to sag.
The Tourit Insulated Cooler Backpack is a compact but spacious backpack cooler. It's only 1.1 lbs and can carry 28 cans and some ice packs, possibly allowing a little bit to spare. 
This cooler has a big 25 liter thermal storage compartment and a secondary front zipped pouch for supplementary stuff that you want to keep dry. The front pouch is leak and water resistant for total peace of mind. It also has proprietary material that prevents condensation from seeping through so your back will stay dry while carrying it.
Two side compartments and a front bungee provide additional storage around the outside of the backpack. The refrigerated compartment keeps things cold for 16 hours. Black, blue, light grey, and red are among the available colours.
When working with a light to moderate load, the backpack straps are ideal. When carrying a particularly big load, though, the front or side handles are preferable.
Another feature we enjoy about this cooler is that it has unisex proportions. Men and women can comfortably carry TOURIT backpack with ease.
Other handy features include a large mouth for convenient access and a zipped pouch in the front for personal effects. It also has netted compartments on the edges for storing items of all sizes.
Pros:
Made with premium materials – Inside this insulated backpack, insulating fabric and a leak-proof lining work together to prevent leakage and keep food warm or cold for up to 16 hours.
Large capacity –  The cooler bag is large enough to contain all of a family's picnic necessities while remaining lightweight.
Multiple function – This insulated cooler backpack's elegant design allows it to be used as a picnic backpack or everyday bag. Lunch, picnics, work, and travel are all possibilities.
Cons:
Not supposed to use ice – Per the manufacturer's instructions, you're not supposed to use ice in the cooler but rather ice packs (sold separately). Some people do so anyway with no reported decline in performance or durability.
Sale
With a size suitable for around 45 cans, this cooler is yet another fan favourite. It comes with one big frontal zipped compartment with a separator for cutlery, 2 side netted pockets, an internal zipped compartment on the top, two D-shaped hangers, and a beer bottle opener.
It's composed of heavy-duty nylon and comes with comfortable detachable straps. As well as the black displayed, the backpack is available in three other colors: bright orange, grey, and pink.
The products can be organized effectively due to the dividers within the main compartment of the bag. This highly rated insulated cooler features cushioned and extendable robust shoulder straps as well as ventilated back pillows.
For your phone, travel money, or any other small accessories and belongings, there are two zipped front security pockets. SEEHONOR also offers categories for products such as chocolates, crackers, and snacks that should not be paired with ice or exposed to cold.
Pros:
Good capacity – Large enough to carry lunches, beers, tall drinks, snacks, as well as other essentials.
Leak proof protection – The cooler backpack's thicker foam inner padding and leakproof PEVA liner work hard to ensure your things stay cold or warm for hours while also ensuring anti-leaking.
Durable design – The bag cooler is composed of heavy-duty nylon that won't shred, tear, or scrape, but it's still light enough to carry.
Cons:
Not totally leakproof – Some users reported that this cooler leaks through the zipper.
Coleman coolers are timeless for a reason: they perform wonderfully and are reasonably priced. This cooler lacks the fancies and amenities of more costly coolers, but that's not a big deal if you only need something to take to the seaside every now and again.
This 50-quart container stores a lot of goods (up to 84 cans), plus it comes with heavy-duty wheels and a telescopic handle for dragging across sand. On the front, there are 4 cup holders, which really is convenient. 
It boasts a leak-proof drain that allows you to conveniently discharge excess moisture without having to rotate the cooler. It also has built-in cup holders for convenient access to cold beverages, as well as a lid that provides a pleasant spot to sit and rest.
The cooler gets its name from the Xtreme Insulation Innovation. This allows it to maintain ice for up to 5 days in temperatures exceeding 90 degrees Fahrenheit. This is the highest-quality hardbody cooler you can find.
When you want a high quality cooler but don't want to spend hundreds of dollars on other coolers with slick marketing campaigns, stick with the Coleman.
Pros:
Innovative technology –  withstanding temperatures exceeding  90°F, the insulated lid and additional wall insulation maintain ice for up to 5 days.
Budget-friendly – Unless you absolutely need your cooler to hold ice for 5 straight days and want to pay hundreds for that promise, the Coleman gets the job done at a fraction of the price.
Easy cleaning – The smoother surface is easier to clean, and the leak-proof channel drain allows for easy drainage without tipping.
Cons:
Troublesome handle – Some people have found the handle to be flimsy and that it gets stuck in the lower position making it hard to use
Looking for the best cooler to take on your kayak or SUP? Read our other cooler buying guides here:
🏄‍♂️ The 4 Best SUP Coolers For Keeping Drinks (or your catch) Ice Cold
🚣‍♂️ The 7 Undisputed Ice Coldest Kayak Coolers For All Styles of Kayaks
Lioncoolers are a modern take on the typical cooler as these are more like a battery operated fridge or a freezer. The portable fridge can cool down warm drinks or food even when not plugged in. With a large battery the fridge will work for 10h when unplugged.
The X50A can be charged from a wall outlet, a car outlet or even with a solar panel. This is a unique feature and can get you completely off-grid for even more extended times. How great is it that you don't have to end the fishing trip or day at the lake short just to make sure your drinks and food won't go bad!
You can control the portable fridge with your phone as it is connected with a mobile app. What about if your battery is running low? Well no worries as you can also charge your phone from the fridge!
Pros:
Great battery life
Great off-grid charging options with solar power
Actually cools down warm drinks
No ice needed
Handy mobile app
Large capacity: 52 quarts
Nice to move with handle and big wheels
Cons:
ACOPOWER&LiONCooler 12V Portable Car Refrigerator-52 Quarts/50L,Battery/Solar Panal powered Fridge Freezer with App Control,-4°F-68°F Electric Compressor Cooler for Camping RV Truck and Boat
𝗕𝘂𝗶𝗹𝘁-𝗶𝗻 𝗿𝗲𝗰𝗵𝗮𝗿𝗴𝗲𝗮𝗯𝗹𝗲 & 𝗿𝗲𝗽𝗹𝗮𝗰𝗲𝗮𝗯𝗹𝗲 𝗯𝗮𝘁𝘁𝗲𝗿𝘆
𝗧𝗔𝗞𝗘 𝗬𝗢𝗨𝗥 𝗖𝗢𝗢𝗟𝗘𝗥 𝗔𝗡𝗬𝗪𝗛𝗘𝗥𝗘 - With big wheels and a removable lid, this portable trolley is perfect for camping, fishing, tailgating, and more.Plus, the sound emitted by the 12V fridge is only 40 dB, providing a quiet and comfortable environment.
𝗘𝗔𝗦𝗬 𝗧𝗢 𝗖𝗛𝗔𝗥𝗚𝗘 - The 173Wh built-in lithium battery is removable and can be charged with a 90W foldable solar panel (not included). One battery lasts about 10 hours at 0℃/32℉.
𝗟𝗔𝗥𝗚𝗘 𝗖𝗔𝗣𝗔𝗖𝗜𝗧𝗬 - With a capacity of 52 Quarts / 50 Liters /13.2 gallons, this powerful RV fridge can hold up to 62 cans of cola, 37 bottles of water, or 18 bottles of red wine. It fully meets the needs of RV/truck drivers, boat owners, and campers to store seafood, snacks, meat, and beverages.
𝗦𝗠𝗔𝗥𝗧 𝗖𝗢𝗡𝗧𝗥𝗢𝗟 - In addition to manual controls, the portable cooler's temperature and settings can be managed using the digital smart control panel or the free Bluetooth app.
Buying Guide
You will also need to explore a few factors in order to choose the best beach cooler on the market. A few of these suggestions may not be applicable to your upcoming beach vacation, but they will undoubtedly help you prepare for other future endeavours.
Here are the key things to look out for when shopping around for the perfect beach cooler:
Capacity
We need coolers so that we can transport many things at once, especially ice cold beverages. But we'll also need it to store food and other personal items. Before you go shopping for a cooler, you should decide what you want to keep in it.
The amount and types of things to be stored, as well as the number of people the cooler will feed, may determine the overall size of the cooler. You must also take into account the fact that you will need to add more ice packs inside, which will reduce the overall storage.
So, if you want to be able to fit 25 cans in a cooler, you need to seek a somewhat bigger backpack – perhaps one that holds 30 cans. That way, you'll be able to carry as many beverages as you like, as well as the extra ice containers that will keep those drinks cool.
Ice Retention
When purchasing any form of cooler, one of the most crucial things to keep in mind is ice preservation. Food and beverages need to be kept cool and fresh at all times during your seaside excursion.
This means you'll have to sift through the products carefully to find one with good ice preservation. Beach coolers with strong insulating features can keep things chilled for an extended period of time, making them ideal for long trips.
In order to pick which cooler to buy, you must research the exact specifications of each one. Coolers are meant to be versatile. The main goal, however, is keeping your items fresh for as long as you want them to be.
Choose what best suits your requirements.
Portability
Make sure you get one that matches the method of transportation you have. When considering how you will transport the cooler, one element to remember is the size of the cooler.
Another consideration is portability. When you're deciding what to buy, be sure it's something you'll be able to carry easily. Coolers with cushioned shoulder straps and ergonomic grips, as well as rucksack coolers, are available.
These coolers are advantageous since they are highly portable. These two types are the most convenient to transport. To make your trip more enjoyable, you may wish to invest in a cooler with wheels on the base.
Durability
Your beach cooler should keep you chilled for a long time. The construction and composition of your cooler will determine how long it lasts.
If you're putting your cooler through a lot of abuse or dragging it across harsh terrain, you'll need a product that will withstand leaks, tears, and damage.
You must also define the precise necessity for the cooler. Consider whether you want to buy a cooler to use and abuse for a season or if you would like a product that will last for years. Keeping that in mind will help inform your decision making process.
Ease of Cleaning
Invest in a beach cooler that is easy to wash. Some of your items will spill as you carry them about. You must clean the stains as quickly as possible before they get stuck.
Look for something that will be simple to manage and sanitize. Soft shell coolers are simple to clean, but they take longer than hard – sided coolers to do so. Before you make any purchase decisions, you should think about how easy it is to clean.
Added Extras
Some beach coolers have extra functions that can come in handy while you're on a trip at the beach. Shaped cup holders and built-in chairs are some added features you should look for. You'll find these on some hardbody coolers.
Others have huge wheels that make moving your big cooler around a breeze. Additional models have gripping point attachment for locking the cooler in position as well as attaching other accessories and non-food objects.
Look for any things that would improve your beach vacation.
Frequently Asked Questions
How Long Will A Beach Cooler Keep My Stuff Cold?
It all depends on what type you're going to buy. Soft beach coolers, as previously said, are not as efficient as hard-sided beach chillers. They only keep things cool for about 6-10 hours.
The hard coated, on the other hand, will operate for days as long as there is ice still remaining.
How Should I Clean My Beach Cooler?
As long as it's spill-proof, washing is a breeze. It may be difficult to eliminate stains from standard beach coolers. If there are any leaks, simply turn the cooler upside down to drain them.
To remove any filth, you could also use a moist cloth or napkins. If you're utilising a soft cooler, machine washing would most likely be enough. Using a moist cloth or a brush and warm water, you can quickly clean spots on the exterior.
Last update on 2023-11-30 / Affiliate links / Images from Amazon Product Advertising API
Summary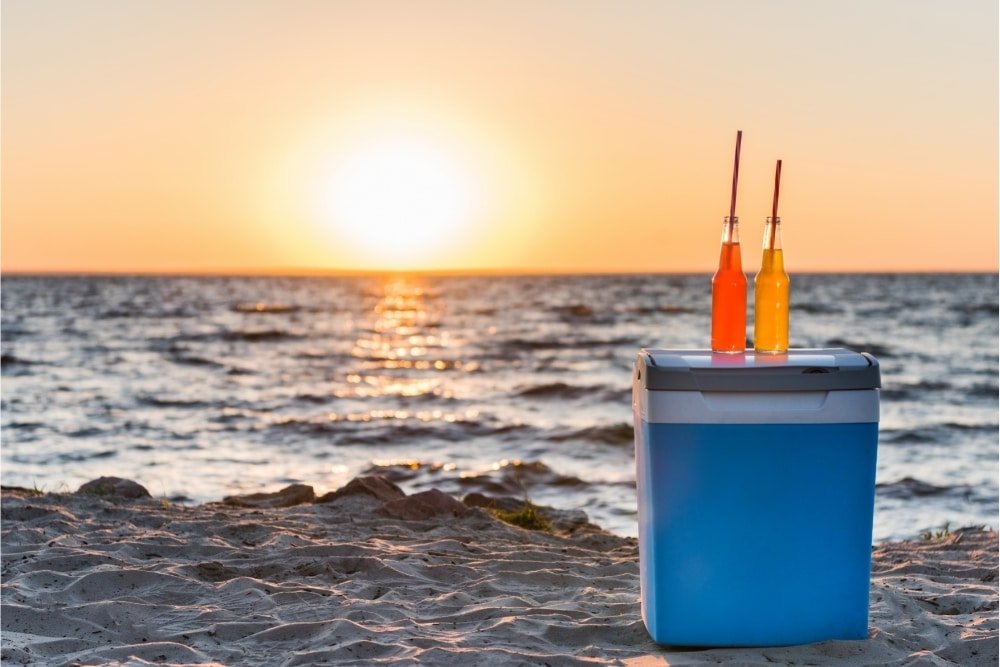 Article Name
Looking For The Best Beach Cooler? Here Are Our Top 5 Picks
Description
Having a good cooler is crucial when having fun in the sun at the beach or the great outdoors. See our top 5 picks for best beach cooler.
Publisher Name
Publisher Logo