Did you know that kayaking can be a wonderful pastime for you to experience with your four-legged friend? Bringing your furry friend with you on your aquatic adventures can make a fun hobby even more enjoyable. So long as your dog loves the water, is happy to sit for long periods of time, and doesn't mind getting splashed here and there, kayaking will be a wonderful bonding experience for you both to enjoy together. 
That's why it's important to find the best kayak for dogs so you can have fun and be safe while kayaking with your pet.
With the vast sea of kayak options currently on the market, it can be hard to find a kayak that will be suitable for your dog to travel in.
If you're currently in this predicament, we're here to lend you a helping hand! To ensure that you're able to get your hands on the best dog-friendly kayak on the market, we've been busy shortlisting the best from the rest so you don't have to. 
Below, not only will you find all of the kayaks that have made our list, but we've also included a helpful buying guide that will guarantee you make the best choice for yourself and your dog. Scroll down to see our picks for best kayaks for dogs.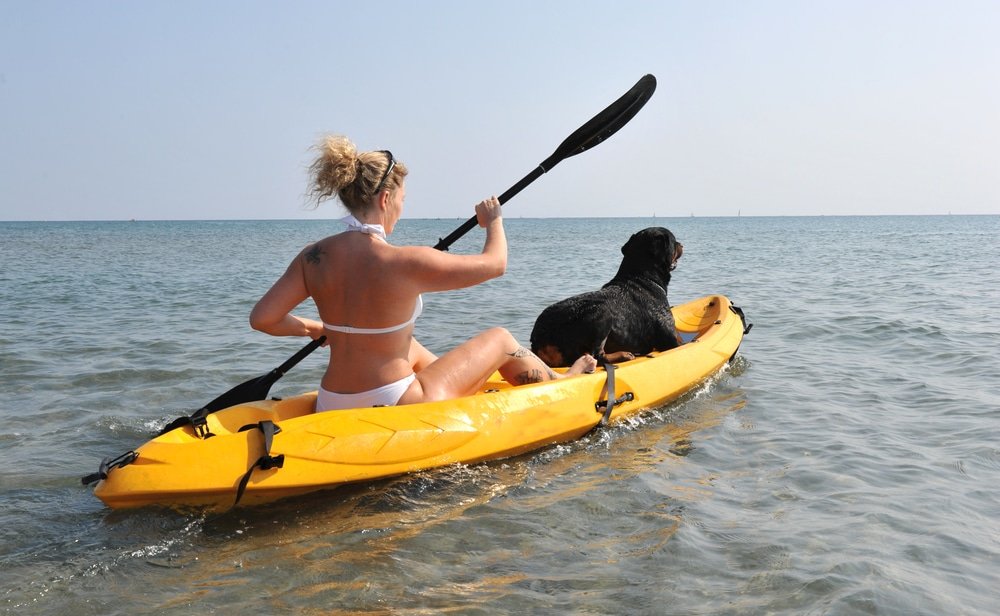 Kicking things off, we have selected the Sea Eagle Inflatable Portable Kayak, which is our top overall pick for this review. Read on to see why it's our winner!
With a total weight capacity of 855lbs and a maximum of 3 people, the Sea Eagle is the perfect kayak for days on the water with your four-legged friend.
With its extra capacity, you'll be able to bring along an extra person or use the additional space for onboard essentials.
The Sea Eagle is also extremely versatile. It comes with the option of moving the seating arrangements around, as this kayak features two moveable kayak seats. This will help get the optimal configuration for you and your dog.
If all of that wasn't impressive enough, this kayak from Sea Eagle even comes with two 4-part paddles that each feature an asymmetrical blade and an aluminum shaft, while the additional skegs that are located on the bottom of the kayak will ensure better speed and tracking abilities.
All in all? This kayak is a great choice to consider. It's got our seal of approval!
Pros:
3 person capacity
Moveable seats
Great value for money
Cons:
Heavier than most inflatable kayaks
Sea Eagle 420x Inflatable Kayak with Pro Package
The Sea Eagle is spacious enough for 2 people plus a dog. It's durable and can haul up to 855 lbs. Not only that, it's a great value for what it offers. That's why it's got our top recommendation.
This innovative kayak/SUP hybrid won the Bronze medal for the prestigious 2018 International Design Excellence Award (IDEA) in the sports, leisure and recreation category.
If you're looking to just have some f-u-n on the water, the Perception Hi Life is an excellent choice. Its award winning design offers a few unique features you won't find on any other kayaks.
Front and rear swim decks
Elevated seating with built in cooler underneath for drinks and snacks
Deck cushioning throughout for sure footing
The swim decks are where the kayak really shines. It makes getting your dog on and off the kayak super easy. You can just put the kayak in the water, back it up to the edge, and have your dog step on the bow or stern of the kayak directly.
Being 11 feet long, there's plenty of room for both you and Fido to stretch out. This kayak is incredibly versatile from its being a hybrid. You can put your dog in either the front or the rear depending on where you want to paddle from.
The Hi Life has a low profile which makes it stable enough to paddle either sitting down or standing up. It also makes re-entry onto the kayak super easy, especially for kids. One happy user commented,
"I like how stable it is. My very energetic dog was fine on it- didn't come close to tipping me in."

– Amazon reviewer
While this kayak isn't great for long distances or choppy waters, it makes for a fun summer day on the water with the doggo and kiddos.
Pros:
Award winning design
Paddle while standing or sitting
Front and rear swim decks for easy entry and exit for dogs
Cons:
Not great on choppy water
If you plan on taking your dog on larger bodies of water, then we recommend a sit-in kayak for optimal safety. The Elkton Outdoors Cormorant 2 Person Tandem Inflatable Fishing Kayak with its high inflatable bulkheads is a great option to consider.
Suitable for even large breeds of dog, the Cormorant features a deep seating area that is large enough to hold up to two people (including onboard equipment and food). This makes it a great choice for dogs large and small.
The Elkton Outdoors Cormorant Inflatable Fishing Kayak is made from very strong, 18-gauge 1000D PVC. This super strong material is not only rip-resistant, but is also resistant to tears from other sharp objects, including dog nails.
On top of that, this kayak is also able to offer onboard stabilization. Paddle confidently with the peace of mind that you and your dog will be safe while out on the water no matter where your adventures take you.
The good news is that the Elkton Cormorant is also extremely easy to set-up. It takes just minutes to inflate.
Don't be deceived by its rugged design either. The Elkton Kayak is super lightweight and easy to transport. You'll have no problems pulling this kayak while also handling your dog.
Our verdict? You won't be disappointed with this reliable model.
Pros:
Suitable for large dogs
Comes with a variety of accessories
Inflates quickly and easy to store
Cons:
Sale
The BKC TK122U is a great option if you want a kayak two people can paddle and you want to take your dog with you.
Brooklyn Kayak Company markets this kayak as one that's great for two paddlers but has extra space for three. That third passenger might as well be a furry one!
There's a lot to love about this kayak, including its massive carrying capacity. The TK122U can hold up to a whopping 770 pounds!
BKC is also a company known for throwing in the whole kitchen sink when it comes to features and accessories. This kayak is no different. It comes with 2 aluminum frame seats, 2 aluminum paddles, 2 waterproof hatches, and 4 built in rod holders for fishing.
While it's great for two paddlers, it is surprisingly easy to paddle it solo from the rear as well. You can place Cujo in the front. With its huge weight capacity, you can fit a rather large dog in the front of the kayak. Otherwise, with two paddlers, Cujo can go in the space between the back paddler and the front paddler. If you go with this configuration, it will be better for a small or medium sized dog.
Because it is so sturdy and durable, it is fairly heavy. You will need two people to carry it or some other way of transporting it to the water. While it paddles fairly straight, it's not super maneuverable. But that's also what makes it stable enough to be used as a fishing vessel.
Pros:
Perfect for 2 people and a pet
Whopping 770 pound weight capacity
Lots of accessories and built-in features
Cons:
Best Kayak For Dogs: What To Consider
Before making a final decision on a dog-friendly kayak, there are a few other things to keep in mind before pulling the trigger.
Design, safety, and comfort are important factors. Read on below to find out what we mean by each.
Design
One of the most important considerations that you will need to make when purchasing a dog-friendly kayak is what material you would like it to be made of, as well as what style you'd like the design to be.
Generally speaking, if you plan on kayaking with your dog then you'll likely find that a sit-on-top kayak is the best choice. They often feature spacious cockpits that won't feel restrictive or uncomfortable for your dog.
However, if you are planning on kayaking through choppy waters or simply prefer the security of a sit-in kayak, then there are a few options on the market that are suitable to accommodate dogs. The Elkton Outdoors Cormorant we reviewed above is a great example as it features an open-cockpit design.
Safety Features
One of the most important considerations that you should make when selecting a dog-friendly kayak is what type of safety features it has.
While you're out on the water, you're going to be responsible for the safety of not only yourself, but for your four-legged friend. It's important that you make sure that your kayak is going to be able to keep you both safe.
It is also important to keep in mind that there are a variety of safety precautions and measures that you should be taking as a dog owner while out on the water.
One thing you should consider is your dog's personality before you take him on the water. If your dog is fearful of the water, then putting him in a kayak might not be the best idea.
On the other hand, if you happen to have a very energetic dog, then an open water environment might not be the best idea, either. Instead, you should be confident that your dog will be able to sit in your kayak for long periods of time without jumping up or moving around too much.
You should also consider your dog's age. If you happen to have an older dog, she might find it uncomfortable and even painful to have to sit in a kayak for long periods of time.
You should also consider the size of your dog. Do you have a large-breed dog? If you do, you're going to need to make sure that you opt for a larger kayak. This ensures that it will be able to accommodate you, your dog, and any of your additional bags/accessories comfortably.
Regardless of the size of your dog, one absolutely essential safety item for dogs is a doggy life jacket. They're particularly handy for small dogs as most doggy life jackets come with a handle on top. You can just lift your dog out of the water and back onto your kayak. This is helpful whether they fall out or are taking a leisurely swim. You can get them back on board with ease. We recommend these ones from Outward Hound. They offer a variety of sizes and styles.
We also strongly recommend that you double-check with a vet and get clearance from them before taking your dog paddling. Check to see if any vaccinations are recommended for the type of environment you'll be in.
Comfortability
Another hugely important feature that you'll need to keep in mind when selecting a kayak suitable for you and your dog is comfortability.
Even though it's all well and good having plenty of legroom and space for you to stretch out and get comfortable in, if your dog is going to be cooped up and cramped, then the kayak will be no good.
All of the kayaks that we have recommended to you above have plenty of space for both you and your dog to get comfortable in (including all of your onboard equipment, water, and food).
Frequently Asked Questions
Can A Dog Fit In A One-Person Kayak?
While it might be possible to fit a smaller dog inside a one-person kayak, we don't recommend that you do so as there likely won't be enough room for you both to fit comfortably.
You will also need to think about logistics. The last thing that you'll want is to be out on the water and struggling to safely control the kayak due to you and your dog being too cramped together.
Instead, we recommend that you opt for at least a two-person kayak (preferably sit-on-top) that will ensure that both you and your dog have separate compartments to sit in, while also making sure that there's plenty of space to keep carry bags, food, and water.
Can A Dog Ride In An Inflatable Kayak?
If you've never owned a kayak before, then it only makes sense that you should be skeptical about whether or not an inflatable kayak will be durable enough to withstand your dog's claws.
However, to put your mind at ease, the great news is that most inflatable kayaks are durable enough to be able to withstand your dog's paws without any issues – even if you happen to have a large-breed dog!
Last update on 2023-09-14 / Affiliate links / Images from Amazon Product Advertising API
Summary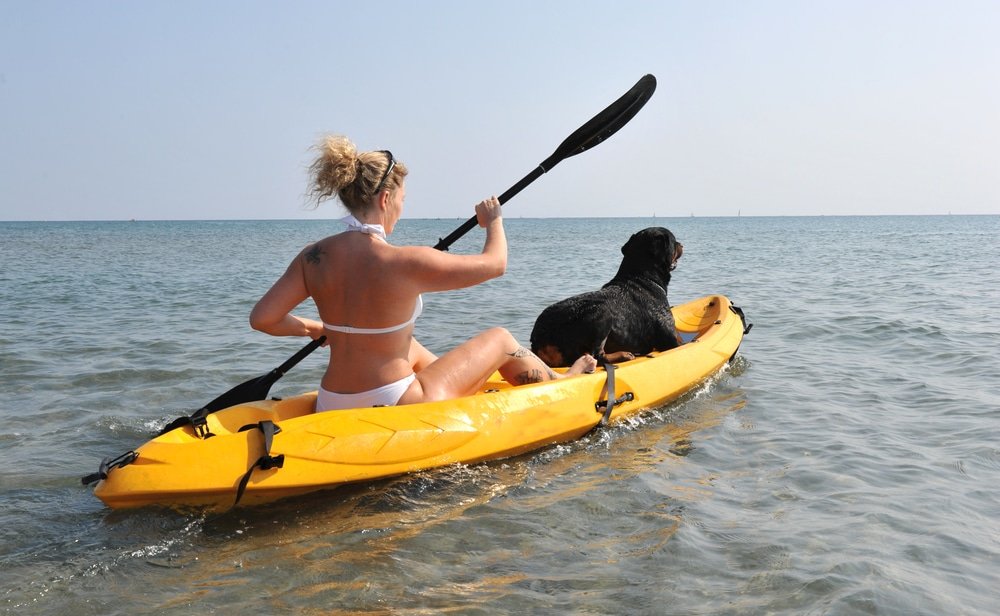 Article Name
Paddling With Your Pet: Best Kayak for Dogs
Description
Be safe and comfortable on the water while kayaking with your furry friend. Find out our top picks for best kayak for dogs.
Publisher Name
Publisher Logo