Kayak fishing has slowly but surely begun to take over the world of angling. People were tired of having to purchase large, expensive, and heavy boats that were a pain to stow and transport. 
So the consumer moved away from those heavy aluminum boats and invested in lighter and cheaper kayaks, and they have only grown in popularity.
But a new challenger has entered the market: the stand up paddle board (SUP).
These grew in popularity when anglers out west and many saltwater fishermen began to transform them into their own fishing vessels. 
Since then they have migrated across the country and you can now find east coast fishermen utilizing them.
Many companies now are making SUPs specifically for fishing and they are posing as a serious challenge to the king of small vessel fishing, the kayak.
Benefits of kayak fishing and SUP fishing
Before we go too far, lets break down what they both have in common.
Lightweight
Created from plastic, depending on the size both of these can vary in weight range. But, in general, these are easy to transport for a single person. And because of their lightweight capabilities it makes them very easy to stow as well.
Skinny water fishing
If you want to fully cover a small river or creek then your bass boat just won't cut it. The nice shallow design of a kayak or SUP will allow you to float through a foot or two of water easily. This way you are not limited by where you can go and can reach fish that previous anglers could not.
Maintenance
There's an old joke that I'm sure you've heard.
It's the one about how the two happiest days in a boater's life are the day he buys his boat and the day he sells it, which, if you've never owned a boat before, means that the maintenance on it can be an absolute pain.
This is where the true beauty of a kayak or a SUP comes into play. Other than the occasional rinsing off and keeping it out of the elements you don't really have to do much, if any, maintenance. 
Now that we know what qualities they both share, we're going to dive a little bit deeper to figure out which one is the right fit for you.
Fly fishing or spincasting?
Whether you're throwing a Texas rigged worm to a largemouth or chunking a streamer to a brown trout you need to know which vessel is going to work best for your style of fishing.
Fly fishing from a kayak
Sitting in a kayak and trying to get a decent back cast can be challenging. Being so close to the water you really need to focus and make sure your fly does not slap behind you. 
This problem can be solved by just standing up and many sit on top kayaks are stable enough to do so.
Just keep in mind that you have to move from your seated position and maintain your balance while standing, which could result in you or a piece of gear falling into the water.
Spincasting from a kayak
If you want to be sitting down this close to the water then throwing your spincaster or baitcaster is the easiest way to cast.
You don't have to worry about your back cast going anywhere and, because you're so low to the water, you can easily cast underneath docks and overhanging tree limbs.
Fly fishing from a SUP
Just like peanut butter and jelly, fly fishing and SUPs just work together.
The extra stability allows for easy weight transfers while casting and, since you're standing, you have plenty of room for you back cast.
An elevated seat or a strapped down cooler means there is no wasted effort if you feel like sitting down and then need to stand up to throw to rising fish. 
Spincasting from a SUP
Just like the kayak there is no reason you should not be able to cast your spinning set up. You could choose to stand, kneel or sit. Hell, you could even lie down if you want to!
Overall
With the SUP you can just as easily cast a fly rod or a spinning rod. So, if you're looking for something that will allow you to easily cast both, then the SUP is the answer.
But don't discredit the kayak totally. Casting a fly rod can be tedious but it can be done.
Gear storage is a major consideration
One of the largest subcultures of the fishing world has got to be gear heads. These are the people that have to have the latest and greatest everything.
They need the latest lure, tacklebox, scent, rod, reel, line, and everything else under the sun, which means that the amount of gear that your vessel can hold should be high up on the list.
Kayak storage options
As long as you're not purchasing a kayak specially designed for whitewater rafting then you're going to have a lot of different areas for storage.
Sit ins will usually have two areas with elastic straps where you can store a tackle box or a small cooler. On top of the areas in front of and behind you, you also have a completely flat spot in front of the paddler that you can utilize to store other items. Because of the lip of the kayak, you don't have to worry about your items easily sliding off.
SUP storage options
Most SUP makers utilize straps in the front and back that will allow you to hold down a cooler or gear box which you can use for a seat.
In there you can hold a few different items, from a tackle box, to food, and some smaller items. If possible, you can attach rod holders to your cooler which would allow you to bring a few different set ups with various lures and flies.
Now, that being said, this is the perfect vessel for the minimalist fisherman. It can hold exactly what you need but not much more.
Overall
The kayak definitely leads the way in gear storage. You have the capability to hold whatever you want and then some. But if you like the idea of paddling out with only the essentials then the SUP is a great way to go.
Best of both worlds: Motorized kayaks and SUPs
Something that most people don't think about is that you can actually strap a motor to these vessels that were meant to be paddled. 
Trolling motors for easy kayak fishing
Trolling motors on kayaks are not unheard of. People have been strapping them on in order to troll along the banks of rivers or navigate larger lakes.
They allow a fisherman to quickly get into position and, if you're worried about too much rattling and scaring fish, then you can easily shut it off and paddle into your spot. The trolling motor would just be used as a tool to get there.
You could also use this effectively to fish and hold your position on windy days.  Instead of making a cast and then repositioning each time, the trolling motor will help you stay in the same area.
It is possible to strap on an outboard motor to a kayak, but it is not something that I recommend. The plastic that a kayak is made out of is not meant to hold a heavy piece of equipment like that. Use this at your own risk.
The new frontier of paddle boards: motorized SUPs
The company BOTE came out with a SUP that is meant to use an outboard motor for its main mode of transportation. The BOTE Rover won the 'Best of Show' award at the 2017 ICAST trade show. After that they have kept on improving their fishing kayak abilities even further since then.
First of all, this is just flat out cool: a SUP that can fully utilize a 6hp motor and can get you anywhere you need to be.
Cruise out from the boat ramp and hit up the shallows during the summer time and shut off the motor and stealthily paddle your way back to bedding bass. Or even slink your way into the flats where you cast flies to reds – what could be better?
You don't have to get the Rover, but the issue with this is that you have to purchase an SUP that is compatible with an outboard motor. A normal paddleboard might go the same way as a kayak if you just rig up a system to hold a gasoline powered motor.
If you don't want to spend the money on an expensive board just to have an outboard, then you could easily rig up a mount and strap on a trolling motor. Just be mindful of where you are placing your battery. Ideally you would put it in a strapped down gear box.
Overall
If you're looking to troll around a lake, then either of these options could work for you. But if you want to cover a lot of water quickly then you need to check out the BOTE Rover. The price point for these is a little high, but if you love fishing from a SUP and need to cover large bodies of water then this will work great for you. 
Extras you may need for your fishing kayak or SUP
Kayak accessories
Because of the rise in popularity of kayak fishing you have seen many companies come out with different add ons that anglers can use to their benefit.
There are clip-on rod holders, sonar, power poles and even live wells being utilized. Most comforts that you can find on a bass boat can now be used on your kayak, albeit they are on a smaller scale. 
SUP accessories
Since fishing SUPs are a reasonably new phenomenon, there is not much to purchase in the way of accessories. Most items you'll need to rig up yourself if you want them. 
However, some SUP companies are now making boards that are compatible with casting bars, which can open up a whole new world of gear storage and other items you can bring with you.
These casting bars double as a handle for extra stability while standing up. You can also attach cup holders, straps and rod holders to it.
Currently these are tough to come by and Bote is the primary company making SUPs that are compatible with these bars. However, more and more companies are slowly but surely starting to get in on the SUP fishing action with their own lines of specialized paddle boards for fishing.
If you're concerned about seating, don't be.
Many boards now have straps that allow you to strap down your cooler that you sit on. Or you could even install a stadium style seat if you want to make it more comfortable.
But if you want to go even deeper there are some seats that attach to your cooler. That way you don't have to sacrifice cooler space in order to have a comfortable area to sit.
Overall
Right now, the kayak has more accessories geared towards angling than a SUP, and it will probably always have a slight advantage because of their design. But the SUP is not too far behind as companies like Bote continue to innovate.
The bottom line on fishing kayaks vs. SUPs
Both kayaks and SUPs can be used effectively for fishing.
Because of how great they are in shallow water, they can be used to get back into spots that other anglers have never been and you could be targeting fish that have never seen a fly or a lure thrown at them. 
Essentially, this all boils down to personal preference.
If you want to have great gear storage and accessories, then the kayak is the way to go.
If you want to be a minimalist fisherman who targets larger bodies of water and needs an outboard to cover them, then the BOTE Rover is the vessel for you. 
If you're still not sure, jot down exactly what you are looking for and then skim back over the article to figure out whether a kayak or an SUP is right for you.
Last update on 2023-12-01 / Affiliate links / Images from Amazon Product Advertising API
Summary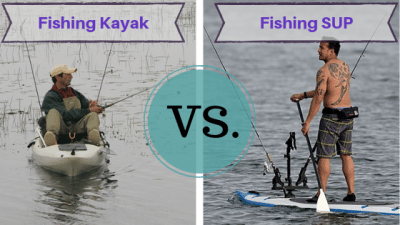 Article Name
Fishing Kayak vs. SUP: Which one is right for you?
Description
Unsure about whether to get a fishing kayak or a fishing SUP? Don't be! Get the skinny on skinny water fishing in this handy fishing kayak vs. SUP guide.
Author
Publisher Name
Publisher Logo