A lot can happen in 3 years.

When I first published this article 3 years ago, fishing SUPs were barely a thing. I managed to find 2 decent ones to review and that was it.

Fast forward to today and it turns out the original 2 fishing SUPs that I reviewed for this article aren't even available anymore.
But that's okay!
In fact, it's more than okay.
You see, SUP technology has grown leaps and bounds since I initially published that first article with recommendations for best fishing SUPs.
Not only that, but due to its rising popularity, there are many more quality fishing SUPs on the market than ever to choose from.
All this is to say that in this fresh and updated article you'll be treated to not just two — but three (plus a little bonus at the end)! — quality fishing SUPs that will rock your world.
So dive on in to check out the latest and greatest fishing SUPs to help you discover new spots and slay those fish!
***Already know most everything about SUP fishing? Click on the table of contents below to paddle straight for the reviews.***
Intro
You've got bass and bonefish on the brain and know of a few spots you'd love to be able to fish but you just can't get to them in your boat.
What are you going to do?
You've heard about SUP fishing before but aren't quite sure what it's about. After all, you've never fished in anything but a boat and aren't sure if paddle board fishing will be right for you.
What is stand up paddle board fishing, anyway?
You've got questions. We've got answers.
Find out everything you need to know about SUP fishing below including our picks for 3 of the best fishing SUPs!
What is SUP fishing?
To put it simply, SUP fishing is where you go fishing on your stand up paddle board (duh).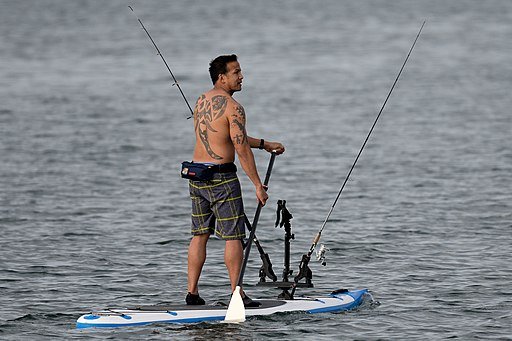 Most SUP boards are wide enough, long enough, and stable enough to accommodate the fishing gear you'll need to go slay some fish while standing atop a paddle board.
If the thought of trying to balance on a paddle board while simultaneously trying to cast to and reel in big fish doesn't appeal to you, then you can simply use your paddle board as a way to get to otherwise hard to reach places that might be too shallow for a motor boat.
You can be a lot more stealthy and sneak up on some fish on a paddle board than you can with a big boat motor announcing your presence.
Once you arrive at your destination, you can anchor your board and slip into the water and do some wet wading for some fish instead.
SUP fishing is just a different technique and method to try for those who enjoy fishing in all its forms.
SUP Fishing vs. Kayak Fishing
So you're intrigued by SUP fishing, but how does it compare to kayak fishing? Let's take a look at how they're similar and how they're different.
SUP and Kayak Fishing Similarities
Use of non-motorized vessel allows for a stealthy approach to sneak up on fish.
Great to get to spots that are otherwise too shallow for boats and other watercraft.
Get exercise while paddling to and from your favorite spots.
SUP and Kayak Fishing Differences
Paddleboard fishing offers more freedom of movement. You have the option to stand or, if you bring the right cooler, to sit down while tying flies or for a rest.
Some kayaks aren't stable enough to stand and cast from, so all your fishing will have to be done sitting down.
SUPs are easier to get on and off. If you want to wade while fishing, it's a little bit easier to slip on and off your board. Even with a nice sit on top fishing kayak, they're still more geared towards people who want to stay in the craft, not get out of it.
You get more storage with a fishing kayak than a fishing paddle board. On a SOT kayak, you get deck space plus hatches within the kayak for storage. On a fishing paddle board, typically you only have deck space that is not protected from the elements.
Most of the differences of SUP fishing vs. kayak fishing are minor and can be overcome.
But if you're looking for one factor that will sway your decision as to whether you buy a fishing paddle board or a fishing kayak, then it comes down to whether you prefer to sit and fish or stand/wade and fish. That's the crucial difference between the two and your answer will determine which vessel you buy.
To read more about the differences between kayak fishing and SUP fishing, check out this article written by our kayak fishing guru, Dallas Hudgens, right here:
Fishing Kayak vs. SUP: Which one is right for you?
Best SUPs for Fishing
Now that you know a little more about paddleboard fishing, it's time to figure out which fishing SUP is right for you.
Below are three boards that are highly rated and recommended fishing paddle boards. We'll go over what sets each one apart and important considerations you need to make for each one.
South Bay Board Co. 11'6″ Hippocamp Fishing ISUP Package
Extremely well thought out, this fishing paddle board is the total package — literally!
South Bay Board Co. has gone above and beyond in putting together an accessories-heavy paddle board with all the bells and whistles you could want in a fishing SUP.
More features and accessories than you can shake a stick at
Here's a list of all that's included in this premium package:
✅ 4 piece carbon fiber paddle (converts to a kayak paddle if needed)
✅ ISUP kayak seat
✅ ISUP cooler
✅ XXL ISUP Backpack
✅ Waterproof fanny pack
✅ Fins, leash, and pump
Talk about everything and the kitchen sink, what more could you want in an ISUP package?
How about all the features you would need to turn a regular paddle board into a stealthy fish-slaying machine?

This board boasts 3 mount locations (for fish finders, GoPros, or other equipment), plus 2 fishing rod holders, front and back bungee netting, and D-rings to attach a kayak seat or extra gear.

All in all, you have plenty of places to mount and store all the gear you'll need to bring on your excursion.
All-American board and customer service
By and large, customers have been thrilled with their board.
As one happy customer put it,
A Must Have…Perfect for the Whole Family
This is truly the all in one paddle board purchase – I have a large family and I was looking for an ISUP that everyone could use in their own way and this hippokamp was perfect.

My son absolutely loves the fishing mounts and used them with no problems, caught some fish and were arguing over who got to use the paddle board next.

My daughetrs and I love the Hippokamp because all three of us were able to use it at one time without the paddle board sinking or failing.

It's a big paddle board, very stable and easy to paddle but it is very big!

We love it and will be adding a another to our line up hopefully very very soon 🙂
Not much to dislike
Honestly, there's not much to dislike about this board.
It's clearly well thought out given all the accessories they included with this board. They wanted the board to be as versatile as possible and appeal to various segments of the paddle boarding market.
If I were to proffer a downside, the premium accessories package included with this ISUP does make the cost of this board higher than some of its peers.
But with it you get an American-made product sold by small business owners who stand by their product and provide exceptional customer service.
Plus, all the extras included are solid quality items, not cheaply made throwaways. A carbon fiber paddle is a huge upgrade over the standard aluminum paddle you often see included with other boards.
This fishing SUP is right for you if…
If you're looking for a "turnkey" fishing SUP with everything you'll ever need to get started paddling already included, look no further than the 11'6″ Hippocamp Fishing ISUP.
Elkton Outdoors 12′ IBIS Pro Hybrid Angler SUP Kayak Package
Whereas the Hippocamp was an inflatable paddle board, the Elkton Outdoors IBIS Pro is a solid construction board made from a molded exterior shell and a solid foam core.
What this means for you is that the hull of the board has more of the feel of a kayak than a traditional SUP. This comes with both benefits and drawbacks.
The obvious benefit to this is durability. You can take this board into the shallows and not worry about sharp sticks, oyster beds, river rocks, or other random debris doing damage to your board.
Plus, the rigidity of the board enhances the performance and stability of the craft.
The downside has to do with the added weight of the board. Many people look to SUPs over kayaks because they are easier to transport and handle.
This board weighs 55-lbs, which is almost double the weight of an inflatable board and 15-20 pounds heavier than a traditional SUP.
However, if you're used to hauling around fishing kayaks, this does represent a lessening of the load compared to those hefty contraptions, which typically weigh in at 65+ pounds.
Loaded with fishy features
Now for the good stuff. The Elkton IBIS is loaded with fishy features that will make catching your limit of fish as easy as shooting fish in a barrel.
Here's what you can expect from the Elkton IBIS angler SUP:
✅ 2 swivel mount rod holders
✅ 5 aluminum gear tracks for custom rigging
✅ 2 bungee paddle holders
✅ Front and rear bungee storage zones
✅ Multiple D-ring tie down points for a seat, cooler, and other gear

An SUP that converts to a kayak
It makes sense that an SUP that has more of the design and material of a kayak would convert into a kayak. The Elkton IBIS Hybrid Angler SUP allows for this option.
You can stand and cast from the super stable No-Flex Deck or attach a seat via the conveniently placed D-rings and paddle or cast from a sitting position at your favorite honey hole.
Elkton Outdoors has its own custom stadium style seat that easily attaches to the board. Lightweight and slightly elevated for a better view of the fish, you get the ultimate in both function and comfort.
This fishing SUP is right for you if…
If you're looking for stability, durability, and versatility from your fishing SUP, the Elkton IBIS Hybrid Angler SUP Kayak Package has the combination you're looking for.
BKC has done it again.
They've managed to create a feature rich product that offers everything their competition does and then some AND manages to do it at a more affordable price. (For reviews of other BKC products, see here and here).
The BKC UH-SUPYN is a very similar fishing SUP to the Elkton IBIS described above:
It also offers the solid construction hull that closely resembles a kayak bottom in both form and function.
It, too, can be converted from an SUP to a kayak with the addition of seat.
Most of the features are the same as the Elkton IBIS with the BKC fishing SUP boasting rod holders, dual bungee zones, gear tracks, and paddle holders.
One notable additional feature of the BKC UH-SUPYN is the inclusion of their Ergonomic Chair, an extra you must pay for with the Elkton IBIS.
No products found.
Same features, less money
So with both the Elkton IBIS and the BCK UH-SUPYN offering almost identical packages, what are the major differences between the two, if any?
Price.
Despite offering virtual identical products and packages, the Brooklyn Kayak Company fishing SUP comes in nearly $100 cheaper.
If you count the fact that you have to buy the seat a la carte with the Elkton IBIS, you're looking at close to a $200 difference.
One reason that might account for the price differential is the hull construction of the SUPs.
While they both are made of high density polyethylene, the Elkton IBIS features a foam core whereas the BKC fishing SUP features a hollow core.
The hollow core could result in the BKC SUP being less durable than the Elkton, which could also account for the significant price differential between the two. This is a factor that a buyer would have to weigh for him/herself when deciding on a fishing SUP.
This SUP is right for you if…
If price is the primary factor driving your decision, you'll find great value from the Company BKC UH-SUPYN, but perhaps at the expense of a slightly less durable craft.
No products found.
Honorable Mention: Fish Stalker Inflatable Fishing Stand Up Paddleboard
Surprise!
I decided to throw this one in as an Honorable Mention because it's an intriguing and unique design for an SUP.
While the brand and board is fairly obscure in the SUP world, I thought it was at least worth a mention in case any readers don't mind venturing a bit into the unknown.
Unique trimaran design
The most notable difference between the Fish Stalker and other SUPs is the unique trimaran design.
Most SUPs have the distinctive surfboard shape, but this board features two outer pontoons sandwiched against an inner center deck.
Anyone who's familiar with catamarans knows that the primary benefit of their design is their supreme stability and ability to glide across the surface of most favorable seas.
Those same features make for an excellent fishing SUP as well, with stability while standing and casting plus a stealthy approach being of utmost importance when trying to slay those fish.
Trolling motor equipped
While the trimaran shape is a unique feature in and of itself, perhaps its most standout feature is that it comes ready and equipped with a trolling motor mount system.
Many people who purchase fishing SUPs decide to add on a trolling motor after the fact so they can cover larger distances and bodies of water in their search for prime fishing spots.
Rather than having to jerry rig a DIY motor set-up (with no guarantee of success), the Fish Stalker provides a 'done for you' mount system that makes it easy to add a trolling motor to your fishing SUP.
The Fish Stalker Inflatable Fishing SUP is already designed to support the added weight of the motor and battery so as not to diminish the performance of the SUP.
Intriguing but unproven
All of these design features — from the board shape to the trolling motor mount system — are certainly unique and do pique the interest of any serious fishing SUP enthusiast.
Nevertheless, from my research the board appears to be unproven with very few real user reviews to go off of.
This SUP is right for you if…
If you're a risk taker and don't mind trying your hand at a potentially badass (but ultimately unproven) board, then you could be richly rewarded with a stealthy and stable fish slayer that allows you to reach your favorite honey hole with ease.
Bottom Line
A lot of progress has been made in the world of fishing SUPs over the past few years.
Whereas before quality fishing SUPs were few and far between, now you have several top of the line options to choose from to make your fishy dreams come true.
Here's what we learned in this article:
If you want a turnkey fishing SUP with a high quality accessories package…the South Bay Board Co. 11'6″ Fishing ISUP package is the board for you.
If you want a durable and stable fishing SUP that can convert into a fishing kayak…the Elkton Outdoors IBIS Pro is the board for you.
If you're willing to sacrifice a tiny bit of durability and performance for an exceptional bargain…the Brooklyn Kayak Company BKC UH-SUPYN Paddleboard With Seat is the board for you.
If you don't mind gambling on a potentially epic, but unproven, fishing SUP…the Fish Stalker Inflatable Fishing Standup Paddle Board is the board for you.
As you can see, there's no shortage of high quality fishing SUPs to choose from nowadays.
The only question left is which one will you ultimately decide on?
Hopefully this article got you closer to some answers and on your way to fishing nirvana!
Paddle on!
Related: Think a fishing kayak will work better for you? Check out my top picks for best tandem fishing kayak to sneak into those honey holes and catch some monster fish!
Last update on 2023-09-12 / Affiliate links / Images from Amazon Product Advertising API
Summary
Article Name
3 Amazing Fishing SUPs to Help Discover New Spots and Slay Those Fish
Description
Discover 3 cutting-edge fishing SUPs with all the features you'll need to stealth sneak into your favorite honey hole and slay those fish!
Author
Publisher Name
Publisher Logo