Are you the type who's always wanted to get out on the water for some fun and a little bit of exercise but have always been put off by the thought of transporting a big, heavy kayak all over the place? Are you looking for a short or lightweight kayak to fit your lifestyle?
Time to put away the excuses!
We've compiled a list of the best short and lightweight kayaks to get you on the water with minimal hassle.
Click on the Table of Contents to paddle straight for the review that interests you the most. 
A brief look at the best short, lightweight kayaks
There are obvious benefits to short and light weight kayaks, most of which have to do with portability and storage.
It's easier to haul and carry a light weight kayak, especially if you mostly plan on kayaking solo. Some of us don't have huge SUVs that can fit all the gear we please but rather a Toyota Prius instead.
Not to mention that we don't all have single family homes with 2 car garages and a large backyard where we can store all of our outdoor gear. Some people live in apartment buildings with stairs and street parking.
The thought of trying to lug a 14 foot, 65-pound kayak up and down a stairwell every time we want to use it is about as appealing as going skinny dipping in the Arctic Ocean!
With that being said, I know people are short on time as well as space so here's a brief overview of the best short and/or lightweight kayaks for the money:
Short kayaks vs. long kayaks
There are some downsides, however, to shorter kayaks.
Overall, they are not as fast as a longer kayak.
You're not going to get anywhere in a hurry with most small kayaks for numerous reasons related to physics that I won't go into here but you can read more about here.
The other big drawback to small, lightweight kayaks is tracking. They are less aerodynamic and tend to wag from side to side more than a longer kayak that will paddle straighter.
That being said, they do turn better than most longer kayaks so they are easier to maneuver in smaller waterways and channels if need be.
Like all kayaks, it will ultimately come down to personal choice based on what your storage situation is, your height/weight, the bodies of water you'll be using it on, and what your ultimate purpose is for kayaking.
Here's a handy chart of the basic differences between short kayaks vs. long kayaks. This is intended for general purposes only and can vary depending on many factors.
Now that we've established the important differences between short kayaks vs. long kayaks, let's figure out which small lightweight kayak will suit you best.
The best short and/or lightweight kayaks
✅Best Short Fishing Kayak: BKC FK 184 9′ Sit On Top Kayak
Decidedly versatile, the Brooklyn Kayak Company FK 184 9' Kayak is a suitable choice for paddlers looking to have fun kayak fishing on the water.
With the FK 184, paddlers get a 9′ long kayak that tips the scales at approximately 44 lbs. The boat can accommodate up to 330 lbs in weight and it has a 32" width for added stability as you paddle. All things considered, this kayak offers a great mix of weight savings and portability both on and off the water.
BKC crafted the FK 184 out of their proprietary single-piece roto-molded HDPE plastic. That might sound like a bunch of technical jargon, but this means that the boat offers some of the best durability in its class.
Additionally, BKC engineered this kayak with anglers in mind. It comes with a spacious sit-on-top design with plenty of space for casting lines and storing gear. In fact, the boat has 4 flush-mounted rod holders, 1 articulating rod holder, and multiple large water-resistant hatches for stashing your tackle box and other gear.
Another benefit of the BKC 184 is its wide, mostly flat hull. Thanks to this design, the boat offers exceptional stability in flat water. The company advertises it as a boat that you can even stand up on if you want a better angle for casting lines.
Other advantages of this kayak include its memory foam seat for all-day comfort. The boat also has a set of carry handles for easy transport and a built-in paddle keeper system for extra convenience on the water.
That being said, while the BKC FK 184 is a pretty solid kayak, some taller paddlers may find that its molded foot pedals are too short for their needs. This is especially important for paddlers over 6' tall to take note of, but it's worth paying attention to if you have particularly long legs.
Despite its shortcomings, however, the BKC FK 184 9' Kayak is still a top performer for paddlers that want a versatile and reliable boat for any flatwater adventure.
Naturally, the most lightweight kayak is going to be an inflatable kayak. Inflatables have been taking the world by storm in recent years due to advancements in technology that make inflatable watercraft like iSUPs, rafts, canoes, and even catamarans just as durable and seaworthy as their hard construction brethren.
Package deals available at Sea Eagle!
It used to be that inflatables were little more than pool toys, not serious recreational vessels, but not anymore! Inflatables are fast becoming the go-to model for all sorts of water crafts due to their lightweight but durable nature and supreme transportability.
The Sea Eagle SE-330 Inflatable Kayak is certainly no different. While this kayak is lightweight, weighing in at a mere 26 pounds, it inflates up to a length of just over 11 feet long. With a weight capacity of 500lbs, the Sea Eagle is billed as big enough for two people to kayak in.
That being said, due to the inflatable chambers taking up interior space when they are inflated, the actual seating area is only nine and a half feet long and 13 inches wide.
Most people agreed that despite its length and weight capacity, it's too cramped to comfortably seat two people for long stretches of time. Many recommended that if you are looking for a roomier inflatable tandem kayak to upgrade to the SE-370 version of the same kayak.
Otherwise, most people were very impressed with the sturdiness and ruggedness of this kayak.
Many reviewers even commented after having owned the kayak for 5 years or more just as satisfied as the day they bought it. It's able to handle up to Class III rapids as well as tracks well in flat water and is super easy all around, including being easy on the wallet.
Not to mention, Sea Eagle offers a fantastic 3-year warranty and superb customer service that left customers very satisfied even if there were some problems with their gear.
The only negative that was oft repeated was that this kayak tends to get blown around a bit by a gusty wind or strong current. Being that it is a lightweight, inflatable kayak, this shouldn't be surprising. Most said you can overcome this with some stronger strokes, but it's worth noting if you frequently encounter windy conditions where you paddle.
If kayak weight is the biggest consideration for you when purchasing a yak, then the Sea Eagle SE-330 Inflatable Kayak should be at the top of your list. Lightweight but still able to perform well under various conditions, this kayak will withstand the test of time and give you great bang for the buck.
No products found.
✅Best Short, Lightweight Recreational Kayak: Pelican Maxim 100x Sit-In Recreational Kayak
Designed to help you make the most of your time on the water without breaking the bank, the Pelican Maxim 100X Sit-In Recreational Kayak is a superb option for the budget-conscious paddler.
The Maxim 100x features Pelican's proprietary twin-arched multi-chine hull for improved stability as you paddle. At the same time, the slightly V-shaped nature of the bow and stern on this kayak allows it to track better than most boats in its class.
Tipping the scales at just 38 lbs and measuring 10' in length, the Maxim 100x is a decidedly light and portable boat. Despite its light weight, this kayak doesn't skimp where durability is a concern. In fact, it's made with a high molecular weight polyethylene and impact-resistant RAM-X materials, which provide it with extra ruggedness without adding extra weight.
As far as comfort is concerned, the Maxim 100x brings its A-game. This kayak has a fully adjustable ERGOFORM padded backrest and seat cushion for lumbar support as you paddle. It also has adjustable footrests to provide you with a more ergonomic paddling position.
Plus, while many sit-in kayaks can feel a little constraining to sit in, the Maxim 100x is built with a particularly large cockpit. It also comes with a nifty cockpit table that includes a bottle holder and a handful of useful compartments for gear storage.
Gear storage isn't much of an issue with this kayak, either. It comes with a large rear tank well and a front hatch to provide you with plenty of space to stash your gear during your adventures. There's also a rear flush-mounted rod holder and a front articulated rod holder so you can maximize the number of lines you have in the water.
The Maxim 100X generally gets rave reviews from paddlers, we should note that it has a relatively low maximum weight limit of 275 lbs. Since it's best not to load a kayak beyond about 80% of its stated capacity for maximum performance, this boat is better for paddlers under 220 lbs.
However, if you're looking for a fun sit-in kayak that's short, portable, and affordable, it's hard to imagine a more suitable choice than the Pelican Maxim 100x Sit-In Recreational Kayak
Pelican - Maxim 100X Recreational Kayak - Sit-in - Lightweight one Person Kayak - 10ft
Upgraded Features: Additional storage in this kayak includes a front hatch with bungee cord and a rear tank well with mesh deck cover to give you plenty of space to store your personal items. Features also include a cockpit table with compartments and a bottle holder as well as molded footrests for your comfort.
Stable: The shallow V-chine hull offers better manoeuverability and tracking while giving you increased secondary stability. This kayak is made for the recreational paddler looking for better performance.
Safe: Added floating blocks on each side of the kayak along with a flatter hull type ensures you safety and peace of mind during your ride. Holds a maximum capacity of 275 lb.
Comfortable: Paddle in comfort with an adjustable ERGOFORM padded backrest with ERGOBASE seat cushion.
Lightweight: Our kayaks being made with exceptionally durable high molecular density polyethylene, less material is needed to produce each boat. At 10 ft and weighing only 36 lb, it makes the perfect kayak for those looking for easy storage and transportation.
✅ Most Innovative Short, Lightweight Kayak: Oru Inlet Foldable Kayak
Undoubtedly the most unique boat in our review, the Oru Inlet is a foldable kayak that makes transporting your paddle craft to and from the put-in as easy as can be.
As is the case with all Oru kayaks, the Inlet is crafted out of the company's 5 mm thick double-layered polypropylene material. This material is UV treated and it's highly puncture-resistant. It's actually been tested to hold up to at least 20,000 uses, so it's just as rugged as a classic plastic kayak.
In addition to being 9'8" long, the Inlet is one of the lightest kayaks on the market. It weighs just 20 lbs, so it's easy enough to bring on any adventure. Plus, this kayak is designed to fold down into its own carry case, so you can pack it into the trunk of your car or even into your duffle bag.
When it comes to the boat's performance on the water, the Inlet doesn't disappoint. This kayak is crafted for flat water use and, as such, it comes with a wide, mostly flat hull that provides ample stability as you paddle.
Furthermore, the Inlet features a huge open cockpit design. While it's technically a sit-in kayak, this boat's huge cockpit provides more than enough space for comfort on the water. It actually has enough space to fit a handful of drybags or even your dog, so you can make the most of your time outside.
If that wasn't enough, the Inlet is also one of the easiest Oru kayaks to assemble. This boat has been specifically designed to cut your assembly time down to about 5 minutes, so you can spend less time prepping your kayak and more time paddling it.
Even though the Oru Inlet is revolutionary, we should mention that this is a fairly pricey kayak. It also has a maximum weight capacity of only 275 lbs and it's not suitable for paddlers that are taller than 6'2". Also note that this kayak has no fishing rod holders, so it's not ideal for anglers.
Nevertheless, if you're okay with spending a little more to get one of the most portable kayaks available, it's hard to go wrong with the Oru Inlet.
✅ Most Affordable Lightweight Kayak: Intex Explorer K2
Blending portability and affordability into one great package, the Intex Explorer K-2 is a fan-favorite inflatable kayak that's ready for any flatwater outing.
The Explorer K-2 weighs in at a miniscule 37 lbs, despite its 10' length and 2 paddler capacity. It can also support an impressive 400 lbs of weight, making it a nice choice for tandem paddlers and a decent amount of gear.
Intext designed this boat with fun and recreation in mind, so they gave it a streamlined construction and a mostly flat hull for stability. The boat also comes with a removable skeg for improved tracking as you paddle from place to place.
If durability is a concern, the Explorer K-2 has you covered. It's made from an extra-thick vinyl that's decidedly puncture-resistant. The boat also has an inflatable I-beam floor that gives it additional rigidity and performance on the water.
Even though it's only 10' long, this kayak has enough room for up to 2 paddlers. Its tandem inflatable seats provide critical lumbar support while its wide, open cockpit ensures that everyone feels comfortable during their travels.
Intex also engineered the Explorer K-2 with a set of nifty Boston valves. When combined with the boat's included high output pump, most paddlers find that they can get the Explorer out on the water in just a few minutes. After you paddle, the whole kayak also packs down into a small carry case for easy storage and transport.
While the Explorer K-2 overall gets good reviews from paddlers, many note that the included skeg needs a better adhesive to stick to the hull. Some also mention that the included paddles are a bit short for a kayak of this width.
All things considered, though, the Intex Explorer K-2 is a comfy and budget-friendly inflatable kayak that's super fun to have out on the water.
Sale
INTEX 68307EP Explorer K2 Inflatable Kayak Set: Includes Deluxe 86in Aluminum Oars and High-Output Pump – SuperStrong PVC – Adjustable Seats with Backrest – 2-Person – 400lb Weight Capacity
✔ EASY TRANSPORT – Lightweight and compact, this kayak is easy to assemble and, with the Boston valve, it inflates and deflates in minutes; paddles come apart and the pieces can be conveniently stored with the boat in the included carrying bag allowing you to take the fun of kayaking wherever you go.Grab line on both ends. Streamlined design for easy paddling.
✔ READY FOR ADVENTURE – Explorer K2 Kayak is great for experiencing lakes and mild rivers with a friend, this kayak is sporty and fun with a streamlined design for easy paddling, with the bright yellow color and sporty graphics this makes the kayak highly visible in the water
✔ STABILITY – Made with rugged vinyl construction and built for performance, this sturdy kayak has an inflatable I-beam floor, a low-profile deck, and high-buoyancy side chambers for stability, comfort, and function; the removable skeg provides exceptional directional movement
✔ 2-PERSON CAPACITY – The Explorer K2 is a two person capacity kayak with a 400 pound maximum weight capacity. When fully inflated the kayak measures at 10.3 feet X 3 feet X 1.8 feet
✔ ADVENTURE ACCESSORIES – Includes two 86 inch aluminum oars, two inflatable seats with backrests, heavy-duty grab handles with grab lines, two quick-fill Bonston valves, high-output pump and one repair patch
Conclusion
If kayak length or size is a deciding factor for you when purchasing a kayak, then consider this the ultimate guide for you. Never stare longingly at another kayak again wishing you could find one that suits your downsized space or wonder how you would ever transport such a big heavy thing.
There are several small, lightweight kayaks on the market today that are suitable for beginners, kids, adults, and even paddlers with disabilities who need something easy to manage.
Put this handy guide to use and put those excuses away!
Paddle on!
Last update on 2023-09-12 / Affiliate links / Images from Amazon Product Advertising API
Summary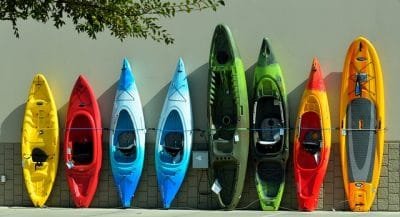 Article Name
Updated: The 5 Best Short and Lightweight Kayaks You're Sure To Love
Description
Updated with In Stock products! Short, lightweight kayaks for all uses and budgets. Don't let big, heavy kayaks cramp your style any longer.
Author
Publisher Name
Publisher Logo