Are you the type of person who's always wanted to get out on the water for some fun and a little bit of exercise but have always been put off by the thought of transporting a big, heavy kayak all over the place? Time to put away the excuses! We've compiled a list of the best short and lightweight kayaks of 2017 to get you on the water with minimal hassle.
Don't like reading? Click on the Table of Contents to paddle straight for the review that interests you the most. 
Overview
There are obvious benefits to short and light weight kayaks, most of which have to do with portability and storage. It's easier to haul and carry a light weight kayak, especially if you mostly plan on kayaking solo. Some of us don't have huge SUVs that can fit all the gear we please but rather a Toyota Prius instead.
Not to mention that we don't all have single family homes with 2 car garages and a large backyard where we can store all of our outdoor gear. Some people live in apartment buildings with stairs and street parking. The thought of trying to lug a 14 foot, 65-pound kayak up and down a stairwell every time we want to use it is about as appealing as going skinny dipping in the Arctic Ocean!
With that being said, I know people are short on time as well as space so here's a brief overview of the best short and/or lightweight kayaks for the money:
Emotion Spitfire 8 Foot, Sit on Top – Spunky little kayak that can fit in or on top of almost any vehicle. Top of its class for its size. (Currently unavailable: See review below for more info).
Sea Eagle 330 Inflatable Kayak, 26 pounds – Lightweight but still durable with a 500 pound capacity. Compact, transportable, and easy to use.
Dagger Zydeco 9.0 – High performing for a shorter kayak. Comfortable, spacious, and affordable, this one is worth looking into!
Old Town Heron 9XT – Stable, versatile, and reliable are the words used to describe this one. Fun in small waves and flat lakes alike, this kayak will stand the test of time!
Outdoor Tuff Stinger 3 Inflatable Kayak – At only 25 pounds, this kayak is great for the outdoor adventurer who likes to take the adventure with them, on your back or in the water.
Short Kayaks vs. Long Kayaks
There are some downsides, however, to shorter kayaks. Overall, they are not as fast as a longer kayak. You're not going to get anywhere in a hurry with most small kayaks for numerous reasons related to physics that I won't go into here but you can read more about here.
The other big drawback to small, lightweight kayaks is tracking. They are less aerodynamic and tend to wag from side to side more than a longer kayak that will paddle straighter. That being said, they do turn better than most longer kayaks so they are easier to maneuver in smaller waterways and channels if need be.
Like all kayaks, it will ultimately come down to personal choice based on what your storage situation is, your height/weight, the bodies of water you'll be using it on, and what your ultimate purpose is for kayaking.
Here's a handy chart of the basic differences between short kayaks vs. long kayaks. This is intended for general purposes only and can vary depending on many factors.

Now that we've established the important differences between short kayaks vs. long kayaks, let's figure out which small lightweight kayak will suit you best.
If you're looking for a SHORT kayak, here's our recommendation:
✅Best Short Kayak: Emotion Spitfire Sit On Top Kayak, 8 Ft.
As the name states, this kayak is indeed a little spitfire. This is a great, zippy little kayak for those who don't mind a no-frills piece of gear and just want something to get around in.
⚠️ Product Alert! The Emotion Spitfire is currently unavailable on Amazon. I have reached out to the manufacturer to determine whether or not it will be restocked or not.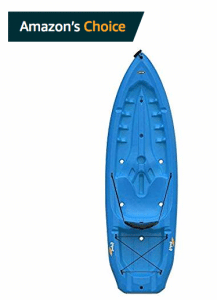 In the meantime, the recommended product is the Lifetime Lotus 8 ft Sit on Top Kayak. It's an excellent, yet affordable, short SOT kayak.
With almost entirely 5-star reviews it is "Amazon's Choice" for 8 foot kayaks and I fully endorse this product as well.
Should the Emotion Spitfire be discontinued, I will update this page with a full review of the Lifetime Lotus.
You can check the price and find out more about the Lifetime Lotus here. 
At only 8 feet long, the Emotion Spitfire can fit in or on top of most cars and trucks fairly easily, which is a huge selling point for many people. Not having to fuss with roof racks or figure out how to lift the thing above their head is worth what they lose in some of the performance factors of having a shorter kayak.
To be sure, it does indeed lack in some key performance metrics. Users stated over and over again that this little kayak has very poor tracking with one even commenting that it's like "paddling a square". One of the other things frequently mentioned is that this kayak felt a little bit tippy due to its high center of gravity. And due to its short size, it's also not a very fast kayak in flat water like lakes but it does turn on a dime, which is helpful for river paddling or small surf.
If you can get over those factors, most people LOVE their little Spitfire kayak. It's lightweight at only 39 pounds, very transportable, and is suitable for kids and adults alike up to 240 lbs.
If you purchase this for what it is, a fun, small kayak suitable for beginners, kids, and recreational paddlers, you will be happy with this purchase. If size is the most important factor to you in your purchase of a kayak, this is going to be the best small kayak on the market for you.
However, if you have some notion you're going to get an awesome kayak that performs well in all waters, can keep up with the big boys, cover some serious water, and track just as well as a kayak 4 feet longer and 3 times as expensive, you're going to be a little disappointed.
Accept this kayak for what it is and you won't be disappointed!
Next, up we move on to the best LIGHTWEIGHT kayak. If weight is the most important consideration for you when purchasing a kayak, here's our recommendation:
✅Best Lightweight Kayak: Sea Eagle 330 Inflatable Kayak with Deluxe Package
Naturally, the most lightweight kayak is going to be an inflatable kayak. Inflatables have been taking the world by storm in recent years due to advancements in technology that make inflatable watercraft like iSUPs, rafts, canoes, and even catamarans just as durable and seaworthy as their hard construction brethren.
It used to be that inflatables were little more than pool toys, not serious recreational vessels, but not anymore! Inflatables are fast becoming the go-to model for all sorts of water toys due to their lightweight but durable nature and supreme transportability.
The Sea Eagle SE-330 Inflatable Kayak is certainly no different. While this kayak is lightweight, weighing in at a mere 26 pounds, it inflates up to a length of just over 11 feet long. With a weight capacity of 500lbs, the Sea Eagle is billed as big enough for two people to kayak in.
That being said, due to the inflatable chambers taking up interior space when they are inflated, the actual seating area is only nine and a half feet long and 13 inches wide. Most people agreed that despite its length and weight capacity, it's too cramped to comfortably seat two people for long stretches of time. Many recommended that if you are looking for a roomier inflatable tandem kayak to upgrade to the SE-370 version of the same kayak.
Otherwise, most people were very impressed with the sturdiness and ruggedness of this kayak. Many reviewers even commented after having owned the kayak for 5 years or more just as satisfied as the day they bought it. It's able to handle up to Class III rapids as well as tracks well in flat water and is super easy all around, including being easy on the wallet.
Not to mention, Sea Eagle offers a fantastic 3-year warranty and superb customer service that left customers very satisfied even if there were some problems with their gear.
The only negative that was oft repeated was that this kayak tends to get blown around a bit by a gusty wind or strong current. Being that it is a lightweight, inflatable kayak, this shouldn't be surprising. Most said you can overcome this with some stronger strokes, but it's worth noting if you frequently encounter windy conditions where you paddle.
If kayak weight is the biggest consideration for you when purchasing a yak, then the Sea Eagle SE-330 Inflatable Kayak should be at the top of your list. Lightweight but still able to perform well under various conditions, this kayak will withstand the test of time and give you great bang for the buck.
If you're the type of person who wants it all, here are our recommendations for best short AND lightweight kayaks.
✅Best Short AND Lightweight Kayaks
Dagger Kayaks Zydeco 9.0 Kayak
The Dagger Zydeco 9.0 offers the best of both worlds for those looking for a short and lightweight kayak. Measuring only 9 feet in length and weighing a measly 36 pounds, this kayak is a dream come true for people looking for a high-performing kayak that is easy to transport.
Most people were surprised at how well the Zydeco tracks for a small kayak and they raved about how comfortable the seat is. Not only that, but despite this being a sit-in kayak, it has a spacious interior, lots of storage, and is easy to get in and out of.
Best of all, this is an affordable kayak. For less than $500 you can get a lightweight, attractive, and comfortable kayak.
There really isn't much to dislike about the Dagger Zydeco 9.0 kayak apart from the usual caveat that the Dagger performs well for a 9-foot kayak. Once again, it's important to adjust your expectations somewhat with small kayaks and understand that you are going to trade off a little in the performance of it in order to get the small, lightweight kayak that you desire.

Old Town Canoes and Kayaks Heron 9XT Recreational Kayak
Not to be outdone, Old Town Canoes and Kayaks has their own version of an affordable, comfortable, lightweight kayak with the Heron 9XT.
The Heron is slightly larger than the Dagger coming in at 9.5 feet long and 39 pounds, which is still very much on the small and lightweight side of things.
This is a very versatile kayak that was made with stability and reliability in mind and to withstand a variety of conditions from flat, calm water to mild chop and rapids. One reviewer gave the best verdict on this kayak raving that, "If you are looking for an incredibly versatile kayak that is stable, tracks well, sturdy in the water, loads well, and will provide endless trips of exploration anywhere you dare to take it, THIS kayak is for you!"
There were only two negatives mentioned in regards to the Heron 9XT. One was the storage hatch not being completely watertight. If you have sensitive belongings, you'll need to put them in a dry bag before putting them in the storage compartment.
The other minor drawback is the lack of bungee netting anywhere on the yak for on-deck storage. This is in contrast to the Dagger which provides some aft rigging on their kayak. This shouldn't be a deal breaker as many people noted it's a simple enough task to add your own, but for those who want a more turnkey kayak, so to speak, it might be a put-off.
Overall, for those who don't mind a few extra inches and a couple extra pounds, you'll get a reliable, versatile, comfortable, and affordable kayak in return that will stand the test of time.
Outdoor Tuff Stinger 3 OTF-2751PK Inflatable One Person Sport Kayak
Last but certainly not least is the Outdoor Tuff Stinger 3 Inflatable One Person Sport Kayak. If you are an outdoor enthusiast who requires the ultimate in portability and performance, this kayak is for you.
This 25-pound yak packs up into a convenient backpack that is included with the purchase and can be carried on your back. The Stinger also comes with a paddle and a foot pump. It's the perfect setup if you want to hike into a river or lake or are going on a long adventure road-trip and want to save on space.
The kayak is made of puncture resistant, triple layer PVC and scores high in durability, but you do still have to be careful of sharp sticks and rocks when doing river paddling.
Also, there were mixed reviews on the seat that is included with some saying it is very uncomfortable and others saying they found it to be very comfortable. It might be worth testing out, either inflated at your home before paddling or just doing a short 30-minute test paddle to make sure the seat is comfortable to you.
If you need something lightweight and portable that you can take with you on long hiking or camping trips, the Outdoor Tuff Stinger 3 is definitely worth checking out. It offers great performance and the ultimate in convenience for those wanting a small, lightweight kayak that can literally go anywhere whether it's on your back or in the water.
Conclusion
If kayak length or size is a deciding factor for you when purchasing a kayak, then consider this the ultimate guide for you in 2016. Never stare longingly at another kayak again wishing you could find one that suits your downsized space or wonder how you would ever transport such a big heavy thing.
There are several small, lightweight kayaks on the market today that are suitable for beginners, kids, adults, and even paddlers with disabilities who need something easy to manage. Put this handy guide to use and put those excuses away!
Paddle on!