As many people are weighing their options for affordable, lightweight, and/or transportable kayaks, they have no doubt been confronted by an explosion in the popularity of inflatable kayaks. Thinking back on one's childhood days of riding on the back of an inflatable "Shamu the Whale" pool toy probably doesn't help when imagining whether inflatable kayaks are a good alternative to traditional kayaks.
So what's the real story? Are inflatable kayaks any good? Are they stable? Are they safe? Are they durable? Or are they mostly hot air? Keep reading to get all your questions about inflatable kayaks answered!
Already know everything about inflatable kayaks? Bravo, Einstein! For everyone else, click on the table of contents below so you can become an Einstein, too.
Common Questions About Inflatable Kayaks
So what's up with inflatable kayaks anyway? As much as we all loved our green alligator floatie pool toy back in the day, you wouldn't really want the equivalent of that when going out in open or fast moving water.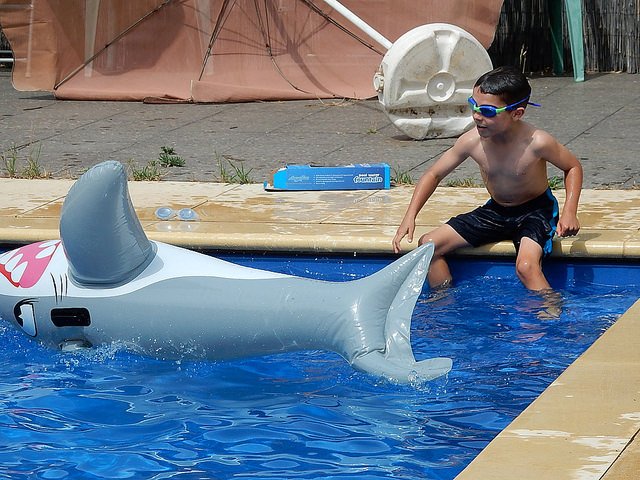 We're going to dive into some of the most commonly asked questions about inflatable kayaks and then give our recommendations for 4 of the best ones. Ready? Let's go!
Are Inflatable Kayaks Any Good?
In a word: yes! I've probably done a disservice by mentioning pool toys a couple times already this article so now it's time to banish that thought from your head.
Inflatable technology has come a long way over the past few decades. Whereas it used to be used primarily by military and commercial operations, recreational companies have figured out a way to harness the same construction processes to build durable, professional, and high-quality watercraft that serves the needs of an ever-increasing number of people.
Now you can see serious inflatable water toys of all kinds like stand up paddle boards, canoes, wakeboards, fishing pontoons and more. Inflatable watercraft are more and more becoming the "go-to" vessels of choice in a multitude of sports.
Are Inflatable Kayaks Stable?
For the most part, inflatable kayaks are just as stable as traditional kayaks. Once again, if you think of inflatables more like a stiff whitewater raft, then you realize that these things have some heft and ruggedness to them.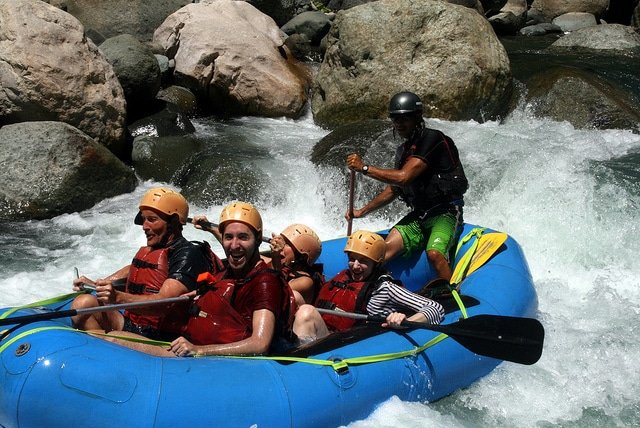 Just like a normal kayak, however, they do have a tipping point and have variable primary and secondary stability. If you're looking at standing up in your kayak for fishing or other purposes, make sure to do some research because some inflatable kayaks might not be as well-equipped for that as others due to varying degrees of "hardness" in the floors of the kayaks.
You can always buy or build your own hard floor insert to remedy this problem if you want a harder floor for your kayak. If you buy one, it will typically be of an easy to inflate drop stitch construction material that inflates to a high, strong PSI.
If you want to build one, you can always find tutorials on YouTube or elsewhere of how to construct your own out of plywood or other materials.
Are Inflatable Kayaks Safe and Durable?
This is a big question especially for those who will be doing river kayaking or other shallow water kayaking where you're prone to run over sticks, rocks, or other obstacles.
This is a case of you're going to get what you pay for. You can find some fairly inexpensive inflatable kayaks (think less than $200) on Amazon and elsewhere and these are fine for putzing around a lakeside dock or a pond. But if you're looking to travel away from shore or put some miles on the kayak, you need to know that it's reliable. Unfortunately, some of those cheap inflatables are just not made as solidly as their more expensive counterparts.
What the more expensive kayaks offer is a combination of double and triple layer fabric, separate inflation chambers, and airtight valves amongst other things. These all have different parts to play in keeping the kayak safe and durable.
The 2 or 3 layers of fabric provide extra protection against a tear or puncture. A stray stick might puncture through one layer but be stopped from full penetration by the other layer(s).
Separate inflation chambers mean that if for some reason you do experience a puncture or rip in one part of your kayak, it will be contained to just that one chamber. You will have 2 or 3 other chambers that have not been affected and that will enable you to stay afloat long enough to get to shore and fix it or find help.
Airtight valves mean that once air goes in the air won't go out. There is no need to worry that once the kayak is inflated that it will start losing air on you and deflate. If pumped up to a proper PSI and cared for properly, an inflatable kayak will be every bit as tough and durable as a regular kayak.
Once again, you should think of the extremely tough military grade vessels that are used in certain kinds of military operations like Navy SEALs beaching a stealthy inflatable boat and jumping off to perform some covert operation. Some inflatable kayaks are made using the same materials and construction processes as those used to make military equipment.
Thinking of it that way should put your mind at ease that what you're buying is, in fact, a safe, durable, and reliable piece of equipment that you can use over and over again for years to come.
4 of the Top Inflatable Kayaks of 2016
Now that we've gone over some of the most common questions people have about inflatable kayaks, it's time to take a look at some of the top ones of this year.
Given the popularity of inflatable kayaks nowadays, it's easy to be overwhelmed with choices. That's where we come in. We've put in the hours doing extensive research so you don't have to and here's what we've come up with for the best inflatable kayaks of 2016.
Advanced Elements AE1007-R AdvancedFrame Convertible Inflatable Kayak
Advanced Elements is a top player in the inflatable kayak world. They offer a wide range of inflatable kayaks for all skill levels and types of paddling.
The AE1007 AdvancedFrame Convertible kayak is one of their best-rated kayaks. So what separates this kayak from all their others? A few things, actually.
First, its advanced frame design means that this kayak paddles more like a hardshell kayak than one would expect. Their "advanced frame" consists of built-in aluminum ribs in the bow and the stern which increases rigidity and, in turn, tracking.
The "convertible" part of the kayak comes from its ability to convert from a tandem kayak to a solo kayak with just a few adjustments. There are 3 seat positions that allow this conversion, forward and aft for tandem kayaking and one right in the middle to allow solo paddling.
That being said, unlike many other inflatable kayaks, the AE 1007 is a bit weightier than many others coming in at around 56 pounds. Of course, it's hard to make a "light" 15-foot kayak that is still rugged and durable and it's still lighter than most of the hardshells out there. Not to mention the weight capacity is 550 pounds, something else you most likely won't find in other touring kayaks of equal size.
It's hard to find a bad review of this kayak but the few that are out there primarily complained about the storage bag being a big issue. It's just barely big enough to fit the kayak after use and is more of an oversized tote bag than a comfortable, sturdy carrying pack. The carrying straps aren't long enough for over the shoulder carrying and make it awkward and heavy to just tote by hand.
There are also a few extras you might have to shell out for like paddles, a pump, and optional backbone and frame decks which turn a reasonably priced kayak into a higher priced kayak once you include the extras.
Overall, however, with overwhelmingly favorable reviews the price will be well-worth the investment for years to come.
Sea Eagle Razorlite 393rl Inflatable Kayak With Pro Package
The Razorlite is another high-quality inflatable kayak from Sea Eagle. I reviewed another one of their kayaks here and while the Razorlite is also a lightweight kayak like their 370SE, it could be considered more of a "serious" kayak made with performance and speed in mind.
The Razorlite hull is narrower more like a typical touring kayak meant to cover distance instead of the wider, all-around shape of some of Sea Eagle's other designs. Much like the Advanced Elements kayak, it also has a reinforced bow and stern that allows the kayak to slice through waves for increased speed and performance with a top confirmed speed of 6mph.
Despite its sleek appearances, the Razorlite also scores high on the durability scale. It's the only inflatable kayak on the market that is fully constructed with drop stitch technology. This allows inflation to a much higher pressure (10 PSI) than many other inflatable kayaks — higher PSI = greater rigidity and durability.
Unlike the Advanced Elements, however, the Sea Eagle comes as a complete package with a pump, patch kit, performance paddle, adjustable seat, and a comfortable backpack for carrying. Even though it's slightly more expensive, you shouldn't need to drop any more money on add-ons with this package.
Now for the negatives…probably the most common complaint is that there are lots of hidden crevices where water can gather that you will need to dry out with a sponge of some sort before you pack it away for good. If you don't do this, you run the risk of getting a moldy kayak. Some people found it quite tedious and aggravating to get the kayak completely dry before storing it away.
Also, apparently there's at least one person out there who's concerned about whether or not this kayak can withstand shark's teeth. I'm sorry to say that it was unanimous that the Razorlite is not, in fact, shark proof. In the words of one reviewer, "There is no shark protection implied with this boat. Good luck and best wishes."
If a shark-proof kayak was high on your list of demands, you'll have to look elsewhere. However, if you want a lightweight, fast, high-performing and easy to transport kayak with all the extras included, the Razorlite should be at the top of your list.
Sunny Inflatable Kayak by Innova
It could be argued that Innova kayaks aren't as well known as the previous two brands mentioned, but that doesn't mean they're any less superior in quality.
The Sunny IK is another convertible kayak that can go from a solo to a tandem kayak in a flash just by mounting the seat in a different position for each kind of trip. It's a respectable 12'8" in length, weighs only 33 pounds, and boasts a 400-pound capacity. This is another kayak that will be best enjoyed as a recreational and touring kayak.
What separates the Sunny, and Innova kayaks in general, are their construction materials. The Innova kayaks are constructed out of heavy-duty 1,200-denier Nitrolyn that is then coated in rubber making Innova kayaks one of the only "green" kayaks on the market.
What is meant by "green kayak" in this instance is that due to the rubber materials used for construction, Innova kayaks are able to be recycled once they've reached the end of their lifespan after 20 years. Boats and kayaks made out of or coated with PVC, a common kayak material, are not recyclable.
Innova even has its own recycling program whereby you can send back your old, tired kayak and they will recycle it and turn it into rubber mulch.
So when you buy the Sunny Inflatable Kayak, you can feel good about your purchase knowing that not only do you have a top of the line, versatile, and durable kayak, but you're also getting something that is less harmful to the environment than most other kayaks on the market today. Pretty cool, huh?
Northwest River Supply (NRS) Outlaw 1 IK
Last but certainly not least we have the NRS Outlaw 1 inflatable kayak. Unlike most of the others mentioned above, the Outlaw 1 is not your typical recreational/touring kayak. We, of course, couldn't do an article without mentioning a top quality inflatable kayak for whitewater, which is exactly what you get in the Outlaw IK.
The Outlaw is only 9'10" which is all you need for a kayak that's going to be punching through some fast-moving rapids. It has an 18" rocker that helps it easily climb over high waves and its rock-solid drop stitch floor makes it super maneuverable.
Despite high-performance features like the ones mentioned above, its 10.5" tubes make for a wide, stable platform that is suitable for beginners just getting into whitewater kayaking. The Outlaw 1 was made to be a kayak that provides enough stability to appeal to beginners but also playful and responsive enough to please the more experienced adrenaline junkies.
What's great about this harmonious interplay between beginner and advanced kayak is that the Outlaw comes with a beginner's price tag. This is a great value kayak that's going to give serious pleasure to all who buy it.
The main negative associated with the Outlaw 1 is that it's slower at self-bailing. There are a lot of drain holes in the bottom which you use to attach the thwart seat and due to the thinner, but more rigid floor the water can sometimes seep out on top of it. Since the floor is so tight fitting against the sides of the kayak, it can take up to 30 seconds before that water drains back out of the kayak.
For most people, it's not a huge issue and certainly not a big enough one so as to be a deal-breaker. But NRS has other whitewater kayaks that even they say are admittedly better at self-bailing.
Whether you've been eyeing getting into whitewater kayaking but just weren't sure how or you're already experienced and just want a ducky that's fun to use but easy to transport, the NRS Outlaw 1 IK will get the job done for you.
BAKLife Bottom Line
Well, after reading 2,500 words on inflatable kayaks, you all should be IK Einsteins by now! Haha, just kidding…
The bottom line is that inflatable kayaks are indeed safe, durable, reliable, and just as good as many traditional kayaks, especially as inflatable technology continues to improve and innovate.
While we've already given you our picks for 4 of the best inflatable kayaks on the market today, it's a whole wide world out there worth exploring. Even if these ones didn't quite whet your appetite, it's worth looking into the myriad other inflatable kayaks that are out there. Surely you'll find one that meets all your needs so you can go out there get paddling! With that being said…
Paddle On!
See Related: