Kayaking is an excellent way to enjoy nature and explore new places. It's also a great sport for beginners as it is relatively easy to learn and requires little equipment. Kayaks come in many shapes and sizes so there is something suitable for everyone. With a kayak you can go to many places that are unreachable with a bigger boat. Some people prefer to paddle on rivers while others like to go out into the ocean. There are also many kayak fishing tours available which combine two great hobbies.
With all these options It can be difficult to choose a destination for your kayaking trip, especially if you are a beginner. In this article we will look at how to choose a location for a safe and spectacular kayaking trip and also show some of the best kayaking destinations in the US and around the world.
How to choose the best kayaking destination for you!
Things to consider when choosing where to go kayaking:
Skill level: whether you are a beginner kayaker or an avid whitewater paddler you will probably choose a different location. At least you definitely should! A beginner should choose a location with no currents, or streams and with a nice and stable weather forecast. Its also safer to choose a smaller body of water when starting out and its a good idea to keep closer to the shores.

Location: A nice location is where you don't have to drive for hours and hours to get there. Especially with the these gas prices. A good location also has good parking and access to the water with a good launch spot. If you don't have a kayak or don't want to take it with you then you should always make sure there are kayak rentals available and what time the rental shops are open.

What you want to see: There are so many things to see from a kayak and its great to get some change in the scenery. Do you want to see natural scenery or a city skyline from your kayak? You might want to consider the wildlife, how clear the water is, what kind of forest or mountains are visible from the kayak as you paddle.

What kind of kayaking do you want to do: Do you want a massive workout? Do you want to do some fishing? Do you want a nice tan while lunging in your kayak? All these are things to consider where you want to go kayaking? Make sure you discuss this with your paddling partner as well so you are on the same page for your trip. 

What is the best time for kayaking: You might want to avoid the beaming sun at midday. The winds often pick up at many destinations in the evening. Some places get a lot more crowded after the workday is done.

What are some of your favorite spots: I like the beach, but also enjoy exploring the islands and coves off the coast. We have been lucky enough to visit several beautiful beaches on our travels. One of my favorites was the white sand beach in St. John's, Newfoundland. It was so serene and quiet that it felt as if we were the only people there! I also enjoy a real workout in the rapids now and then. 
How much time do you have: Depending on how much time and energy you have you can plan anything from a short paddle on the beach to a day trip or an overnight trip. 
The best places to go kayaking in the US
The best places to go kayaking in the US are found on the coasts, but there's a lot of great paddling inland as well. Whether you want to paddle around your local lake or coast or want to take a longer trip there are great options all around the states.
Kayaking is one of those activities that can be enjoyed by all paddlers of ages and skill levels. It's also a sport that's easy to get into if you have the right equipment. And it's fun for everyone!
Where to go kayaking in Florida
Kayaking in Florida is very popular. You can find amazing wildlife such as manatees and alligators in pristine clear waters, but if the thought of being in the blue water with a gator gives you the chills then you can find a lot of alligator free spots as well. 
Check out these paddling spots on your next kayaking trip to Florida:
1. The St. Johns River – Jacksonville, FL
The St. Johns River is the longest river in Florida and one of the most popular rivers for kayakers. It's a great place to practice paddling skills before heading into more challenging waters like the Atlantic Ocean or Gulf Coast. There are several different launch spots along the river where you can launch your kayak or boat into the river safely. 
2. The everglades 
The everglades is an area that has many mangrove islands and a lot of wildlife. The Everglades National Park is located on the southern end of the river and offers so many different kinds of experiences from a kayak. The national park is home to alligators, white-tailed deer, raccoons, otters, bobcats, panthers, and other animals. You can also see bald eagles, osprey, blue herons, ibis and egrets.
3. Crystal river
Crystal river is a great kayaking destination for everyone. It's close to the city, has lots of wildlife and waterfalls, and it's easy to get to from anywhere in the state.
The best time to go is during spring or fall when the weather is still nice but not too hot. The summer months can be very busy with boaters coming out for some fun on the water.
The best way to enjoy kayaking in Florida is by renting a kayak from one of the many companies that offer kayak rentals throughout the state. Besides getting the kayak you can get info on where to go and even hire a guide as well. There are many different types of kayaks available for rent including sit-on-top, tandem, single, double, and even inflatable models. You can also easily find kayak tour companies to suit your needs. The most common type of kayak rentals used in Florida is the sit-on-top model because it is suitable for so many types of people and many people feel more safe as they are afraid of capsizing and not being able to get our of the sit-in kayak.
Where to go kayaking in North Carolina
North Carolina has some amazing kayaking spots. The best places to kayak in North Carolina are the Outer Banks. The beaches on these islands offer some of the most beautiful views and the best conditions for paddling.
Kayaking is a great way to explore the coast, but it's also an excellent sport for beginners. If you want to learn how to paddle or improve your skills, there are many opportunities for lessons and kayak rentals at local NC outfitters. You can read more about kayaking in North Carolina in our article: 10 Absolutely 'Can't Miss' Places to Paddle in North Carolina
Where to go kayaking in California
California has some great kayaking spots in both northern and southern California. Make sure to check out places such as the San Francisco Bay, Lake Tahoe and the Pacific Ocean. But if you're looking for a place to paddle that is just out of reach from your home base, there are many other options in California.
Santa Cruz and Santa Cruz island are also great places to go kayaking in Cali. This small town is known for its beautiful beaches and mild climate. Santa Cruz is surrounded by mountains and cliffs which makes it a perfect spot for kayaking. You can explore caves when kayaking in Santa Cruz as you can take kayak tour to the painted cave for a nice day trip. Remember to take a torch or a headlamp to get the most of the sights of the cave walls. 
If you are searching for something other than calm water then you should know that California is also a state with some of the best whitewater kayaking on earth. Make sure to check out the south fork of the American river if you are in to paddling the rapids.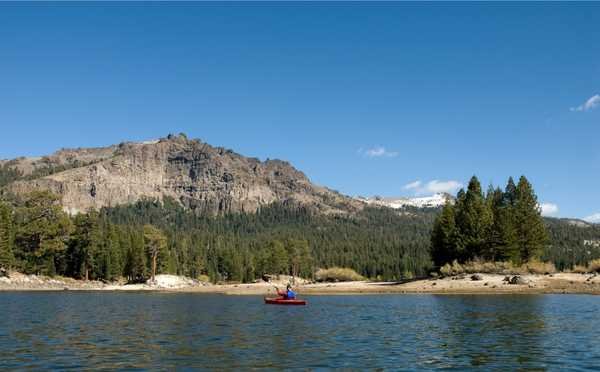 Where to go kayaking in Hawaii
In hawaii paddlers can find some of the best kayaking experiences in the world. Some of the best spots include the Waikiki Beach, Kailua Bay, Hanauma Bay, Molokai, Lanai, Maui, Kauai, Oahu and even the Big Island.
Hawaii offers a wide variety of experiences for every type of kayaker. From kayak tours on flat water in the lakes to rocky shorelines and fast flowing rivers. Kayaking in Hawaii is a perfect activity for both families and groups of friends.
Kayaking in Colorado
Colorado is known for its incredible scenery and outdoor recreation. Paddlers can enjoy the Rocky Mountains and the wide open spaces of the plains. There are plenty of places to launch your boats.
There are so many great places to kayak in Colorado that it would be impossible to list them all here. However, we recommend checking out the following spots: Navajo, John Martin Reservoir and pearl Lake. Some of the best rapids can be found in Colorado. These include the Upper Arkansas River, the Green River and the Yampa River.
Kayaking in New York
New York is a great place to visit because of its diverse landscape. You will find everything from mountains to oceans to forests and much more.
There are many different types of kayaks available for rent in New York. You can choose between sit-in kayaks, touring kayaks, fishing kayaks, sea kayaks, stand up paddleboards and inflatable kayaks. 
Kayaking in Washington
Washington is a great place to get away from it all. With over 1 million acres of protected land, Washington is the perfect spot for nature lovers.
You can find many different activities to do while visiting Washington. Whether you prefer hiking, biking, camping, fishing, boating, swimming or kayaking, there is something for everyone.
Kayaking in Texas
Texas might be a surprising kayaking location to a lot of people, but it is one of the best states to visit when you want to experience the outdoors. There are many places to kayak in Texas including the Rio Grande River, the Gulf Coast, Galveston Bay, Sabine Lake, Clear Creek, Lake Fork, Lake Texoma and Lake Travis.
 Kayaking in Alaska
Alaska is a beautiful place to visit. It is filled with amazing landscapes, wildlife and wilderness areas. Alaska is a great destination for kayakers because of its vast coastline as well as its beautiful rivers and lakes.
The most popular locations to kayak in Alaska include Cook Inlet, Chugach National Forest, Kenai Fjords National Park, Glacier Bay National Park and Tongass National Forest. You can check out kayak rental shops and tours here.
Kayaking in Scotland
Scotland is an amazing country with so many sights to see. The Scottish Highlands offer beautiful scenery and plenty of opportunities for adventure sports like kayaking.
Some of the best places to kayak in Scotland include Loch Lomond, Glen Coe, Argyll, Speyside, Isle of Skye, Mull, Islay, Orkney Islands and the Outer Hebrides.
Kayaking in Australia
Australia has a unique culture and a beautiful landscape. If you love exploring new places, then you should definitely consider kayaking in Australia.
There are many great places to kayak in Australia including the Great Barrier Reef, Sydney Harbor, Port Phillip Bay, Moreton Bay, Cairns, Fraser Island, Whitsunday Islands, Tasmania, Kangaroo Island, Perth and Darwin. You can choose between sandy beach lounging and kayaking adventures in river destinations.
Kayaking in New Zealand
New Zealand is a stunning country full of natural beauty. Kayaking in New Zealand offers visitors a chance to explore some of the most scenic parts of this country. There are so many outdoor kayak adventures to be had in New Zealand. Some of the best places to visit while kayaking in New Zealand include Milford Sound, Abel Tasman National Park, Queen Charlotte Sounds, Marlborough Sounds, Rotorua Lakes, Mount Ruapehu, Taupo Volcanic Plate
Where is the best place to kayak with whales?
Some of the best places to kayak with whales are in the Pacific Northwest, Loreto in Mexico, Tysfjord in Norway and Vava'u in Tonga.
Kayaking is a great way to see and experience nature, but it can be challenging when you're paddling next to other people or animals. The most common problem is that of being too close to another person or animal. If you get too close, you might accidentally bump into them and cause an accident. You could also end up getting hurt if they swing the paddle at you. Whales can also bump a kayak and cause a fall, but this is really rare. It is more likely to be toppled over by waves from boats or by another person than a whale. 
Always remember to keep a safe and respectful distance to whales and all wildlife. A good way to make any whale watching kayak trip safer is to go with a guide.
Where to go kayaking with orcas?
Orcas are the most intelligent and social of all marine mammals. They have been known to communicate using a variety of sounds, including whistles, clicks, grunts, roars, squeaks, and barks. Orcas can be found in many different habitats around the world, from coastal waters to inland seas, lakes, rivers, estuaries, bays, and oceans. The best places to see orcas from your kayak are the San Juan Islands. There is a large population of killer whales in this area, and you can often spot them while paddling around the islands.
If you want to go on an orca watching tour, there are many companies that offer these tours. If you're looking for something more intimate, then check out the Orcas Island Whale Watching Company. They have a variety of guided tours. 
The best time to see orcas is in June and July when they are migrating from their wintering grounds in Puget Sound to their summer feeding grounds off British Columbia's coast. The whales will be traveling north along the Washington coastline, so you can expect to see them between Bainbridge Island and Anacortes. If you're lucky enough to spot an orca you should savor the moment as its something that not many get to experience
Where to go kayaking with alligators?
The best places to go kayaking with alligators are in the Everglades in Florida and in Louisiana. Everglades National Park is a vast area of wetlands, swamps and mangrove forests that covers more than 1 million acres (4,000 km2) in southern Florida. It was established as a national park on October 13, 1947, by President Harry S. Truman.
Where to go kayaking with manatees?
The best places to kayaking with manatees are in Florida, the Bahamas, Belize and Cuba. Manatees are herbivores that eat sea grass and aquatic plants. They have a long snout, small eyes, and webbed feet. So you don't need to be scared of manatees as these sea cows are quite gentle beings.
When is kayaking most popular?
Kayaking is most popular in the summer months, but it can be done year-round. During the summer the most popular spots have a lot of boats in the water. For many of us the best time to go kayaking is during the spring and fall when there are fewer people less boat traffic on the water. The winter months tend to have more rain than other times of the year, which makes for more challenging question on what to wear for kayaking.
If you're planning to take your kids along with you, make sure they know how to handle themselves in the kayak, that they are suitably dressed and remember to bring snacks and something to drink for yourself and your family. You can read more about kayaking with kids in our article: Top 10 Tips for Canoeing with Kids from an Experienced Canoe Guide