I'll admit it, I'm neither big nor tall. I hit my peak of 5 feet 3 inches when I was in 7th grade. I've embraced my shortness my whole life, basking in my glee at being able to fit into cramped or tight spaces with relative ease.
So it never occurred to me that kayaks might seem intimidating or present a bit of a challenge to those blessed with more vertical longitude than me. I can just slip into the cockpit and away I go to paddle to far off places.
For big or tall guys, however, it's not so simple.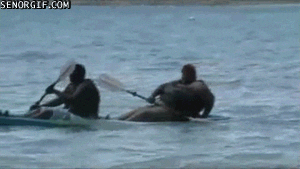 I've read tons of forums, reviews, and manufacturer's websites to get the skinny on kayaks for larger fellas and I've found 6 that will comfortably and safely accommodate larger than life paddlers.
Whether you're big boned, long-legged, or have feet that would rival Shaquille O'Neal's, one of these kayaks is sure to finally get you paddling around in the comfort you deserve.
So if you're tired of feeling like 6 pounds of poo stuffed into a 5-pound bag while kayaking, read on for a comparison of the best kayaks for big, tall, and heavy people.
Kayaks for Big and Tall: The Contenders
For those who are short on time and can't be bothered to read the entire article, here's the long and short of kayaks for big and tall people.
Wilderness Systems Pungo 140 Kayak
This model is a step up from their classic Pungo 120 model and was made with larger paddlers in mind. Superb touring performance without sacrificing cockpit or cargo space. It's a classic for a reason.
Old Town Vapor 12XT
Extremely spacious cockpit that's almost too spacious unless you're a larger individual. Comfort and stability should provide peace of mind for those worried about a "tippy" kayak.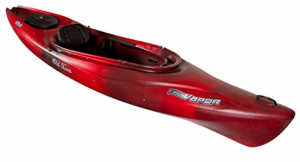 BKC UH-RA220 11.5-foot Angler Sit on Top Fishing Kayak
A top notch example of a fishing kayak for a large person, the Brooklyn Kayak Company always gives value for money. With a 440-pound capacity and loaded with features, this should be any angler's wet dream.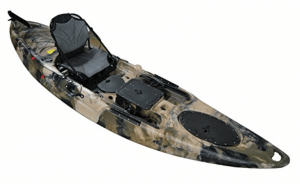 Perception Pescador Pro 12 Kayak
Another excellent choice for big guys who like to fish. The standout feature is the stadium-style Pro Seat, which offers 2 positions for paddling or fishing and ultimate comfort so you never get fanny fatigue. Spacious and rated to 350 pounds, this should be another top contender for large humans who like to fish.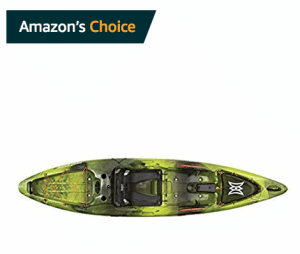 Malibu Kayaks X-Factor Fish and Dive Sit On Top Kayak
Big things come in big packages. The X-Factor goes big, delivering a kayak with a whopping 550-pound capacity suitable for dive tanks, fishing gear, and even small humans (kids), with their front and rear child seating areas. If you're a big man who often fishes in ocean swell or has a need for maximum load capacity, the Malibu is unbeatable.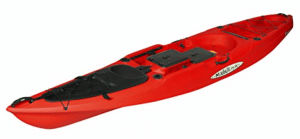 Sun Dolphin Bali SS 12-ft Sit On Top Kayak
A big, open sit on top kayak that should delight even the heftiest of paddlers. A simple design for paddlers who just want to get out on the water for some exercise and fun at a price point that's sure to please.
Big Guy Kayaks Comparison Table
Below you'll find a handy table where you can see a side by side representation of the different features of each kayak.
Based on the info provided, you can make an informed decision as to which kayak most appeals to you. After that, you can read on to get a more in-depth perspective of the kayaks or go ahead and click on the link in the table where you can verify the price and see more buying particulars about the yak.
Big and Tall Kayaks
Name
Specs
Features
Price
Wilderness Systems Pungo 140
Length: 14' Width: 28"
Cockpit L: 57" W: 22:
Max Capacity: 350 lbs
-Phase3 AirPro seat
-Bungee deck rigging
-Stern hatch
-Removable console
$$$$
Old Town Vapor 12XT
L: 12' W: 28.5"
Cockpit L: 47" W: 19.5"
Max Capacity: 325-375 lbs
-Comfort Flex seat
-Cockpit tray w/ cup holder
-Paddle rest
-Large cockpit
-Click Seal hatch
$$$
BKC UH-RA220 11.5 Angler Kayak
Length: 11.5"
Max Capacity: 440 lbs
-Foot-operated rudder
-Watertight storage
-Rod holders
-Cargo area with tie downs
-Upright seating system
-Transducer compatible scuppers
-Paddle park
$$$
Perception Pescador Pro 12
Length: 12' Width: 32.5"
Height: 14.5"
Max Capacity: 375 lbs
-Pro seat
-Tankwell with bungee
-Bow mesh cover
-Center console
-Rod holders
-Tackle box storage
$$$
Malibu X Factor Fish and Dive Kayak
Length: 14'4" Width: 33"
Depth: 13"
Max Capacity: 550 lbs
-Gator hatch
-Rod holders
-Standing platform
-Multiple storage hatches
-Child seat
-Great in big water
$$$$
Sun Dolphin Bali SS 12 Foot Kayak
Length: 12' Width: 30"
Height: 14"
Max Capacity: 395 lbs
-Portable accessory carrier
-Shock cord deck rigging
-Storage compartment
-Adjustable foot braces
$$
Best Kayaks for Large People: The Reviews
Without further ado, here are the in-depth reviews for kayaks for heavy people.
Best Recreational Kayak: Wilderness Systems Pungo 140
Wilderness Systems is a very reputable industry brand and their Pungo 120 is one of the most classic all-around kayaks of all time. Therefore, WS wanted to take the success they had with their 120 and go bigger.
Enter the upgraded Pungo 140. Made with a larger cockpit for plus-sized paddlers and with added speed and storage, this kayak is one of the few touring style kayaks on the market that will accommodate larger paddlers.
Most touring kayaks that you see are long and skinny. The length elongates the waterline which helps it go faster. The skinny profile cuts down on wind resistance so that it slices through the water with ease. These features also enable them to paddle straight as an arrow.
As any big guy can tell you, they take one look at most typical touring kayaks and say, "Uh-uh. I'm not getting in that thing!"
Wilderness Systems saw a need in the market for a high performing kayak that can accommodate people with bigger profiles. The Pungo 140 delivers on all accounts.
The cockpit is a forgiving 57 inches in length with a console that can be removed for easy entry. The console has molds for holding a drink and two smaller ones that could work for fishing lures, snacks, or a camera if you're paddling in flat water.
A Phase3 AirPro seat, thigh pads, 2 storage compartments, and front and rear bungee deck rigging are everything you want in a performance kayak.
Here are the words of a couple of happy over-sized paddlers:
"I searched for a kayak that I could fit in and the Pungo [140] was absolutely perfect. I am 6′ 7″ and was thoroughly impressed with the size of the cockpit and the range to which the foot pedals can be set."

"First I am 57 years old, overweight (280lbs) and struggle to get in and out of other kayaks I have tried. I feel comfortable in this kayak and I have room to carry some camera gear in the cockpit."
The Cons
The reviews on this kayak are overwhelmingly glowing. Out of the few poor reviews it does receive, there is not one common thread to their complaints, which leads one to believe that it is probably just a matter of personal preference instead of any serious design or performance flaws with this kayak.
Even some of the legitimate complaints were from older reviews or people with older versions of the kayaks whereby they have hence fixed the problem i.e. only one bulkhead (it now has 2) or plastic screws holding the seat in (fixed).
Bottom Line
You will be hard-pressed to find a better performing, more stable kayak suitable for fat or larger persons. The Pungo line of kayaks has been a mainstay in the kayaking world for decades for a very good reason — because it has proven itself to be a winning model that can withstand the test of time.
Most Versatile Kayak: Old Town Canoe and Kayaks Vapor 12XT
Old Town is another mainstay in the kayak world having produced many reputable brands of kayaks over the decades.
The Vapor 12XT was designed with extra carrying capacity in mind, whether that be to accommodate bigger paddlers, average paddlers who have a lot of gear with them, or a furry companion to accompany them in the cockpit.
Ideally, this kayak would be better suited for taller paddlers or those with longer legs and arms. The reason being is that the cockpit is so large one needs longer arms to reach the molded-in console in the front and to be able to paddle comfortably over the tall-sided gunwales.
If you are bigger in girth than you are in length, then it's worth noting that the cockpit, while long in dimension at 47", is only 19.5" in width. The spacious length of the cockpit might be able to compensate for the more constrained width, but then again it might not.
As one person put it,
"Great boat for a larger person. I'm 5'3″ and short torso, the gunwales are too high for comfortable paddling, and the cockpit too large to reach the cup holder."
However, this would be a great boat if you're only slightly above average in build but would be carrying a lot of gear with you. This boat has plenty of space to store fishing or camping gear and is stable enough to take on multi-day trips. With its 375-pound weight capacity, you have plenty of room for yourself plus gear storage.
Bottom Line
This is a super stable, comfortable kayak from a reputable brand. If you have long arms and/or long legs and you like to stretch out, you'll find this a very enjoyable craft.
Similarly, if you're slightly above average in size but carry a lot of gear with you or you paddle with your dog frequently this kayak will allow you to do so in comfort and ease.
Heftier paddlers will enjoy the ease of getting in and out of this kayak, but be aware that this cockpit is slightly narrower than some of its counterparts.
Most Feature Rich Fishing Kayak: BKC UH-RA220 11.5-foot Angler Sit on Top Fishing Kayak
If you've read some of my other stuff, you might recall seeing my other article where I review the best tandem fishing kayaks. That article included a review for the Brooklyn Kayak Company's incredible 2-person fishing kayak.
Like their 2 man fishing kayak, the UH-RA220 Riptide Angler SOT is a feature-rich beauty. The company's product page calls this kayak the "Swiss Army Knife of solo fishing kayaks". It has every feature you could want: flush mount rod holders, tons of cargo space both watertight and easily accessible, a comfortable seat, and a foot operated rudder — wow!
More to the point of this article, however, it has an impressive 440-pound weight capacity. So if you're a bigger guy who's worried about whether you plus all your gear can fit, rest assured that all your fishy dreams will come true with this kayak.
Its wide 34-inch beam ensures total stability without compromising its paddling performance. Most fishing kayaks out there are super sturdy but feel like paddling a bathtub. Brooklyn Kayak Company has managed to create a fishing kayak that is also easy to paddle.
As with any self-respecting kayak, they have made it possible for you to stand up and fish from although, according to some, that feature is dubious. Despite the sturdiness of the kayak, one user did report that it's almost impossible to fish from standing up without some sort of stability bar.
As he put it,
"The feeting area is in a downward slant and would make it very off balanced trying to stand on your tippy toes."
This minor flaw notwithstanding, the BCK UH-RA220 fishing kayak is worth checking out.
Bottom Line
Brooklyn Kayak Company has done it again and made a feature-rich kayak at a reasonable value. If you're in the market for a fishing kayak for a large person, you'd be hard pressed to find one with more bells and whistles than the UH-RA220.
With a huge 440-pound weight capacity and a wide 34-inch beam, the UH-RA 11.5 Riptide Angler should accommodate even the beefiest of paddlers. If you want a fully loaded fishing kayak, this one's not to be missed!
✅ Best Fishing Kayak for the Money: Perception Pescador Pro 12 Kayak
Perception is another stalwart in the kayaking industry having created dozens of reliable and reputable brands of kayaks over the decades. The Pescador Pro 12 is certainly no different.
Designed to provide added support and storage for the bigger fisherman, this is a serious fishing kayak for serious anglers. Offering 2 molded tankwells in the bow and stern, molded in rod holders, cup holder, and an adjustable stadium-style seat, this has all the accessories a kayak fisherman could want.
With a weight capacity of 375 pounds, there should be plenty of room to accommodate a big guy angler plus all of his gear. Of course, being a sit on top kayak means not having to worry about squeezing into a small cockpit or cutting circulation off to your legs.
The Perception Pescador Pro 12 paddles like a dream as well, so you still get top performance out of your fishing kayak. Other fishing kayaks, while extremely stable and with lots of features, are more like barges than kayaks and paddle about as well.
The only thing missing from this kayak are watertight compartments. For some, though, that's not an issue at all as some paddlers don't like having to reach for them not to mention the extra cargo space they take up on the kayak.
To each their own but it's something to take into consideration while comparing kayaks.
Bottom Line
The Pescador Pro 12 is another solid example from Perception. With all of the essential features a fishing kayak needs, this has everything you need to get out on the water and catching fish in no time.
Big guy anglers will feel right at home with its wide beam, extreme stability, and 375-pound carrying capacity. It performs well for a fishing kayak. The only thing to be mindful of is the lack of watertight storage compartments. Otherwise, this is a solid buy for solid guys!
✅ 
Buying Tip: 
If you can get the Pescador Pro for under $800, it's a steal! Amazon will often have this kayak on sale for under $800 (vs. $829 for other retailers). 
Best for Big Waves: Malibu Kayaks X Factor Fish and Dive Kayak
There are no two ways around it: the X Factor is an impressive kayak. Malibu really went to the drawing board with a specific goal in mind and didn't stop until they had built a kayak that ticked all the boxes of a superior fishing kayak.
The X Factor Fish and Dive Kayak is the perfect kayak for anybody looking for any of the following criteria in a kayak:
If you're a large guy who needs extra room or cargo capacity to suit your size.
You like to take your young kids, wife, or dog paddling with you.
You frequently go on multi-day camping/fishing trips.
If you fish in bays, oceans, or large lakes subject to choppy conditions.
The X Factor is perfectly suited for any of the above situations and more.
First off, the X Factor has an enormous cargo capacity of 550-625 pounds. This is suitable not just for big guys who are worried about sinking their kayak, but for anybody who likes to take a lot of gear with them on their kayak. At 14' 4" in length, there is storage aplenty aboard this Jolly Roger!
If you like to do multi-day fishing trips, the X Factor offers four watertight storage compartments in addition to front and rear bungee netting. That's plenty of room to store gear and provisions for 2-3 days of roughing it.
Not to be overlooked is the dive function of the fish and dive kayak. Thanks to its high weight capacity and impressive length, there are lots of places to store dive gear like tanks, fins, snorkel, mask and the like.
Also, if you spearfish you might be able to slide your spears down one side of the kayak or even create your own little system where you can fasten them to the top of the boat.
Either way, whether you're diving or spearfishing you're more than likely doing so in an oceanic environment, which means you'll have some light chop to mid-sized waves to contend with. That's where the X Factor really shines. The high rocker on this kayak helps it cut through high waves and small chop for a comfortable and surprisingly DRY ride.
Not only that, even in a swell this kayak is one of the most stable kayaks on the market.
As one user put it,
"Standing is easy. I was actually shocked at how comfortable I was standing, even in 1 – 2-foot chop".
Another one stated,
"This yak is 33 inches wide and a tidal wave can't capsize it!"
How novel, a fishing kayak you can actually stand up in! Just because a company says you can stand up in its kayak doesn't mean you actually can in many cases (unless you were part of the Olympic gymnastics team).
Additional Features
A couple last things to mention about the X Factor kayak. As I mentioned before, there are four watertight storage compartments on this kayak. The very front compartment consists of their revolutionary Gator Hatch.
With a triangular shape, the Gator Hatch is so named because of similarity in shape to a gator's head. It's best described as storage on storage on storage.
The top layer is on the surface of the kayak where you can store things under the bungee netting.
Below that is a middle layer that lays on top of the hull. The middle layer offers additional storage for your catch of the day or extra gear. Underneath that is the hull where you can store even more stuff below that.
Or, if you choose, you can leave the middle layer off entirely and just store stuff in the hull. The top layer of the gator hatch has a flip-up seat so you can just flip that up for easy access to the compartment without having to remove the whole thing. Pretty cool, huh?
But wait, did I just say flip-up seat? Why yes, yes I did. The top part of the Gator Hatch is a small molded seat where a child could sit. So if you want to take the little ones out fishing with you, it's entirely possible. Not only that, but you can do so with peace of mind knowing how stable and dry this kayak stays.
Bottom Line
There seriously isn't much to not like about this kayak.
-Insane weight capacity — check ✅
-Super stable — check ✅
-Tons of storage room —check ✅
-Standing room — check ✅
-Room for kids or extra companions — check ✅
Apart from that, I think I'll let one of the many satisfied customers have the last word about the Malibu X Factor Fish and Dive Kayak:
"I love this kayak, all the other reviews I've read here and elsewhere are true, it is the most stable, comfortable, fishable and maneuverable BIG MAN kayak…"
Most Affordable Big Guy Kayak: Sun Dolphin Bali SS 12
I'll be up front: this is NOT the best kayak on this list. This is an adequate kayak — a starter kayak. And one that is suitable for big guys and gals, especially those who are just getting started.
I'm mainly including this kayak on this list because it's affordable. That's what makes this an attractive kayak. People can put up with the flaws that it has because they didn't spend a lot of money on it. The comments you see consistently about this kayak are that it's pretty good for the price. So with that in mind, let's take a closer look at the Sun Dolphin Bali SS 12.
Pros
Naturally, as I mentioned above, the price is going to be one of the best things about this kayak. It's a good starter kayak and for most beginners unsure about trying out a new hobby, they always want to get started as cheaply as possible in case they decide they don't like it.
In this case, there might be a lot of larger guys or gals who are looking to get into kayaking as a way to lose weight, which is fabulous. It's a low-impact form of exercise and you're usually in some of Earth's most beautiful spots when you do it. What's not to like?
In addition to an attractive price, the Bali 12 SS also comes with all the basics of a good kayak: bungee nets for cargo storage, adjustable foot pegs, watertight storage compartments (including one that's portable that you can tow behind), and a paddle holder.
It also scores above average marks for stability and performance, tracking fairly well for a 12 foot sit on top that's fairly wide (30 inches). This kayak does the basics well and that's good enough for most paddlers.
Cons
Now for the not so good. Despite this being a sit on top kayak, many users have complained that it's not actually that easy to get in and out of. This is owing to the fact that your bum is actually lower than your feet instead of on an even plane so it throws you off balance a bit.
More about that seat — while there is a seat back, the seat bottom leaves a lot to be desired. So while your back is supported, your booty is not. Many people have gone on to buy a separate seat back or gel pad to sit on to make the ride more comfortable (click here to check out my Kayak Seat Buying Guide).
Not only that but because the seat is the lowest point in the kayak, your booty is going to get wet. Now that's to be expected with most SOT kayaks, but apparently, there are no scupper holes on this thing so rather than draining out, water just accumulates. If you paddle this on flat lakes and rivers as you're supposed to, it shouldn't be a major issue. It only becomes a problem if you're taking the kayak out in choppy conditions or in the ocean (not recommended).
Bottom Line
If you're a big person looking to try out kayaking as a new activity to help you lose weight but want to get started on the cheap, it's worth considering the Sun Dolphin Bali SS 12. You'll get a basic and reasonably outfitted kayak for an affordable price.
✅ Buying Tip: If you can get the Sun Dolphin Bali SS 12 for under $450, it will be worth your money. Otherwise, you might be paying too much for a beginner's kayak.
Click here to check price —–> http://amzn.to/2f7ggjY
Conclusion
Before having read this article, perhaps the thought of getting into a kayak was terrifying. After all, it would be rather embarrassing to have "Death By Kayak" listed on your tombstone as opposed to "Death by Staving Off Alien Invasion" or some other heroic demise.
Hopefully, though, this article and its suggestions will prove useful so that you can go out there and paddle with confidence knowing that you:
Aren't, in fact, going to sink.
Will not have to amputate limbs or require rescuing by the Jaws of Life to get you out of your kayak.
Will (probably) not make an ass out of yourself entering and exiting your kayak.
Yes, the Board and Kayak Life is for everyone, even our big-boned friends!
Paddle On!