Kayaks are a great way to get out on the water and sneak into your favorite fishing spot or other shallow water honey hole that isn't accessible via boat.
But what fun is it to go yak fishing and not have anyone to witness the monster fish you just landed without being accused of telling fish tales? That's why tandem fishing kayaks are great because you can bring a friend or family member along to share a nice day on the water with. So which is the best tandem fishing kayak for you? We've picked out 3 of the best two person kayaks out there that will be sure to have you telling fish tales for years to come.
Don't have time to read the whole thing? Click on the table of contents to paddle straight for the review that interests you most.
Overview
I suggest people read through the more detailed reviews below but I know many people are pressed for time and just want the best recommendation. Here are my recommendations for the best 2 man fishing kayaks on the market today:
What is the Best Tandem Fishing Kayak?
I've put in hours of work scouring reviews so you don't have to. I've narrowed it down to the top 4 tandem fishing kayaks. Here are my picks, in order of preference:
For better or worse, this is a beast of a kayak. At 10 feet long, 3 feet wide, and weighing in at a hefty 66 pounds, this kayak has "Built Tough" written all over it.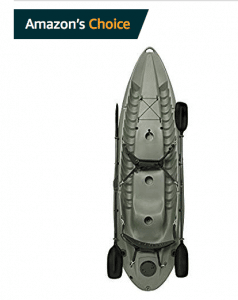 What's Good
The benefit to all this heft is stability. You will NOT tip over or sink this kayak. Users commented over and over again at how stable this kayak is. This is great for balance while fishing and it's also great from a safety standpoint giving users peace of mind that their kids or dog would not accidentally rock the kayak and fall overboard.
The other benefit to this sturdy piece of olive green plastic is that it has an excellent weight carrying capacity. This kayak will hold up to 500 pounds of gear and flesh. Bring a cooler of beers, take Cujo for a cruise, get the kids out of the house, or grab your former football linebacker friend and frolic with the fishes (something tells me football linebackers don't really frolic, but whatever).
The Downsides
The downside to all this extra plastic polyethylene poundage is you lose a lot of speed and agility. This is a slow kayak and it's meant to be. Users emphasized that this is a fishing kayak, not a touring or recreational kayak. Because of this, it's a much better flat water kayak. In current or waves, the concern is not so much that you will tip over, but that you will not be able to make headway against a strong current or headwind.
A couple other minor gripes people had were that the seat wasn't the most comfortable. It's a plastic seat with no padding for your bum, which can get uncomfortable after an hour or two. Many opted to buy a different seat with extra padding and a higher backrest for added comfort for longer days on the water.
One other minor complaint a few people had was with carrying the Lifetime kayak. Due to the width of this kayak, the handle placement is rather inconvenient unless you have a wide arm span. Otherwise, people felt that the carry handle was a bit too flimsy to withstand the weight of the kayak.
In addition to that, the cart that is offered on Amazon as a frequently purchased item with the Lifetime Tandem kayak doesn't actually work with this kayak. You might do well to shop around a bit instead of just going with the one that Amazon suggests automatically for you.
Bottom (Bouncer) Line
If you want a safe, stable, and feature-rich two person fishing kayak that will probably last a lifetime, this should be a top consideration. It's great for one, two, or even three people thanks to its extra high load limit. Just be sure that you have enough people or the right gear to be able to cart this beast of a kayak to your car and your launch point and back because its width and weight make it difficult to handle on its own.
Coleman Colorado 2-Person Fishing Kayak
If a hefty tandem fishing kayak like the one described above doesn't really appeal to you, then this inflatable Coleman Colorado 2-Person Fishing Kayak might be a better choice.
What's Good
The Coleman Colorado kayak is 10 feet 9 inches long when fully inflated but only weighs in at about 42 pounds. It also comes with its own carry bag so toting this 42-pound kayak around should be no problem for almost anyone. Plus its weight capacity is only slightly less than that of the Lifetime kayak at 470 pounds, plenty for 2 people plus gear.
Of course, the first thing that springs to mind when imagining an inflatable fishing kayak is fishing hooks + inflatable boat = Marco Sink-o. Rest assured, this kayak is built less like a beach ball and more like an inflatable RIB like the kind used in the military or on whitewater rafting trips.
The Coleman Colorado kayak features a 1000D tarpaulin bottom and an 840D nylon cover which provides supreme protection against punctures from either jagged rocks, logs, or fishing hooks.
Along with the supreme construction materials, multiple air chambers make it so that the other air chambers stay inflated if one does happen to get punctured. The Airtight valve system is also guaranteed not to leak. If anyone was worried about this not being hardy enough for some of the water they're fishing on, I think those fears can be safely laid to rest.
Even though this two person fishing kayak is attractively priced due to its being inflatable, many users did opt to add on a trolling motor with the kayak, which will increase the overall amount you spend on it.
The Downsides
Like with the Lifetime kayak above, however, the motor that Amazon recommends for this kayak was not highly recommended. Most who did buy a trolling motor had to do some modifications to the mount to get it fit properly so if you're not much of a DIY person, you might want to just stick to the paddles.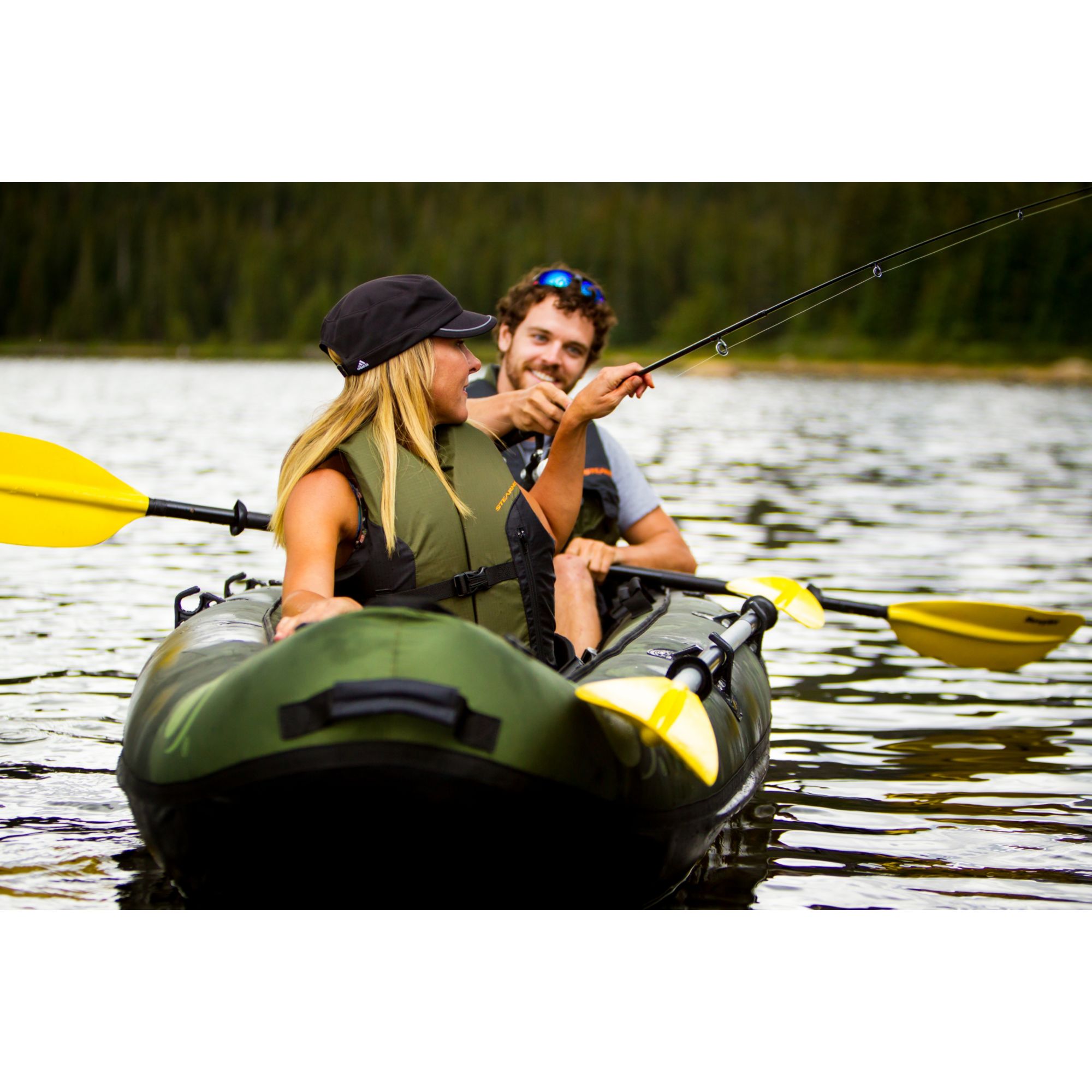 Speaking of paddles, this kayak does not come with paddles included, so that will be another additional purchase to add on to the cost. Most people recommended 96-inch paddles or longer, otherwise the rod mounts get in the way of paddling.
Lastly, one other important thing to note is that if you like to stand up to fish, this is not the kayak for you. The soft bottom is not stable enough for you to be able to maintain balance while standing and fishing. One enterprising user mentioned cutting out a piece of plywood to put on the bottom to stabilize it, so that might be worth a try if that's the only reason you have for not buying this kayak.
Bottom (Fishing) Line: If you're looking for an easily transportable kayak at a low entry price point, you'll be hard-pressed to find a better two person fishing kayak than the Coleman. So long as standing while fishing isn't really your thing, then this kayak comes with rave reviews all around and is highly recommended.
The BKC UH-TK181 tandem fishing kayak is one of the most feature rich fishing kayaks on the market without sacrificing performance and maneuverability.
What's Good
This has all the add-ons a good fishing kayak should have: 2 paddle rests, 4 flush mount and 3 adjustable rod holders, rear cargo area with bungee storage, and 2 storage pouches. What more could you ask for?
How about excellent maneuverability and 
tracking? There are some fishing yaks on the market that provide nice stable platforms for casting but are too wide to paddle well or for long distances. Not so with the BKC UH-TK.
As one happy customer put it:
"Great kayak. Everything I expected. Stable. Tracks well. Works great with one or two people."
As if that weren't enough, there are even added features like padded seats and lightweight aluminum paddles included, items that would be additional costs with many other kayaks.
And one last little surprise are the pre-threaded bolt holes in the rear of the kayak. These can be used for mounting a little trolling motor or perhaps even a fish finder to the kayak. Seriously, what more could you ask for?
The Downsides
It can't all be good though, can it? Well, almost. I'd say one of the biggest drawbacks to this kayak is its lack of a brand name. As with any little known brand, trusting an unknown brand can be a risk. But with the rebranding of what was formerly the Useful UH-TK by the Brooklyn Kayak Company, they are sure to be a household name very soon!
Also, as with most other fishing kayaks, its quite a heavy kayak weighing in at almost 70 pounds. If weight is a concern for you, I'd look more closely at the Coleman kayak listed above.
Bottom (Sinker) Line
If you can get past the lack of brand name recognition, this could be one heck of an angling kayak. With great risk comes great reward. With so many features and reasonably priced, this might be one of the best finds on the market today.
Malibu Kayaks Pro 2 Tandem Fish and Dive Package Sit on Top Kayak
Billing itself as an ideal, all-around kayak for diving, fishing, or recreation, the Malibu is a great kayak for those who do a bit more than just fish.
What's Good
Measuring 13 feet in length and just under 3 feet in width, this kayak's longer and skinnier dimensions separate it from the rest of the pack of pure fishing kayaks. The longer length will give it additional speed on the water as well as better tracking and maneuverability than the other wider, stodgier tandem fishing kayaks.
It comes equipped with 6 flush-mounted rod holders for various rod positions. There is also a front dive well that can carry a small dive tank, an 8-inch rear round hatch with a bucket for stowing additional items, and an insert for a trolling motor mount. All of this creates lots of space for storage needs, which you can certainly put to use on this 550-pound capacity kayak.
The Downsides
On the negative side, the Malibu Pro 2 Tandem Fishing Kayak only has two shallow molded seats, which are not that comfortable, nor does it include any paddles with the purchase, so you will have to buy these items separately if you don't already have them.
A more substantial issue, however, is that this can be a fairly leaky kayak. Some users complained about the inside of the kayak accumulating water making it heavy and somewhat difficult to get out of the water before draining it. A few even drained around 1-3 gallons of water from their kayak and were relieved not to have sunk after having taken on so much water.
While some water is to be expected with any sit on top kayak, the excessive amount experienced by some users made some question the safety and quality of the kayak.
Bottom (Bait and Tackle) Line:
It is worth noting that at least a few users complained about water leaking into the kayak than is normal. While one or two poor reviews are common for any product, it should make one take note when all the poor reviews mention the same thing.
Of course, the positive reviews still outweighed the negative reviews by far. If you keep that in mind, then this is a great tandem kayak for someone who wants an all-in-one fishing, diving, and recreational kayak for multi-purpose and multi-body of water use.
The Bottom Line on Tandem Fishing Kayaks
I really liked both the Lifetime tandem fishing kayak and the Coleman tandem fishing kayak; it really was a toss-up and it just comes down to preference.
The reason I gave the slight edge to the Lifetime Sport Fisher Tandem Kayak is because I felt it encompasses everything that a true fishing kayak should be. The ability to stand up seems too integral to fishing to overlook. Being able to get a higher vantage point to sight fish or get leverage when reeling in that monster really does make a difference.
If that's not as big of a concern to you as price or transportability, then the Coleman Colorado 2-Person Fishing Kayak will also be a fine choice. Easy to carry, easy to store, and attractively priced are always good qualities to have in a kayak.
The Useful UH-TK promises to be a fabulous find for a fishing kayak. If you want to take a risk on a largely unknown brand, you shouldn't be disappointed with this one.
The Malibu is a great all-around kayak that also can be used for fishing. If a multi-purpose kayak that can go anywhere and do anything is more important than having a dedicated fishing kayak, this will be your best bet.
Now go out and slay some fish!
Paddle on!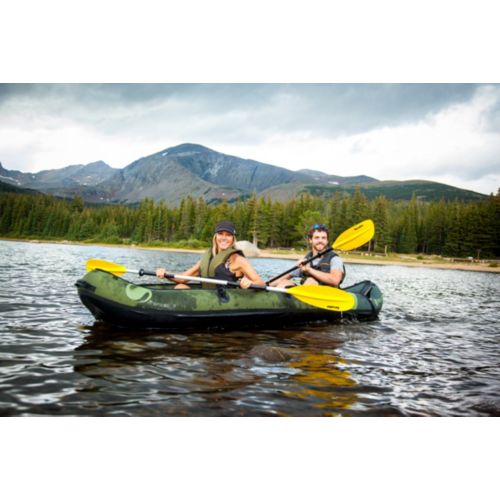 Related: Think a fishing SUP might be more your style? Check out my picks for affordable and awesome fishing SUPs for shallow waters and exciting excursions!