Nothing beats getting out on the water on a beautiful day for a little kayaking. Fresh air, exercise, and the opportunity to experience the beauty and challenges of nature up close is what it's all about.
Owning the right kayak – one that meets your specific needs – is obviously crucial to getting the most out of your experience. But what is of at least equal importance is the paddle you choose for your kayaking purposes.
To get the most paddle for your money, you want one that's relatively lightweight and easy to use so you don't fatigue too quickly and have to end your outing earlier than expected.
Why You Need A Quality Paddle
As a serious enthusiast, you've got to have the right equipment for the job. Owning a quality, well-constructed paddle makes kayaking easier on your body and more fun and satisfying overall. A lighter paddle can maneuver with greater ease and is less tiring to handle.
Kayaking is excellent exercise that really works your back muscles, biceps, and core. An inferior paddle almost ensures you'll experience more back pain and physical exhaustion sooner – even in the calmest of waters. That's because the most basic models are designed to be cheap – rather than effective. Real kayakers deserve better.
Choose the lightest, stiffest, and most comfortable paddle to grip.
You don't have to be a competitive kayaker to benefit from an upgraded paddle. If you're primarily interested in faster paddling, you'll want to look at a different style of paddle than those favored by most recreational users. It really depends on your preferences and the way you want to experience kayaking.
You'll have a much better experience every time you're out on the water with a well-made paddle that's lighter, more durable, feels comfortable and is easier to handle. You want a paddle that's been engineered for an enhanced user experience. This virtually guarantees more enjoyable kayaking – particularly on those longer outings.
Related
:
For the most comfortable kayak trip possible, you'll also want to find a quality kayak seat that will keep your back and booty happy. Check out the

top kayak seats for every kind of kayak.
Different Strokes For Different Folks
Kayak paddles have three main parts to them: There's the shaft, which can vary in length – anywhere from seven to eight feet. Then there's the blade which consists of two faces – the power face and a back face. The side of the paddle that pushes the water to move you forward is known as the power face.
As a general rule, shorter kayakers should use paddles with shorter shafts. Taller folks naturally prefer a longer paddle with larger blades – as do most stronger, more experience paddlers who tend to move along at a faster clip.
The easiest way to distinguish between a recreational paddle and one designed for speed is the shape of the blade. A low angle blade is best suited for leisure use and recreational kayaking. High angle blades are designed for performance and the more competitive user. Check out this helpful 3 minute video demonstrating the difference between high angle vs. low angle blades to find out more about the difference.
Blades are made out of plastic or various plastic blends on lower end paddles, while the higher-end versions are made of fibreglass or carbon.
Paddle shafts are typically constructed of aluminum, fiberglass, or carbon. Fiberglass and carbon are lighter and more durable than aluminum. But aluminum is often the better choice for budget buyers.
Most manufacturers use two different diameters. Ideally, you should try both sizes a local sporting goods store to determine the most comfortable feel for you. Then come back here for the best recommendations and prices.
When shopping, you should choose the lightest and stiffest paddle that is within your budget.
That will give you the best value for your money. The ultimate paddle available would be one that features an all-fiberglass or carbon construction. But if this stretches your budget beyond your comfortable zone – consider a paddle (like the ones below) with a stable shaft, since this alone can make a huge difference.
Remember, the important considerations are a shaft that's lightweight and comfortable to hold. Your chosen paddle should also be the correct length considering your height and arm length. If it feels awkward, a little uncomfortable, or too heavy, it's not the right paddle for you.
Kayak Paddle Comparison Chart
Below you'll find a handy chart that lists each of the 4 selected kayak paddles for comparison.
At a glance, you'll be able to see important differences between each paddle when it comes to factors like shaft and blade materials, distinguishing features, and price range.
For more in-depth reviews of each paddle, scroll down and keep reading.
| Kayak Paddle | Name | Features | Materials | Price |
| --- | --- | --- | --- | --- |
| | SeaSense X-Treme II Kayak Paddle | Paddle floats; budget friendly; recreational use | Aluminum shaft with a fiberglass filled nylon blade | $ |
| | Carlisle Magic Plus Kayak Paddle | Stiff shaft; lightweight; effortless to paddle | High-impact glass-filled polypropylene blade with a lightweight fiberglass shaft | $$ |
| | Bending Branches Angler Classic | For the serious kayak angler; hook retrieval system on the blade; made in the USA; tape measure on the shaft | Fiberglass reinforced blade with a fiberglass shaft | $$$ |
| | Werner Skagit FG 2 PC Straight Shaft Paddle | Low angle blade; light swing weight; Smart View adjustable ferrule | Fiberglass reinforced nylon injection molded blades with a carbon blend shaft | $$$ |
The 4 Best Aftermarket Kayak Paddles For Your Money
Below you'll find a quick look at the four best kayak paddles we found. Here's where you'll learn more in more detail what makes each paddle unique and why we consider each one to be a top buy.
That doesn't mean that they aren't without drawbacks, but in the below cases, the positives far outweigh any perceived negatives in the paddle.
SeaSense X-Treme II Kayak Paddle
For a budget-friendly option, the SeaSense makes a lot of sense.
SeaSense X-Treme II Kayak Paddle
Feathered Blade Design
Two Piece Construction For Easy Storage
Adjustable Drip Guards
Support Ridge For Added Strength
Three Locking Positions
It features an aluminum shaft with a PVC blade. Its two-piece construction allows for easy storage when not in use. Because the shaft is constructed of aluminum, there's less of a problem taking it apart and getting it back together. Should you ever have a problem, however, simply add a little silicone spray lubricant at the joint and that should solve the problem quickly and easily.
Buyers rate the SeaSense as a durable paddle – one that provides a positive experience for recreational users. It's meant for leisure use – not riding extreme rapids. The SeaSense is light enough for young teens and anyone with a smaller frame to handle with ease. In fact, the shaft on this model could be considered one of the better non-carbon ones around.
On the downside, the handgrips on the SeaSense can become loose as they get wet. Another potential problem is that some people may find the shaft a little too narrow. It's really a matter of preference. But if you've got larger hands, you may be better served by one of the three models below.
Carlisle Magic Plus Kayak Paddle
The Carlisle Magic Plus features a lightweight fibreglass shaft with durable, high-impact, glass- filled polypropylene blades. That's a serious combination and one that has made a lot of kayaking enthusiasts happy.
Carlisle Magic Plus Kayak Paddle
The wound fiberglass shaft provides a sweet compromise between the stiffness needed for a strong paddle stroke and the flex needed to reduce stress on your joints.
The Carlisle Magic plus offers a stiff fiberglass shaft that provides a noticeably strong thrust with every stroke. But it's also flexible enough to operate comfortably, without placing excessive stress on the joints.
This paddle comes apart, separating into two pieces for easier storage. Once connected, the shaft is extremely rigid. The pieces fit together perfectly and without any movement. This is a big concern for serious paddlers as some other brands join together with far less precision. The Magic Plus also features three paddle adjustments. Blades are both light and durable.
If you're used to using an aluminum shaft, you'll feel the difference when you pick up the Carlisle Magic Plus. It's strong, yet lightweight. And it feels easily manageable too. The oval-shape on the right side enables you to feel the angle of the blade as it hits the water.
Users often comment on the durability of this paddle even after considerable use. Buyers report having touched muddy river bottoms even bumping into branches in narrow waterways without so much as a scuff mark showing.
What's not magical about the Carlisle Magic Plus paddle?
One user claimed the drip ring on the shaft designed to block water didn't seem to fit properly to the shaft. Sounds like a minor nuisance more than anything else. Also, the actual weight of the paddle may be slightly heavier than advertised. Other than that, the Carlisle Magic Plus gets high marks.
Overall, it's a quality paddle that makes you feel like you're in total control and it requires less effort to paddle. It's lightweight, yet remarkably sturdy and comfortable to use. For the price, this is an excellent paddle – capable of standing up to long days on the water – without much wear and tear.
Bending Branches Angler Classic
This "made in USA" paddle is another quality one worthy of your consideration.
BENDING BRANCHES Angler Classic Kayak Paddle
A reliable and durable paddle the Angler Classic is a step-up from entry level paddles, and is slightly lighter, but with classic Branches strength and style. With features like a tape measure on the shaft and a hook retrieval built right into the blade, the benefits are more than efficiency and convenience.
It features a fiberglass shaft and fiberglass reinforced blades, providing a comfortably light, yet strong and capable paddling experience. But what makes this an even better paddle for some are the angler-friendly features that are built in.
Specifically, the Angler Classic has both a retrieval system (one that reportedly works like a charm) and a built-in measuring tape, for checking the size of any fish you manage to reel in.
The built-in tape measure is also handy so you can determine instantly whether the fish you catch are legal and worth keeping or you have to throw it back and avoid a hefty fine.
The built-in hook retrieval system provides a notch in the paddle that allows you to hook onto a line and slide it down to release a snag. Users report that this feature works exceptionally well, having helped recover abandoned lures and other pieces of tackle from trees and rocks.

It's a well-designed and constructed, USA-made paddle and, for the price, represents solid value. It's flexible, yet sturdy and lightweight. It's also is capable of providing more than adequate mobility in crowded or narrow waterways.
Werner Skagit FG Paddle
Experienced paddlers already know the Werner name because it is one of the best known brands of kayak paddles.
Werner paddles are the Lexus cars of kayak paddles: a known brand that is slightly more expensive than the rest but for good reason — the brand is synonymous with quality and you're assured that you'll get what you paid for.
Werner Skagit FG Paddle
The Skagit is the best kayak paddle you can buy without getting into the super-engineered and ultra expensive paddles designed for competitive kayakers rather than recreational ones.
This paddle is not the cheapest paddle on the market, but it does deliver serious value that's hard to beat – unless you're willing to spend quite a bit more money.
The Werner Skagit FG 2PC Shaft Paddle is beautifully balanced and light (weighing just 34.5 ounces) – making it easy to manage and a joy to hold in your hands. But what's most unique about this model is that it features brilliant engineering with a solid coupler that allows for adjustments, all while still providing a stable shaft without any movement once connected.
The adjustments I'm talking about that set this paddle apart from its peers are that you're able to adjust the shaft to allow the blade angle to be changed to suit your style of paddling. This is a feature not often offered in paddles with lower price points, but is commonplace in higher-end kayak paddles.
The Werner brand, and this model in particular, offers the kind of solid construction you would expect in a well-made product. Its carbon blend shaft and fiberglass blade ensure you'll get one of the lightest, stiffest, and most durable paddles on the market that will make paddling a breeze. It's the best kayak paddle you can buy without getting into the super-engineered and ultra expensive paddles designed for competitive kayakers rather than recreational ones.
Summing It All Up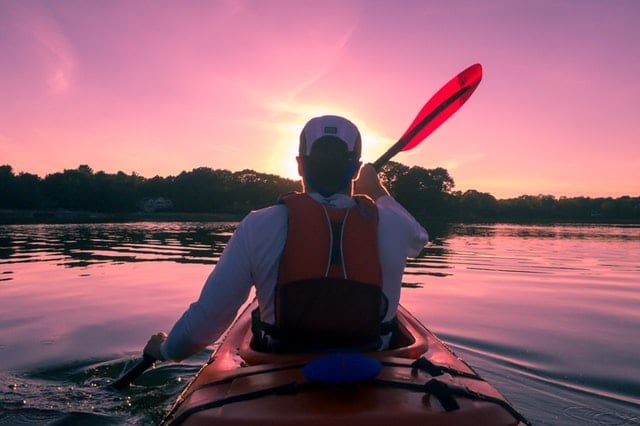 Your choice of paddle can have as much – or more – influence over your kayaking experience and results as anything else. Rather than a secondary consideration, your kayak paddle should get just as much consideration as the kayak itself. Somewhere among the 4 top selections above is a paddle that's a perfect fit for you.
Take note of what's most important to you in choosing a paddle and how you plan on using it. Then choose the one that's the best fit for you. You can't really go wrong when you choose one of our recommendations.
Paddle On!
Last update on 2020-04-06 / Affiliate links / Images from Amazon Product Advertising API