Paddle boarding is a really fun hobby that is steadily growing in popularity. Due to this, the number of paddle boards on the market has exploded. With so many to choose from, how do you know which one is best for you?
One of the brands that has risen to the top amongst its competition is Roc inflatable stand up paddle boards. Due to their immense popularity, we've decided to write the definitive Roc paddle board review. Now you can get a trusted opinion as to whether they live up to the hype or not.
Keep reading to find out about the product specifications, the pros and cons, and whether we recommend this inflatable paddle board.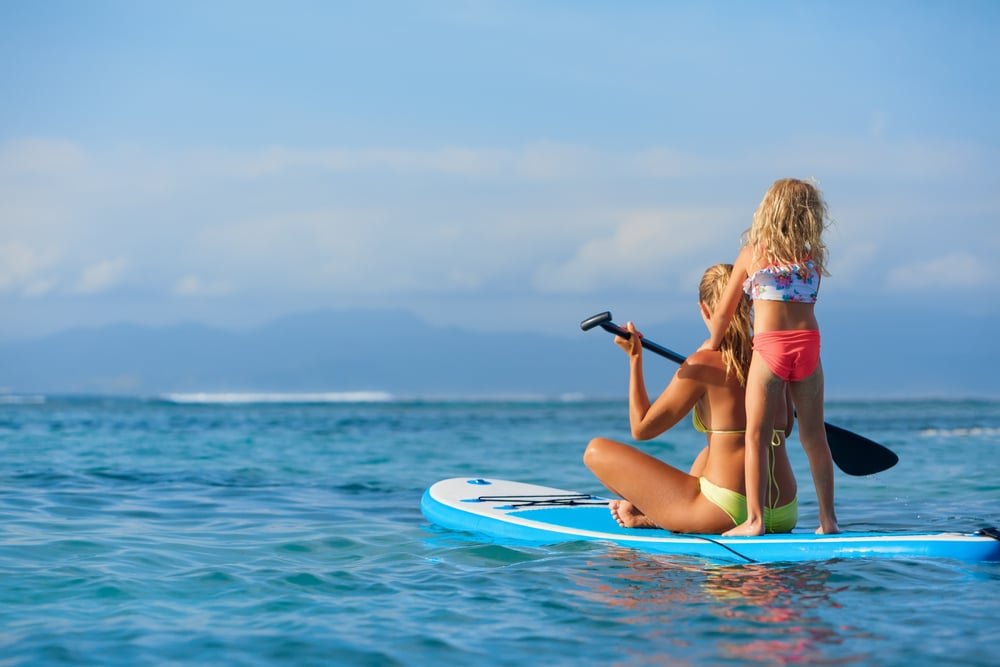 A word about inflatable paddle boards (ISUPs)
Inflatable paddle boards used to have a bad reputation for being flimsy and a bit useless. Since then, lots of research has gone into improving the technology and design of inflatable boards. They are now so good that they come close to hardboards in terms of performance on the water.
What's more, you don't have to spend a large amount of money to benefit from these improvements! Good quality inflatable paddle boards are very affordable. 
If you're still not convinced, read our in-depth article on inflatable paddle boards here so you can get more of your burning questions answered.
Product information and specs
No products found.
ROC is a USA-based family owned company that has designed a paddle board and accessories set which gives beginners everything they need to get into paddle boarding. 
The paddle board is extremely lightweight, weighing just 17.5 pounds when deflated. Roc claims this is 20% lighter than most competitors. Roc's commitment to making a lightweight product makes it extra easy to transport. It comes included with a backpack to store it and carry it around. The latest model has an upgraded backpack with padded shoulder and waist straps.
The board has a comfort carry handle to make it easier for you to get it in and out of the water. When inflated, the board measures 10 feet by 32 inches and has a weight capacity of 350 pounds. 
The paddle board is made from high quality, military grade PVC material which is thermo sealed and UV resistant. It consists of two airtight layers, a double side wall and is reinforced with composite cross stitching.
There is an anti-slip layer for most of the body of the board. This helps with traction and grip. At the front of the board there are bungee tie downs so you can carry personal effects like a cooler or dry bag with you.
This product benefits from a one year manufacturer's warranty at no additional cost.
How does the Roc inflatable paddle board perform in the water?
The extra wide design of the paddle board makes it very stable in the water, as do the two side fins and the large removable fin.
One criticism is that it is difficult to build up any real speed on it, but that isn't what this board is designed for. It is made to be perfect for beginners who go on relaxing paddles on gentle bodies of water.
The board is 6 inches thick, which makes people feel secure and stable being raised above the water. However, this thickness and the lack of a back kick pad makes it quite difficult to turn the board in the water. 
Nonetheless, many users are happy with its performance even in a mild chop, saying it's comparable to more expensive, traditional SUP boards that they have owned and used in the past.
Adequate accessories with Roc
The amount of accessories that come with this paddle board is impressive for the comparatively low price of the product. Here's what you get:
Collapsible aluminum paddle
Removable fin
Leash
Hand pump
Waterproof bag
Carry bag
The collapsible aluminum paddle comes with flip lock adjustment, which folds away for storage and transport. It isn't the most sturdy, but it is adjustable which means the whole family can use it, both children and adults.
Aluminum is not the most durable material to make paddles out of, so the paddle might not last as long as the board itself. Aluminum is ok, but if you want to upgrade your paddle, find one that's carbon fiber. Carbon fiber is stronger and more weather resistant than aluminum is.
If your paddle does not stay locked in place, turn it clockwise when the clamp is unlocked. This will tighten the connection until it catches. It is important to note that although the paddles are designed to float for a short period of time, they will not float indefinitely.
If you let go of your paddles in the water then get them back as soon as possible. The paddle handles are hollow, so if they fill with water then disassemble the paddle and empty out the water. 
As well as the removable fin and the storage backpack, the paddle board also comes with a coil safety leash which attaches to your ankle. It only extends if you fall off the board, which means that it does not get in your way while you paddle. The safety leash is important as it stops you from being separated from your board in the water. 
You will also receive a waterproof bag for your personal items. You can use it for important possessions like your phone and your keys, and then secure it to the paddle board using the elastic bungee cords. There is also a secure D ring leash clip for you to attach items to.
The accessories are adequate and on par with the accessory packages you get with other brands.
What PSI should I inflate my Roc inflatable paddle board to?
A hand pump is included with the paddle board. It takes 15 minutes to inflate the paddle board with the single chamber hand pump, but the latest model has an upgraded dual action pump which cuts inflation time in half.
The high pressure air valve assists with inflation. When it comes to inflating your paddle board, it should be between 12 and 15 PSI. The exact number will depend on the height and weight of the paddler as well as the temperature on the day.
You might need less air in the board on a warmer day. If you stand on the board and the nose and tail are flat with the surface of the water then it needs more air. 
Inflation is pretty easy for the first 5-7 PSI, but gets significantly harder the last few PSI. While most users feel it's pretty easy to inflate the Roc, some still feel it's worthwhile to get an electric pump that plugs into your car's 12V system to make inflating it even easier and less strenuous.
When you are finished with the board and are ready to deflate it, press down on the valve stem and do a quarter turn clockwise. This will fix the stem into the open position.The air will begin to rush out.
To speed up the deflation process, roll or fold the board while the valve is open. Close the valve when you are done so it is ready for the next time you want to inflate the board.
Pros and Cons
Pros:
This paddle board and the accompanying accessories are priced very reasonably compared to other similar products on the market.
There are many positive reviews for this product so it has been tried and tested and you know it will be reliable. 
Roc Paddle boards come in a fun design with a range of colors to choose from. 
This paddle board is very lightweight and easy to transport. 
The paddle board comes with everything you will need to get started. 
Inflation and deflation is quick and easy, allowing you to spend more time on the water. 
Cons:
This paddle board is only suitable for one person despite being quite large. 
The accessories that come with the older model of this paddle board are not very good quality. 
The Roc ISUP is only suitable for beginners or casual hobbyist paddle boarders.
It is difficult to build up much speed on this paddle board.  

No products found.
Frequently Asked Questions 
What other accessories will you need?
This paddle board comes with a good range of accessories, but there are few other things that you might want. A life jacket is a good idea, even if you are a strong swimmer.
If you sustain an injury when paddle boarding that affects your ability to swim then the life jacket will keep you afloat until you are helped out of the water.
You could also consider purchasing the Roc Comfort Cushion Seat which is sold separately and attaches to the paddle board. 
Are inflatable boards better than hardboards?
There are numerous advantages to inflatable boards versus hardboards. Ultimately it comes down to experience and dedication to the sport.
Inflatable boards are much cheaper than hardboards. They are easier to transport and easier to store. You don't need to buy a roof rack for your car or have space in a garage to store your paddle board during the winter months.
The design and technology of inflatable boards has improved greatly over the last decade so you can now get some excellent quality inflatable boards.
That said, it is easier to build up speed on a hardboard which is important if you are an experienced or even a professional paddle boarder. The hardboards are thinner which makes it easier to change direction in the water.
You are also able to get out onto the water straight away without needing to inflate your board. 
Should you get the Roc inflatable paddle board?
Now that you have all the information you need about the Roc inflatable paddle board, should you buy it? 
Our assessment is that this is a solid paddle board, but nothing special. There's nothing that sets it apart in particular from various other boards. For the money, it should be a good buy. I wouldn't pay more than $450 for it though. You can find better quality boards at that price and beyond.
The Roc paddle board is ideal if you want to have a go at paddle boarding without spending too much money initially. If you decide to keep up the hobby after a summer or two on this board, then you will probably want to invest in a different product.  
Overall the board is stable and reliable for beginners and children on gentle waters. For basic paddling and entry-level paddlers, this board is a good option.
Note: If you're a beginner paddle boarder and are still unsure what size board is right for you, read our article "Help! I'm a Beginner, What Size Paddle Board Do I Need?"
Last update on 2023-11-30 / Affiliate links / Images from Amazon Product Advertising API
Summary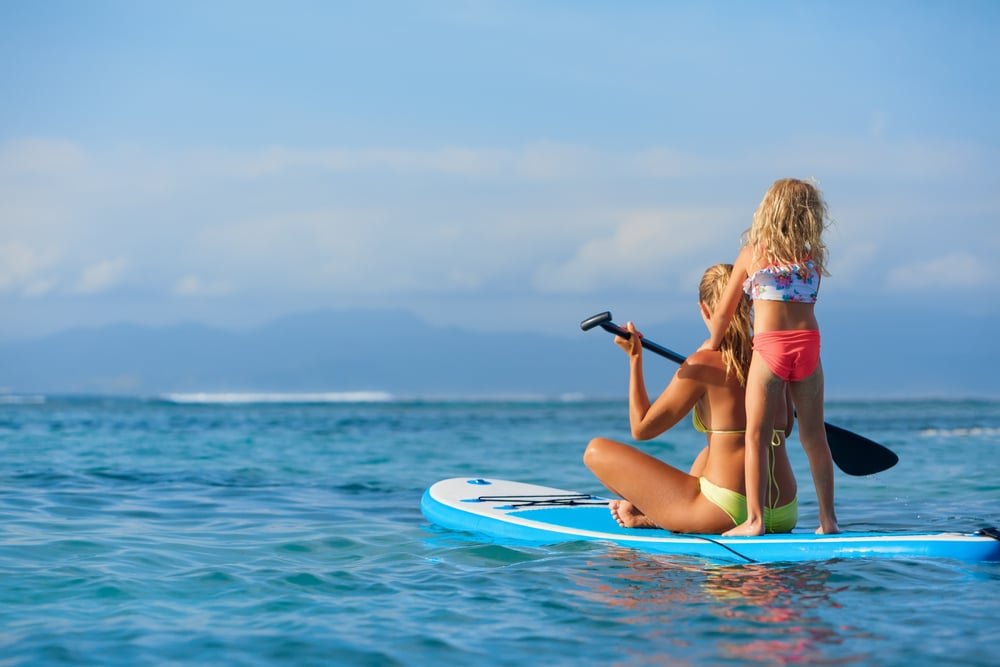 Article Name
The Roc Inflatable Paddle Board Definitive Review
Description
The SUP market has exploded recently and Roc inflatable paddle board has risen to the top. Read our review to see if it lives up to the hype.
Publisher Name
Publisher Logo