Inflatable paddle boards have soared in popularity over the past couple of years. They are quickly surpassing their traditional hard board counterparts due to a combination of favorable qualifications: portability, durability, and affordability.
For that reason, it's become difficult to keep up with all the new boards that have been flooding the market recently. When trying to make an informed decision about which board to purchase, the sheer number of options can be overwhelming.
That's why I've scoured the market and picked out 6 of the top new inflatable paddle boards for your consideration. Each of these boards offers various tradeoffs to keep in mind depending on what you're looking for in a board.
The rankings are based off of overall user satisfaction, reputability of the brand, accessory package, and value.
It's worth noting that all of the boards I'm comparing are all top quality boards. Just because I've listed one as #5 or #6 doesn't mean it's not a good quality board. It's still good enough to make my list — I'm not going to recommend a piece of garbage for my readers. Not to mention, there are so many good, quality boards out there, I don't want to waste my or your time by reviewing the junk ones unless I think it's really necessary or there's a high demand for it.
Without further ado, here are my picks for best new inflatable paddle boards on the market today.
Quick Summary
For those who are short on time or just like to get down to the nitty gritty, here are the rankings of the top new inflatable paddle boards on the market.
Click on the links below to see more information or click on the Table of Contents above to jump to the review that interests you the most.
⚠️ It's worth noting that I have already reviewed other well-known inflatable paddle boards in an
article I wrote here
, so I will not be reviewing them again or including them in this list.
Here are my picks of top new ISUPs, in order:
There are a lot of things going for the iRocker Cruiser:
Pros
Specs
Dimensions: 10'6″ x 33″ x 6″
Weight: 24 lbs
Max capacity: 350 lbs
Click HERE for more photos and color options!
2-year warranty (as opposed to a 1-year warranty)
350-pound weight limit (as opposed to 200-275 lbs)
Fiberglass paddle (as opposed to an aluminum one)
Dual action pump (as opposed to single action)
iRocker has gone above and beyond to outdo the rest of its competition in almost every way.
The 2-year warranty is awesome. Most products are great out of the box. Depending on where you live, you might not even get to use your board all the much in one calendar year.
Two years, however, gives you enough time to use it many times and notice if any defects show up like glue coming apart at the seams, defective valves, or blistering of the board. Anything outside of normal wear and tear (like dings and scratches) should be covered under warranty for 2 years.
Another huge bonus is the fiberglass paddle. Almost all ISUPs come with a pump, bag, and paddle, but usually, the paddles are aluminum. Believe it or not, fiberglass is both lighter and stronger than aluminum, which is going to make it much easier to power through your strokes and paddle longer without your arms getting tired.
Another huge plus is the weight capacity on this board. The iRocker boasts a 350-pound weight capacity. Most of the other boards on this list top out at around 250 lbs. While the boards are certainly usable at higher weight capacities, it just means that performance will suffer due to the extra weight.
With the iRocker, you can be a bigger guy, paddle with a partner or furry companion, or tote a cooler or tackle box with you no problem.
Lastly, the iRocker features a dual action pump that makes pumping up your SUP fairly easy. The dual action allows air to inflate on both the up stroke and the down stroke. This allows you to inflate your board quickly.
However, for those final few PSI where it starts to get difficult, you can switch to a single action which pushes air in on just the down stroke.
Cons
There's very little not to like but I am going to nitpick just a little:
Carry bag is of "iffy" quality
Included paddle could be longer
Despite the accessories offered being of generally higher quality than most others, we can still nitpick just a bit.
The included fiberglass paddle, while being of very good quality, might be a bit short for some taller riders. It extends to 79" (or about 6 and a half feet) so if you're over 6 ft tall, the paddle might not serve you too well.
Also, there are mixed reviews about the included carry bag. Many people are pleased but a few others thought it was fairly cheaply made.
"The 'backpack' is a large duffle bag with straps."

"First let me state that the board performs beautifully. My only complaint so far is that the back pack sewing is starting to come apart and I have only used it once."
It's worth noting that the person who made the latter remark later updated it to say that iRocker happily replaced her bag and the customer service was excellent.
🔎 Pro-tip: Every iRocker paddle board can also be converted into a kayak!
Conclusion
iRocker one-ups pretty much every other manufacturer with its Cruiser board. The accessory package, far from being a letdown, helps this board stand above the rest.
Not to mention, for all the high-quality goodies and great performing board it's still reasonably priced at $600-650 dollars.
Even though it's still a new kid on the block, iRocker is "rocking" the competition!
Check for deals on iRocker from Amazon now!
I'm a big fan of ISLE Surf and SUP boards. Unlike some of the other manufacturers on this list, ISLE has been making quality paddle boards for many years. This just happens to be one of their latest top quality boards.
Pros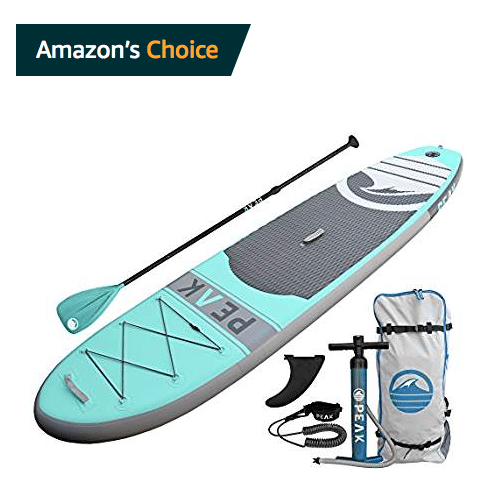 Specs
Dimensions: 10'6″ x 31″ x 6″
Weight: 23 lbs
Max capacity: 300 lbs
Find out why it's 'Amazon's Choice' here
Here's what I like about the PEAK:
Quality and proven brand (Isle Surf and SUP)
Higher weight limit (300 lbs)
Great carry bag
Very rigid
First of all, I can't say enough good things about the ISLE brand. They've been in the game for quite some time and have crafted an excellent reputation in the industry for quality and variety of boards.
They are active in the market, meaning they interact well with their customers, put out quality content and information with regards to paddle boarding, and have very responsive customer service. These are all things you want to see from a company. Not a nameless, faceless entity where you can never get through to get a question answered or issue resolved.
In a nutshell, they're a brand you can trust. And especially if this is your first paddle board, trust is a big factor.
Similar to the iRocker, the PEAK also has a higher weight capacity. Theirs tops out at 300 pounds, which is just shy of what the iRocker is but more than most others. That being said, Isle informs people that you can exceed that limit if you're a more experienced paddler.
Again, a higher weight limit is helpful to larger paddlers, if you want to paddle with more than one person, or if you're carrying heavy gear with you like fishing tackle or a cooler with beverages.
Whereas some people thought that the iRocker bag was a little "iffy", people love the bag that comes with the Isle board.
As one person put it,
"The bag to carry this board was WAY beyond my best expectations and the fact that a provider finally gave you a bag that you do not have to work miracles to get the gear back into is such a relief. It is also really easy to hike the bag around as needed."
Another one raved,
"The carrying bag is especially high quality for what I was expecting, with very cushiony straps, and plenty of room to pack the board and all the accessories easily (no stuffing 30 lbs into a 10 lb bag!)"
Lastly, users commented over and over again at how rigid this board inflates to. One of the complaints you see with cheaper or lesser quality inflatable paddle boards is that they can sometimes sag in the middle. Not so with the Pioneer. You will hardly notice the difference being on the Isle inflatable versus a traditional paddle board.
Cons
As with the good comes the bad. Here are a few things that concern me with the Isle inflatable SUP:
Difficult to inflate
Sluggish in the water / performance issues
To some degree, there will always be people who complain that an inflatable paddle board is difficult to inflate. But this concern seemed to be echoed more frequently with this board than with other boards.
To be sure, some of that is due to operator error. But it has a little to do with the equipment as well. The pump that comes with the board doesn't even start moving the gauge needle until it reaches about 7-8 PSI. When inflating an ISUP, the board can appear inflated and rigid at 5-6 PSI which confuses people and causes them to believe the pump/gauge is broken.
That being said, there were still many people who complained that it was extremely difficult to get it to the recommended 15 PSI. Many said that by the time they did, they were almost too tired to go paddling.
Another concerning aspect of the board is that it appears to be somewhat sluggish in the water. Despite being extra rigid, this hasn't necessarily translated into higher performance.
A couple people commented about going out paddling with friends on other boards and that this one couldn't keep up with theirs.
Conclusion
If you want to buy a board with confidence from a trusted brand, this should be at the top of your list. Not to mention that the Pioneer comes in a lot cheaper than the iRocker Cruiser board.
With the lower price, there is also a slight dip in quality compared to the iRocker as well. The excessive effort it takes to inflate this board plus some minor performance issues knock this back to #2 on the list…but barely.
For pricing and deals on Amazon, click here
Starboard deems it their "Swiss Army Knife" of inflatable paddle boards because it's so versatile. Let's see what else makes this board stand out from the rest.
Pros
Specs
Dimensions: 10′ x 35″ x 6″
Weight: 28 lbs
Max Capacity: 255 lbs
See what makes Starboard the best of the best!
Extreme versatility — good for surf, yoga, and recreational paddling
Magic suitcase for easy travel
Cutting edge board technology
2-year warranty
The main thing that sets this board apart from the rest is how extremely versatile it is. It's short enough to be responsive in surf, wide enough to be used for yoga, and dynamic enough to glide with ease through the water.
In fact, it's one of the most versatile shapes of all inflatable boards. This is enhanced by the cutting edge board technology that they use.
First of all, they don't use glue. With Starboard, you won't have to worry about the glue at the seams coming apart. Instead, they fuse all of the layers together using a heat lamination process.
Not only that, the rails are reinforced by a 3K Carbon laminated apex band. This increases stiffness and adds strength, giving the board the feel of a hard board.
Additionally, foregoing glues and solvents in the construction process is a cleaner, greener way of building a board. And as an added bonus, none of their packaging includes plastic either.
Their one-of-a-kind board construction process results in a stiffer, stronger board that performs marvelously, is super easy to inflate and is less harmful to the environment.
In addition to a superb board, they've also made an innovative travel bag to go with it.
With their "magic travel bag", you can easily wheel your board through an airport or put it on your back and carry it to your launch point. When not using the straps, they tuck into a convenient pouch so they stay out of the way.
All of this state of the art design and innovation is backed by a generous 2-year warranty.
Cons
Pricey
Paddle is not included
While the Starboard iGO Zen paddle board is a premium board made with advanced technology, it also comes at a premium price. The iGO Zentops out at over $1000 for this top of the line board.
If you're the type of person who likes the best of everything — a Patek Philippe watch, an Audi A7, Miller High Life (the Champagne of beers!) — then no doubt you'll want to add the Starboard iGO Zen to your collection of toys. This board delivers the goods.
But I can't in good conscience list this as my top pick when the board is literally double or triple the price of other perfectly fine boards.
Besides, most people who are looking into getting an inflatable paddle board are doing so because it presents an affordable alternative to many traditional boards. Especially when this board doesn't even come with a paddle included in the package, it adds a little bit of insult to injury.
Conclusion
Starboard makes premium paddle boards and the iGO Zen is no different. Using top of the line technology and innovation, they've created one of the most versatile and true-to-style 'All-Around' inflatable boards on the market today.
However, in order to get a premium board, you have to pay a premium price. Think of it like springing for a tailor-made suit as opposed to off the rack. A tailor-made suit is going to look good. It's going to feel good. You're going to feel sexy for wearing it. That's kind of how the Starboard is. Treat yo'self. If that's your style, go for the Starboard, you won't be disappointed. Also take note that often you can find a good deal on the last years model.
For the rest, there are plenty of other high-quality inflatable paddle boards out there that you don't have to spend over a thousand dollars to get.
Check for price and any deals here!
4) ✅ Most Improved ISUP: Xterra Inflatable 10' Stand Up Paddle Board
Xterra is a newer player in the paddle board market. They had some growing pains but seem to have hit their stride in the last year or so.
Pros
Specs
Dimensions: 10′ x 30″ x 6″
Weight: 29 lbs
Max capacity: 250 lbs
Check price Here
Great value/package
Easy to inflate
Xterra is one of the companies that's jumped into the market more recently as inflatable paddle boards have taken off in popularity. Even so, they've managed to make a name for themselves as a manufacturer of well-made, quality paddle boards at a good price.
First off, they go just a little bit extra with the package that they offer in their paddle board kit. In addition to the fairly typical carry bag, pump, and paddle, they also throw in a mini dry bag, leash, repair kit, and GoPro Mount! It's nothing monumental but just that little bit extra that signals they're really trying to distance themselves from the rest.
Also, contrary to most other boards, this one might be a little bit easier to inflate than many others. At least there were far fewer complaints about it than for any other board. 

By and large, people have been super happy with their Xterra boards even though it's a less recognized company.
Cons
Spotty customer service
Growing pains
As I mentioned earlier, this is a fairly new player to the industry and as such, they've suffered some growing pains.
They first entered the ISUP market in 2013 and started gaining momentum in 2014. Virtually all of the negative reviews and remarks I've seen have been from the 2014-2015 time frame. 

There were numerous complaints about poor to non-existent customer service. Board quality was at times shoddy with complaints about the valve being defective, leaky seams, and poor quality accessories. Oh, and apparently the "new board smell" was fairly nauseating as well.
HOWEVER, it seems that in the past year or two most of these issues have been fixed. Since 2016, I've seen almost nothing but glowing reviews for these boards.
Clearly, Xterra was hearing the feedback loud and clear and made some sweeping changes to their business to address these issues.
Conclusion
Despite their shaky beginnings, it seems they have righted the ship, so to speak.
While they don't have the brand recognition of Isle or Starboard, they've nonetheless made a quality board that is beloved by many paddlers.
If they continue on like this, in a couple years time they'll have established themselves as a reputable brand that offers good value for money for inflatable paddle boards.
5) ✅ Most Color Options: Ten Toes (Retrospec) 10' Weekender Inflatable Stand Up Paddle Board
There's one word that comes to mind when describing this board: FUN! Here's why:
Pros
Specs
Dimensions: 10′ x 30″ x 6″
Weight: 27 lbs
Max capacity: 275 lbs

Stylish
Stable
Paddles well
It seems odd that one of the first attributes mentioned about a paddle board is its appearance but with the Ten Toes Weekender board, it's one of the first things you notice!
Now let's be honest, we've all chosen things more due to their looks than their functionality — cars, clothes, furniture, <cough cough> girlfriends! Well, add the Ten Toes SUP to that list as well.
It comes in a variety of bright, fun colors like its trademark seafoam, blush pink, blue, green, and black/red. Plus its minimalist but eye-catching logo is sure to turn heads while you're out on the water.
But lest you think that this board is all shine and no substance, people rave about its stability and how fun it is to paddle.
"Tracks well, super stable, love the removable fins, and even though it's silly, the color makes me SO HAPPY!!!! Two, big fat, thumbs up!!!!"

"This is an awesome paddle board! The color is really pretty and it performs very well! Very well balanced and sturdy."
The Ten Toes Weekender is like the convertible car of the inflatable world: a fun, stylish ride for people who want to feel the wind blowing through their hair!
Cons
Hard to inflate
Pump/gauge problems
No included carry bag
Poor quality accessories
Ok, to some degree the "hard to inflate" label can be used on pretty much any inflatable board, especially from newbies who've never really had to inflate one before.
But in addition to being hard to inflate, numerous people commented on how the pump hose/gauge leaked.
"The gauge was leaking air. I'm not sure if this gauge is a screw in type or not. I gave the gauge a couple of turns this seemed to help. The hose that attaches to the pump also seems to leak where it attaches to the gauge. I tried electric tape as a quick fix…"

"My pump for the first board is very frustrating. The gauge won't stay attached and it lets out air as you are trying to put air in."

"I also had a problem with the hose leaking at the connection to the gauge but duct tape helped. Would like to see this problem addressed."
As you can see, this isn't an isolated incident. There were even more remarks similar to those above. 

Of course, there's a fix to this. Just buy a different pump for it so long as it will fit the valve. But the included pump should not present so many problems for so many.
The faulty pump seems to be a bit of a pattern in what appears to be a pretty mediocre accessories package. There were also a few complaints about the quality of the paddle. Plenty of people complained that the 3-piece paddle felt loose when it was put together.
And, unlike pretty much every other company out there, the Ten Toes Weekender does not come with a carrying case. Instead, it comes with a strap that you put around the center once the board is rolled up. This was not satisfactory for many.
And while this board isn't super high end, it's not cheap either, coming in on par with the Isle PEAK board in the $500-600 range. Possibly having to shell out additional cash for higher quality accessories can make this a riskier purchase with less bang for buck.
Conclusion
Like I said, this board is F-U-N fun! If it were a cosmetic, it would be Covergirl because it's "Easy, breezy, beautiful!".
But that's also why it didn't rank higher on the list — it's just not a board that you take seriously. There is nothing that puts it over the top or goes above and beyond any of the other boards on the market.
It's a perfectly fine board and one that's great for recreational paddlers. But there's nothing standout about it either, except for the cool colors.
When you combine this with the poor accessory package and price, it reduces the overall value for money for this board. Most will be satisfied with their purchase but some might want a little bit more bang for the buck.
6) ✅ Best ISUP on a Budget: Pathfinder 9'9" Inflatable SUP
This one's for the rookies out there new to paddle boarding!
Pros
Specs
Dimensions: 10′ x 31″ x 5″
Weight: 24.5 lbs
Max capacity: 240 lbs
Check price here
Affordable
Good for beginners to give SUP a try
This is a great board for those who are looking to get their feet wet in the sport of paddle boarding.
Many people, when they are looking to try something new, try to get started for as little money as possible in case they don't love it as much as they thought would. The Pathfinder inflatable SUP allows you to do just that.
The Pathfinder is a solid, no-frills board that offers good quality at a very affordable price. You get the whole SUP package of a board, paddle, fins, pump, and bag for less than $350! That's a steal! 

Apart from the price, there's nothing extraordinarily remarkable about the board. It's like the Honda Civic of the ISUP world: reliable, affordable, gets the job done, but not super sexy.
Cons
Marginal quality accessories
Poor customer service
As can be expected, with a lower price point you do run into some quality issues. There were more complaints about board quality with this board than with most of the others. Everything ranging from leaks in the board, poor quality valve, to other manufacturing defects.
In addition to that, there were numerous complaints about the quality of the accessories as well. The included pump is only a single action pump, which makes it very difficult to inflate. The hose and valve don't stay together well. And some people didn't think it held air very well either.
The paddle also was universally disliked. Even 4 and 5-star reviews would mention the poor quality of the paddle. The locking pins on the paddle are pretty flimsy and the paddle has a tendency to fall apart unexpectedly.
All of these issues are compounded by the poor customer service experienced by many people. Some people just didn't get a call back. Others were hassled when they tried to get a replacement board or parts due to manufacturer defects.
And one person found out the hard way that while the board is covered by a 1-year warranty, the valve is only covered for 30 days, although none of this is outlined in the warranty agreement.
Conclusion
If price is your main concern, this is probably the best value paddle board on the market for your money. You get an affordable board without compromising too much on quality.
For beginners, this is a good "starter" board that you can use to get into the sport until you decide to upgrade to a better board.
That being said, at this price point, there is some diminishment in quality to be expected. The adage, "You get what you pay for" holds true in the paddle boarding world as well.
For some people, this is a worthwhile risk to take. But I think what becomes unacceptable is when a company does not honor their warranty, does not respond to customer complaints, or tries to find loopholes to get out of servicing the warranty.
While the majority of folks are happy with their purchase, this is one major thing to keep in mind. It might pay to spend another $100 on a board and get better quality with better customer service.
Check price and for any deals on Amazon
Hanging Tough!
There ya have it…the COMPLETE guide to all the latest and greatest inflatable paddle boards on the market today.
Inflatable paddle boards have proven themselves to be not only tough boards but tough competitors on the market as well. Hopefully this guide has given you some worthy insight and guidance on your search for an inflatable paddle board.
No doubt you'll be able to find one with the "right stuff" in no time! 😉
If you have any questions, comments, or information you'd like to share — like perhaps a "step by step" tutorial on how to inflate your SUP — leave me a comment below, I'd love to hear from you!
Paddle On!